PointOptics is reader supported. We earn an affiliate commission if you buy through our links . Learn More.
The selection of good flashlights have been gradually expanding and more people are bewildered by all the various options. Nowadays, we can find a flashlight at our local stores and it will still give you a lot of value. However, some of the top flashlights like the Anker Bolder LC40 Flashlight can be hard to come by and take your outdoors experience to another level.
In this article, we have searched for a functioning flashlight with a lot of versatility. The Anker Bolder LC40 Flashlight is one of the most used options that backpackers and campers alike love to use. Now, you can look at some of the many features they have on offer and find out if this flashlight is the ideal option for your trips.
Technical Specifications:
CREE LED Technology has been used for all the individuals light
A 50,000-hour lifespan is great for all the lights
It features a 3350mAh battery
The maximum power output is 400 lumens
Durable aluminum construction with an anti-abrasive coating
IP65 rated for water and dust resistance
It features 5 different lighting modes
The overall weight is only 4.32-ounces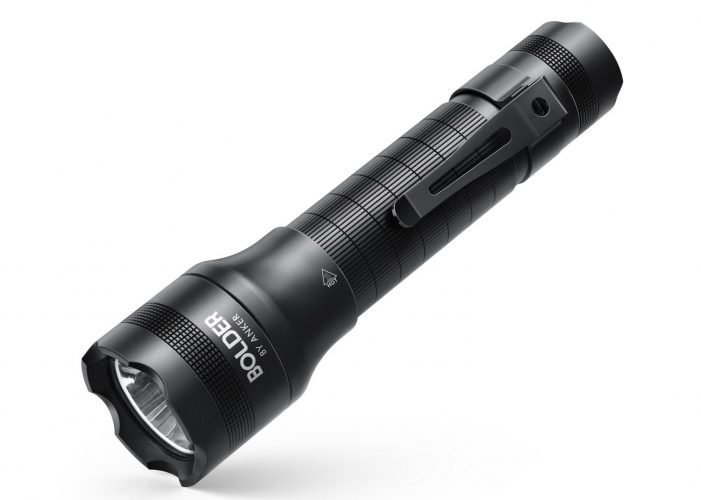 Review:
Having the opportunity to use the Anker Bolder LC40 Flashlight is something that I have been looking for to do. With the durable aluminum coating, the flashlight is capable of withstanding minor falls and the cover on the light will definitely keep all the small LED lights protected as well. It also prohibits any dust particles from entering around the unit.
When we look at the overall design, it comes in at just over 4-ounces and does not need any assembly on the part of the user. The design will be ergonomic to easily fit inside your hand, while the anti-abrasive grip makes it much easier for users to actually keep in firmly locked in the hands in wet weather conditions.
With older flashlights, we have become fine with using the single flashlight mode. However, this unit has a rechargeable battery and when you need to venture out for longer periods, you need some extra battery life. With a battery life of 20-hours on the medium brightness setting, one can be sure that the flashlight will last even longer on the lower settings.
Speaking of these two modes, it has a combined total of five modes. The brightest of these will give you a brightness output of 400 lumens. Now, 400 lumens is not really ideal for longer distances, but when used in the short-range, you are guaranteed that the flashlight will give you ample lighting to see around you in each direction.
The other modes include SOS and Strobe mode for more versatility. To be honest, the SOS mode is not one you will be using often, but it has become an important part of going outdoors. The SOS light is much similar to the strobe mode, but it has the ability to change the light to a shade of red. Should you ever find yourself in a precarious situation, this light will indicate your location to anyone searching for you.
With a flashlight, the ease of use is one of the things that makes it a great investment. Fortunately, the Anker Bolder LC40 Flashlight has a small design and allows you to store it comfortably in your pocket. As we mentioned, the lightweight means it won't bog your down and the large buttons allow you to easily choose the right setting.
Compared to some of the other top flashlights that make use of normal AA or even AAA batteries, you have a decent lithium-ion battery included here. The battery might have a long lifespan but can take a while to be charged. If you are using the right plug, you will notice that it only take 6-hours for the battery to reach the peak capacity.
A great addition that could help many people is the hardness of anodized aluminum. If you need to smash through a window and perhaps even defend yourself, this unit will make it possible to protect yourself.
Overall, it does stack up well against some of the top flashlights and might not have all the special features like the ECO-Friendly mode, but this is really an expensive addition to add. The current features are really easy to use and they make life a little more comfortable in the wilderness of backcountry, while also giving you an additional light that can be used at home.

What We Like:
Lightweight and compact construction
Battery life is great
Fast recharging on only 6-hours
The SOS feature can save your life
It is really affordable
The durability also gives you some tactical support
What We Didn't Like:
It does not have an eco-friendly mode
The flashlight only has a basic distance
Is It Worth Buying?
When we look at the value of a flashlight, it is important to compare it to many of the rival options and the value they can offer. The Anker Bolder LC40 Flashlight stands out for many of the top features that you could enjoy. It is made for the beginner, but also to be used at home. Additionally, the durability can add some tactical value to it as well.
If you don't have a flashlight, or you might be looking for something smaller to carry in your pocket, the Anker Bolder LC40 Flashlight is definitely one of the more advanced options
Wrap-Up:
that you can select. The price is on your side and you probably won't have any complaints about it when it does accidentally tumble to the floor.
The Anker Bolder LC40 Flashlight is certainly one of the top compact flashlights we would recommend. It does not only have a multitude of features, but they have been neatly packed into a small shell. It can last you many years with the LED light quality. Check out our other options here.