PointOptics is reader supported. We earn an affiliate commission if you buy through our links . Learn More.
If we're discussing night vision binoculars, there are a couple of things to know. First of all, they aren't cheap. Second, it's usually only the highest end brands that make great night vision binoculars. Third, there are always exceptions to rules one and two. A perfect example is the Bestguarder NV-800. It's a pair of digital night vision binoculars that don't cost too much and comes from a fairly unknown brand. Does that make them a bad pair of night vision binoculars? No, not at all.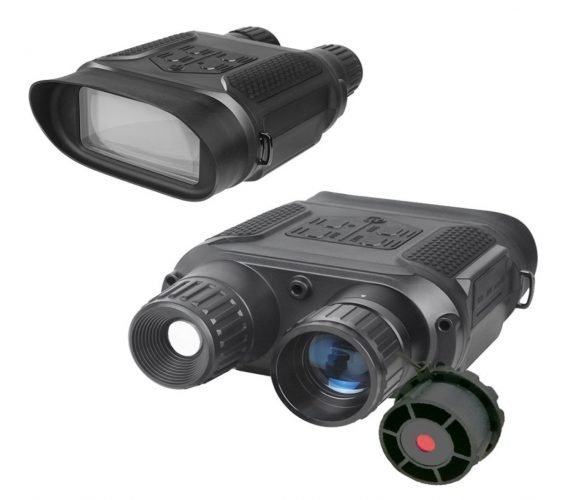 Before we dive into the review, we should make it clear that the NV-800 isn't for everyone. It doesn't try to excel at one thing, such as optical clarity, but instead, it follows the "jack of all trades, master of none" philosophy. If you're into the market for such a device and don't want to spend an exorbitant amount of money, do read on. We've got a feeling our Bestguarder NV-800 review will be right up your alley. Without wasting any more time, let's take a look at the details.
Design
The Bestguarder looks like something that came out of a spy movie. On one hand, you've got two "regular" looking lenses. But on the other side, instead of two eyepieces, you've got a fairly large display. It's as modern as they come. The display has a resolution of 320 x 240, and is a fairly decent display. Oh, and with a convex lens, you're actually looking at a 4" display, which makes things very comfortable.
The build quality is decent, but nothing to write home about. You'll get a rubberized contact surface with added grip at the contact areas. This ensures two things. One, you won't drop the binoculars, even if your hands are wet. Two, even if you do drop it, it will act as a shock absorbing bumper and eat up most of the impact. There's a fairly big chance that the electronics inside won't be damaged at all.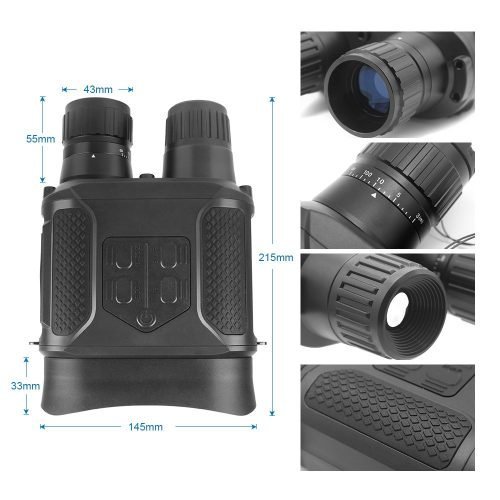 Just like with any outdoor product, you'll want some kind of weather resistance, and the NV-800 delivers. More specifically, you're getting an IPX4 water resistance rating. You won't be able to submerge the binoculars, but they're protected from a splash of water. If you do get caught out in the rain, you don't have to rush putting it in your backpack.
We do feel like it's worth mentioning that you'll get a tripod mount at the bottom. At 1.68 pounds, you might not want to have it handheld all the time. You can go ahead and put it on a tripod if you wish.
Functionality
The Bestguarder NV-800 is a pair of 7×31 night vision binoculars. This means that you get a 7 times magnification and a 31mm objective lens diameter. 7 times is pretty close for optical zoom, but as a bonus, you have 2 times digital zoom as well. The image intensifier tube is combined with a CMOS sensor to give you this functionality, and it works great. You get the choice between a wide field of view and getting close to your target.
This is, after all, a night vision device. At this price point, chances are you don't have expectations that are too high. However, the built-in 850nm, 3W IR illuminator allows you to see at distances of up to 1300 feet in pitch black situations. Or, if you'd rather stick to daytime use, you could just switch the IR illuminator off.
The optics are fully multi-coated, so even at this price, you're getting excellent optical performance. We've found that the image quality is great. No fringing or chromatic aberration, and the images are fairly sharp and with a lot of contrast.
What about any advanced features?
Unlike many other binoculars, the Bestguarder NV-800 relies heavily on electronics for every one of its features. Even though this does require (and consume) batteries, it also allows for some advanced functionality you won't find with the competition.
To begin with, the CMOS sensor isn't just for the digital zoom. It's a camera sensor, and it allows you to take photos and videos as well. During the day, you can take color photos and videos. At night, you're limited to black and white pictures and videos, but the quality is still great. You have the option of stamping a date and time to your photos, for easier organization. The resolution for both photos and videos is 640 x 480, and videos are recorded at 30 frames per second.
All of those images and videos are stored on an SD card. You could use a larger one, but you'll get a 4GB card included in the box, which is a nice touch. There's also a video output from the NV-800. This means that you could have it set up as a video surveillance device, as it can transmit directly to a TV set.
The last of the "digital" things that should be mentioned is the battery and the battery life. All of this functionality does require a lot of power, and you'll need 8 AA batteries to power the NV-800. With the IR illuminator, it can run up to 6 hours continuously. Switch it off, and you can get as much as 14 hours. However, if you feel that's just not enough, you can power the binoculars from a power bank, and get some extra juice. If you need any more options for night vision binoculars, have a look at our best list here.
Conclusion – who is the Bestguarder NV-800 for?
As we said in the beginning, the NV-800 doesn't excel in one specific category. It's not the best in terms of optics, it doesn't have the most electronic features, and it doesn't have the best build quality. But it's absolutely respectable in all of those things, and it comes at a relatively low price point. If you want all the features in a budget package, it's hard to go wrong with it.