PointOptics is reader supported. We earn an affiliate commission if you buy through our links . Learn More.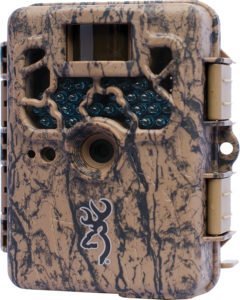 The Browning Trail Camera – Range Ops XR is the 2014 model of this mid-level range camera. Its affordable price tag makes it a lucrative option for anyone looking to purchase a trail camera, but thankfully it doesn't skimp on features. For its price you are obviously not going to get a professional grade product, but check out what I think of this trail camera below to see if it is worth your while.
Design
When it comes to the case design the Range Ops XR definitely looks better than what I would have expected for its price. Thanks to its design it blends in well when attached to a tree and the grooved lines on the front of the case allows for even better camouflage. I did have a slight issue with the latches of the case as they are not only hard to close, but also feel very flimsy. The pressure that you have to put on the case just to close the latches has me concerned about their longevity. The manual of this camera makes no mention about its weather or water resistant capabilities which is quite an oversight. I had it up during some light rain and it doesn't appear to be any worse for wear though. The case can be mounted to a tree and also features a tripod socket for added convenience.
Opening the case reveals a backlit LCD screen, power switch and the programming buttons. The LCD is somewhat on the small side, but displays the number of photos or videos it took, the amount of photos or videos that can still be captured to the SD card, the delay countdown, battery life indicator and operation mode. The camera has an SD Card slot, TV out and USB port on the right side while the 12 volt external battery port is situated on the bottom. Located on the top right of the camera is a battery eject button, which has to be pressed to release the battery tray. I like that the tray only ejects about half an inch before sticking as this prevents it from falling to the ground when changing batteries. The tray can hold 8 AA Alkaline or Lithium batteries and the battery life appears to be very good.
Features
The Range Ops XR has an 8 Megapixel camera and four adjustable quality settings, so you can go as low as 1.3 Megapixels if need be. A photo delay of between five seconds and sixty minutes can be set and it also supports multi shot modes. In standard multi shot mode it can take between one and eight pictures while rapid fire mode can take up to four pictures with only a 0.3 second delay between shots which is quite good. Overall I found the image quality of the Range Ops XR to be more than acceptable and the model I tested had none of the focus issues that plagued this camera before a recent update was issued. Some of the shots I get that had lots of movement from the animal were a little blurry, but this is to be expected. I also noticed quite a bit of graininess in photos that were taken at night.
Video quality for the Range Ops XR falls into the average range as it covers all the basics, but never really impresses. It has a "High" resolution of 1280 x 720 and "Low" of 640 x 480. Videos can be recorded in increments of up to 30 seconds, but I really liked the ability to record one or two minute long videos as well. Just be aware that during the night the video recording will automatically peak at 10 seconds in order to preserve battery power. If you need a camera that can take longer nighttime videos then the Range Ops XR is not it. Overall though the camera is easy to operate which will be a boon to those who are new to the world of trail cameras and don't want to spend hours pouring through a manual to figure out how to use it.
The camera uses infrared LED for night time illumination and has a flash range of about 60 feet. I found that the detection range of the Range Ops XR peaks at about 50 feet.  It is able to stamp photos with the date, time, moon phase, temperature and even camera ID information. The latter is really useful if you have multiple cameras set up. Although you can record timelapse video files with this camera you need to install the Browning Buck Watch Timelapse Viewer software (included in the package) on your computer to view the files. The ability to set the time lapse mode for as low as 5 seconds and as high as 60 minutes is nice though.
Pros & Cons
The amount of trail cameras released by Browning in 2014 has inevitably caused some overlap and redundancy when it comes to certain models. The Range Ops XR is definitely a step up in comparison to its predecessor, but it doesn't feel like a very big step. Check out the pros and cons below to find out more about what the camera has to offer.
Browning Trail Camera – Range Ops XR Pros
Great case design
Blends in well and is compact
LCD screen is safely tucked away inside case
Features an SD Card slot, USB port, TV out and 12 volt external battery port
Works with 8 AA batteries which is able to provide a long battery life
Can be mounted on a tripod via the socket on the bottom of the camera
8 Megapixel camera with four different quality settings
Multi shot and rapid fire modes
Decent image quality
Can record video clips of up to 2 minutes in length with sound
Can take timelapse videos
Very fast trigger time
Flash range of about 60 feet
Detection range of about 50 feet
Browning Trail Camera – Range Ops XR Cons
Case latches very difficult to open and close which can lead to damage
Some image blurriness when animals have moved in shots
Video recording at night is limited to ten seconds only
Grainy night photos
Conclusion
While the Range Ops XR is an improvement over the original Browning Range Ops and affordably priced I would still hesitate recommending it for a couple of reasons. I really like the fast trigger time and overall quality of the camera, but its night time performance is a bit of a letdown. It is definitely not a bad camera, but for the same price you can get something with more features and better quality which makes it a bit redundant. If it is all that is available and your budget can't stretch any further the Range Ops XR is still a very capable camera, provided you use it mostly during the day.