PointOptics is reader supported. We earn an affiliate commission if you buy through our links . Learn More.
The Bushnell 8MP Trophy Cam Standard Edition is one of the game cameras that falls into the price class where you want to really see some features that convince you it is worth the investment. You can get cheaper cameras to get the job done, but if you want to ensure that you rarely miss a shot then the Bushnell is worth the extra expense. There is a lot that I like about this camera after testing it, so let's get down to what makes it such an essential bit of kit.
Durability
All game cameras are designed to be used outdoors and often in extreme conditions, so it is rare that I ever encounter one that is not designed to last. Some will just last longer than others and the Bushnell 8MP is one of those. The rugged casing is designed to be weatherproof and you don't have to worry about rain or snow soaking into the unit. Bushnell rates the temperature range between -5 to 140 degrees Fahrenheit, so unless you mount it in some pretty extreme areas you won't have to worry about the durability.
Design
The straightforward design of the Bushnell features the LED IR flash on the front along with motion and low battery indicators. Also visible is the lens and PIR sensor, but everything else is safely guarded by the front cover. Apart from the SD card slot the camera also has connections for a DC In, TV out and USB port, which is not something you see on all game cameras.  Inside the casing you'll find a black and white text LCD display with six buttons below it. The buttons are used during setup mode to make adjustments to how the camera operates out in the wild and I will discuss them more in-depth in the "Features" section.
The camera is mounted using the adjustable web belt that is included, but it also has a tripod socket if you prefer using your own tripod. Something to watch out for before leaving the camera is that you have set the power switch in the "ON" position and did not leave it in the "SETUP" position, which can be a costly mistake.
Features
Whereas cheaper game cameras usually peak at 3 megapixels, the Bushnell has an 8 megapixel camera. This obviously means better quality when it comes to photos, but the tradeoff is that the higher resolutions take up more space. The camera is adjustable though, so you can set it to 3, 5 or 8 megapixels. With low light and fast moving critters, the 3 megapixel setting is actually the best as it won't produce the streaks seen at higher resolutions. Video size is limited to 640 x 480 or 320 x 240 at 30 frames per second so you are not going to be able to capture high definition footage with this camera, but the inclusion of audio in the captures is a nice touch.
The 32 LEDs means the camera can take photos at night and the invisible flash has a range of about 45-feet. Any motion within this range will also be picked up by the PIR auto-sensor. The PIR is adjustable with low, medium and high settings so you can create the perfect match for the environment. The Bushnell 8MP Trophy Cam displays some ingenuity when it comes to the batteries. While the camera operates fine with a set of four batteries, the battery compartment is able to house eight batteries in total which obviously means that the camera can operate for longer. The camera also supports external power sources if you prefer these over batteries.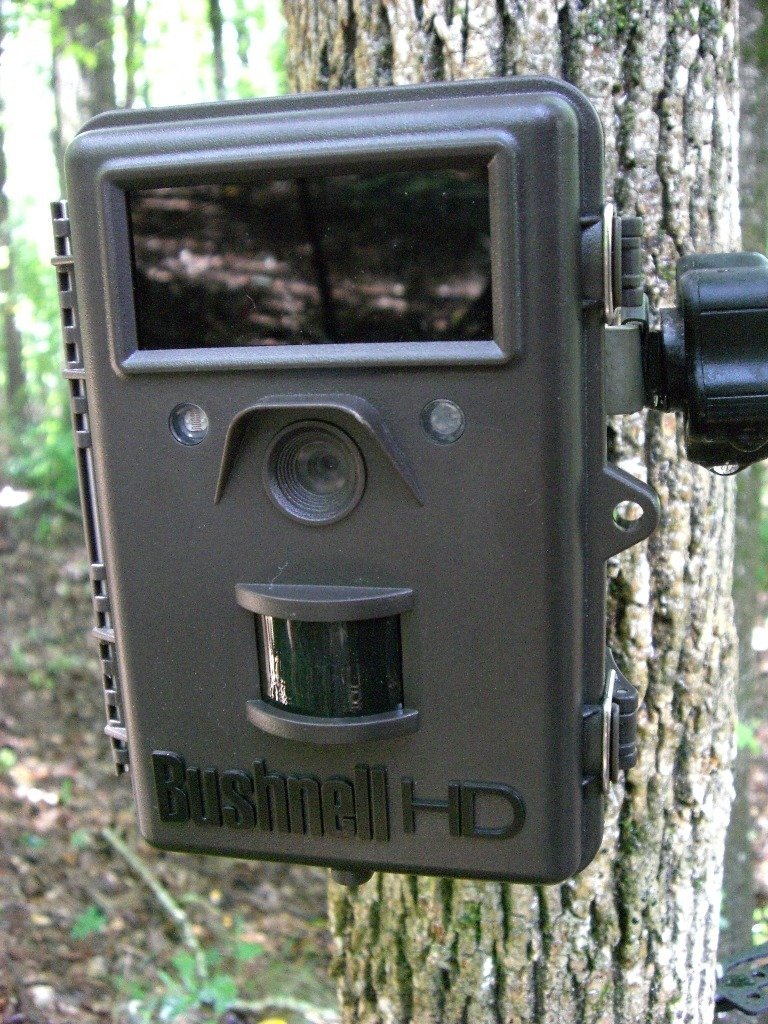 A big selling point for the Bushnell 8MP Trophy Cam is the field scan time lapse mode which has a simultaneous live trigger. This means that the time-lapse technology enables the camera to automatically take photos at pre-set intervals and allows hunters to monitor the movement of game within a larger area. Recording takes place at your choice of intervals during the block of time that you have set for each day and no active movement is required to trigger it. The obvious advantage is that it allows you to keep track of areas that are outside the range of the PIR sensor without interfering with the live trigger.
Video Quality Samples
Pros & Cons
The Bushnell 8MP Trophy Cam Standard Edition is a reliable and feature rich piece of equipment with a lot more pros than cons. The price is a bit higher than other game cameras, such as the Primos Truth Cam 35 and Moultrie A5, but the extra investment adds up to some nice new features. Take a look at the pros and cons below to see if these features are worth it for your needs.
Bushnell 8MP Trophy Cam Standard Edition Pros
Able to capture still images of up to 3264 x 2448 (8MP) in size
Able to record videos with audio of up to 60 seconds in length
Invisible IR-Flash with range of up to 45 feet
PIR with three sensitivity levels
Programmable triggering intervals of between one and sixty seconds
Able to take between one and three photos per trigger
TV out port
Durable weatherproof construction able to resist snow and rain
Field scan time lapse mode
Batteries able to last up to one year under right conditions
Very fast trigger speed
Bushnell 8MP Trophy Cam Standard Edition Cons
Streaking can occur in low light with fast moving subjects if the camera is set to 5 or 8 megapixels
Certain lighting conditions can confuse the sensors and result in photos with red, green or blue color casts
More expensive than other game cameras
Conclusion
If you have the extra money and like the features packed into the Bushnell 8MP Trophy Cam Standard Edition then you will not regret your purchase. The pros definitely outweigh the cons and this is a camera that will provide you with great shots for a long time.
https://www.youtube.com/watch?v=6pRvDLtWNlk