PointOptics is reader supported. We earn an affiliate commission if you buy through our links . Learn More.
A few years ago, getting a scope that you can use on everything from your pistol, to a bolt-action hunting rifle was pretty much impossible. You would either end up with something extremely expensive, or something that doesn't quite do the job that good. However, in the past few years, this has changed. We're seeing a lot of scopes that are very versatile, do a great job in terms of optics and accuracy, and yet won't require that you put a mortgage on your home to afford them.
One of the best such scopes comes from a brand that's synonymous with optics and quality – we're talking none other than Bushnell. Ever since David P. Bushnell sold his first few binoculars back in 1948, most, if not all Bushnell products have performed admirably in a variety of scenarios, and the TRS-25 Red Dot is no exception. Without wasting any more of your time, let's take a closer look at the Bushnell TRS-25 and see whether it's worth buying.
The TRS-25 on the outside
The first thing you'll notice the minute you'll get the Bushnell TRS-25 out of the box is how small it is. It measures a touch under 2.5 inches and weighs a mere 3.9 ounces. Whatever you decide to use it with, it won't weigh you down or add significant weight that could mess with your balance.
The scope itself comes with a matte black finish, one that looks premium and gives it the feeling of a high-end scope. Bushnell has gone minimalist on it and only included a small Bushnell logo, keeping things pretty discrete. The mount is for a Picatinny rail, and as we mentioned, works on pistols, shotguns, rifles, and muzzleloaders. This gives you a lot of versatility, and if the numbers work for you, makes this the only scope you'll need for your arsenal.
Now, the TRS-25 is a product that's made to be used outside, and it only makes sense that it's made to withstand the elements. While there is no rubberized surface on the outside to absorb bumps and hits, Bushnell has ensured that the construction itself is shockproof. It will definitely withstand any rough handling in the field, and you won't have to readjust things afterward. There are lens caps on both ends, to protect the lenses from scratches.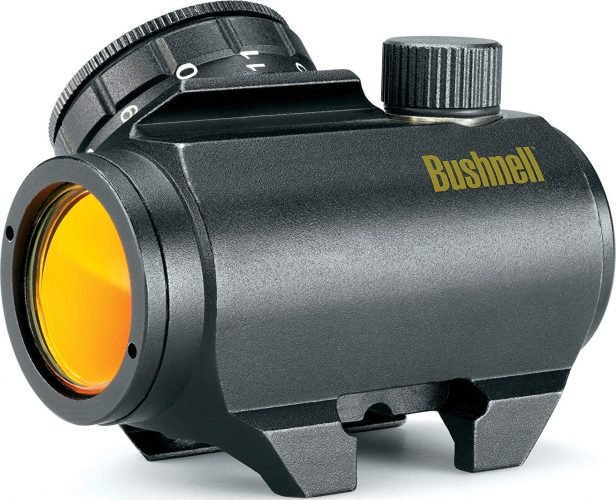 The other thing that matters when it comes to outdoor usage is weather resistance, and the TRS-25 is great in that regard. To begin with, it has been completely sealed with O-rings, which keeps it dry in any weather. Bushnell does claim that it can even be immersed in water, but this is not something we would suggest testing. The O-ring seals also help with the fact that this is a nitrogen-purged scope. Even if there is a sudden temperature change, such as you going outside on a cold winter's day, there will be no internal fogging. This is something that's usually a hit or miss on budget-oriented scopes, and we're glad to see that Bushnell has paid attention to it.
The last thing we'll discuss on the outside are the adjustments. There are a few on the outside, and they're used to adjust windage and elevation. The knobs have tightly fitted gaskets under them, and they feel really solid. Each click equals 0.5 MOA, but you will need a coin or a screwdriver in order to turn them. While some may consider this an inconvenience, it's actually a great way to ensure you can't accidentally mess up your adjustments. Even a few thousand rounds on an automatic rifle doesn't move the adjustments.
How does the scope perform?
While we have a lot of great things to say about how the scope is built and all of its external features, all of that falls apart if it doesn't perform well. Fortunately, the Bushnell Trophy TRS-25 performs admirably.
To begin with, this is a 1x25mm scope. This means that you won't get any magnification, and you'll see things just as they are. The 25mm lens lets in plenty of light, making the scope usable in just about any conditions, provided there's a bit of light. The red dot sight has Amber-Bright optics which let you distinguish things in the woods. There are also 11 brightness settings, so you can easily get things just right.
The other great thing and one we certainly didn't expect at this price is multicoated optics. Multicoated optics means that at least one of the major pieces of glass has multiple coatings on at least one surface, and that's an anti-reflective coating. Since this is a scope meant to be used during the daylight, an anti-reflective coating means that you won't have any issues with the sun ruining your image quality.
Performance
Let's discuss performance for a minute. To keep things short – it's absolutely excellent. The image quality through the scope is great, with no noticeable fringing or distortion. You have a bright, crisp image that's very sharp, even at the edges, and with plenty of contrast. Regardless of the environment, a touch of light is all you need to take full advantage of it, and you won't be disappointed. The only potential issue, at least for some, could be the magnification, or lack thereof. 1x won't get you any closer to your target, which might be a requirement for users of higher caliber weapons.
Wrapping things up
If you're in need of something that will let you pick off targets at hundreds of yards, this isn't for you. However, if you don't need magnification, and want a red dot sight that performs impeccably in any situation, you should definitely consider it.
The build quality is absolutely great, the scope performs better than its price would suggest, and it's backed up by Bushnell as its manufacturer. What more could you look for?