PointOptics is reader supported. We earn an affiliate commission if you buy through our links . Learn More.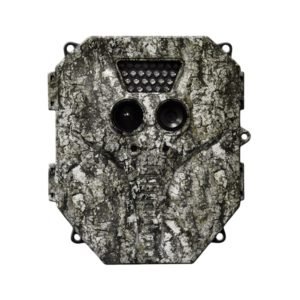 New advancements in trail/game cameras mean that we continually see new products with bigger and better features. This means that older cameras can quickly become outdated, but depending on your needs this doesn't mean that they are obsolete.
The Hunten Outdoors 26 LED is a good example of a camera that was pretty good when it was first released, but has rapidly fallen behind compared to the latest cameras. Thanks to its age it can also be tricky to track down, but if you do it will usually be at a much cheaper price than a newer model. Check out below what I thought of this camera to see if it is still worth adding to your arsenal.
Design
I actually really like the design of this camera as it is quite compact and features great camouflage. When attached to a tree this camera is practically invisible which is great to keep it safe from animals or people with no respect for others property. The housing is made from ABS engineering plastic which means it's pretty durable and thanks to its rubber gasket seal it is also weather resistant. It probably won't survive getting dunked in water, but when mounted properly the camera won't break down from rain or snow.
Opening the case reveals the LCD screen which is not visible through the case like on newer cameras. It is also worth noting that the LCD is not backlit which can make it a pain to view in low light conditions. The LCD is quite large though and easy to view in daylight. Tucked away on both sides of the LCD are the compartments for the four C-cell batteries that the camera requires to operate. Below the LCD are the buttons and below those you'll find a 5-pin mini USB port as well as the SD card slot. Incidentally, the camera is also compatible with the Hunten Outdoors Solar Panel which is good if you want to keep it up without having to worry about changing batteries.
Features
The features are where the GSC30-30IR start to show its age a bit. The biggest issue is that it only has a 3.0 Megapixel camera which is very outdated compared to the 10.0 Megapixel cameras found everywhere. Images are saved in the JPEG format and due to their smaller size you can fit more on a SD card, but if you are looking for high definition photos you won't get them from the GSC30-30IR.
If on the other hand you are someone who always uses your game camera on the lowest quality setting because the amount of photos are more important to you than the quality the GSC30-30IR can still be useful. With a 1.3 MP Night Infrared Flash the photo quality decreases drastically as the sun goes down. Anyone looking to get great nighttime photos can safely pass up on the GSC30-30IR. I could make it game as far as 50 feet away from the camera in daytime photos, but in the nighttime shots it was tricky to distinguish anything past the twenty meter mark.
Video Quality Samples
The GSC30-30IR can also take 20 second videos, but you are limited to a resolution of 640×480 which doesn't come close to the high definition resolutions of newer cameras. Once again, if videos are not that important to you then the GSC30-30IR can still be a cheap and useful tool. The camera has 26 LEDS which gives it about a 40 foot range and the passive infrared sensor activates when heat or motion is detected. In burst mode the camera can take up to four photos per trigger which I recommend if you don't want to miss anything.
Pros & Cons
While certainly not a bad camera for its age, the Hunten Outdoors 26 LED is no longer as impressive as it used to be. There is still a lot to like about this camera, but it has been surpassed in nearly every category by newer cameras. If you can get it for cheap it makes for a nice throwaway camera to use in areas where you wouldn't want to risk more expensive equipment. Take a look at the list of pros and cons below to see what this camera really has to offer.
Hunten Outdoors 26 LED 3.0 MP day/1.3 MP Night Infrared Flash Camera Pros
Durable housing with great camouflage pattern for wooded areas
Weather resistant design allows it to hold up well in the elements
Large LCD screen that is easy to view in daylight conditions
Requires four c-cell batteries to operate
Has a 5-pin mini USB port
Features a passive infrared sensor with sixty foot range
The infrared night vision flash features 26 LED's providing it with a 40 foot range
Can used in single or burst mode format
Hunten Outdoors 26 LED 3.0 MP day/1.3 MP Night Infrared Flash Camera Cons
The red glow when the camera takes photos at night is quite visible when looking directly at the camera
The LCD is not backlit making it impossible to use at night without an external light source
Camera is only 3.0 Megapixels
Nighttime photos not that great
Video quality very low
Slow trigger speed
Conclusion
If you are not willing to spend a fortune on a game camera and you are more concerned about WHAT is on your property instead of getting great shots of them then the GSC30-30IR is still a good option. It has been surpassed by most new cameras when it comes to features, but considering its age it still does a good job as a basic camera that is suitable for new users. The cheaper price also means that you can put up a few more of them and the loss won't be as great if they do get pilfered. For just a bit more money I would recommend something from Moultrie or Stealth Cam with a higher Mexapixel camera though.