PointOptics is reader supported. We earn an affiliate commission if you buy through our links . Learn More.
Night Owl is a brand that has quite the reputation when we're talking about night vision optics. Yet, they still manage to surprise with some of their products and how well they're made. A perfect example of this would be the Night Owl Pro Nexgen night vision binocular. It usually goes for around half the price of the Night Owl Explorer Pro, which is the higher end brother, but it does give you quite a lot of bang for your buck.
Let's get one thing out of the way – the binoculars are not cheap. However, they're very far from expensive, meaning they're priced as a midrange pair of binoculars, at least as far as night vision binoculars go. But from our review, we've found that with a bit of proper use and care, you'll be able to use them for years to come. They're built really well, cover all the basics you might need, and then some. If what you read so far piqued your interest, chances are the Night Owl Pro Nexgen binoculars might be your next purchase. Read on and see if that is the case!
Design
The first thing you'll notice with the Pro Nexgen is the size. They're a bit larger than what you would expect, as well as a bit heavier. If you use the binoculars for extended periods of time, this may become an issue. Unfortunately, you don't get a tripod mount. It's just something you'll need to get used to.
On the outside, you get a soft touch rubberized finish. This is comfortable to hold and does guarantee quite a lot of grip. Even if you do get them wet, they won't be slipping out of your hands anytime soon. Durability shouldn't be a problem either. The lens housing itself is actually made from molded thermoplastic, one that is impact resistant. You get rubberized eyecups and end caps, so the binoculars are protected when you aren't using them. Oh, and you'll also get a padded neck strap, so you can leave the binoculars hanging when not in use.
While we're discussing the outside, we should mention weather resistance. There are electronics inside, and water getting in may render them dysfunctional. Fortunately, the Pro Nexgen is water resistant. However, there's no IP rating, so we would advise taking this with a grain of salt.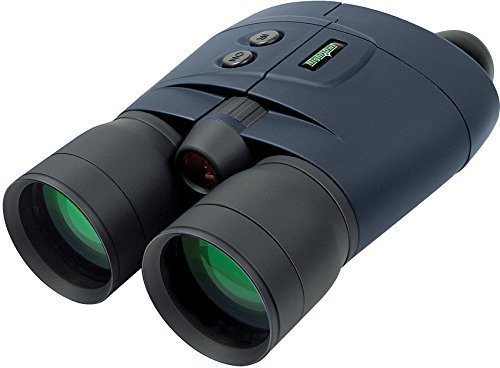 Operating the Binoculars
Let's discuss operating the binoculars for a moment. Things are very simple, and there are only two buttons. One of them is to turn the binoculars on or off, while the other one activates the IR illuminator. You also get a focus ring at the front of the body, right behind the lenses. Even though this is a bit unconventional, you do get used to it fairly quickly. The knob is smooth and accurate, and you can easily do precise adjustments.
All things considered, the Pro Nexgen looks like high quality, premium product. It doesn't use cheap materials to bring the price down, and that shows in the build quality and durability.
Performance and Optics
The binoculars are a Gen 1 night vision device. However, the quality of the images that you'll get is actually much closer to a Gen 2 device, at least in terms of quality. If you're only buying your first-night vision binoculars, or just don't want to pay the premium for a Gen 2, these can be an excellent alternative.
We didn't notice any of the typical issues with Gen 1 devices. The common "sharp at the center, blurry at the edges" situation isn't all that obvious here. Sure, there are blurry edges, but they cover a much smaller area when compared to the competition. Thanks to the built-in IR illuminator, the device creates a bright and sharp image even when you have pitch black scenarios.
Magnification
The magnification, as the name suggests, is 5x. With budget oriented night vision binoculars, you don't usually get this much. 5 times magnification is actually as close as you can get without sacrificing a huge amount of the image's brightness and clarity. Any closer and the lens' thickness will absorb some of the light.
How does the Pro Nexgen get this much magnification? With a big 50mm objective lens, and anti-reflective coatings. This combination is enough for an excellent image in a budget device.
Since this is a night vision device, using it in the daylight without any protection can damage the image intensifier tubes. However, the lens covers actually have small pinholes inside that only let in a really small amount of light. If you have the covers on, you can use this as a regular pair of 5x magnification binoculars. Sure, it may not perform as good as a pair of non-night vision binoculars would, but they'll do the job in a pinch.
The last thing we'd like to address is the battery life. Depending on how much you use the IR illuminator, the battery life can be between 40 and 80 hours of run time. This is fairly good, but the binoculars use a CR123 battery. It's a touch more expensive than other types and more difficult to come by, which may be an issue.
Wrapping things up – is the Night Owl Pro Nexgen any good?
When you're shopping for just about any kind of night vision device, you should expect to pay a hefty premium for even the most basic of feature sets. Fortunately, the Pro Nexgen doesn't fit that description. Instead, it offers an excellent feature set at a price that's much lower than anything else on the market. If you're in the market for a pair of night vision binoculars that work admirably and cover all the basics really well, this may be the one to go for.