PointOptics is reader supported. We earn an affiliate commission if you buy through our links . Learn More.
Nikon are a pretty well-known and reputable brand, both in the world of cameras and camera lenses, and in the world of optics in general. Nikon Sport Optics is the department that is responsible for the binoculars, and they're the team behind the Nikon LaserForce 10×42. This pair of rangefinder binoculars is a stunning outdoor tool with a pretty impressive list of specifications.
The rangefinder in the LaserForce 10×42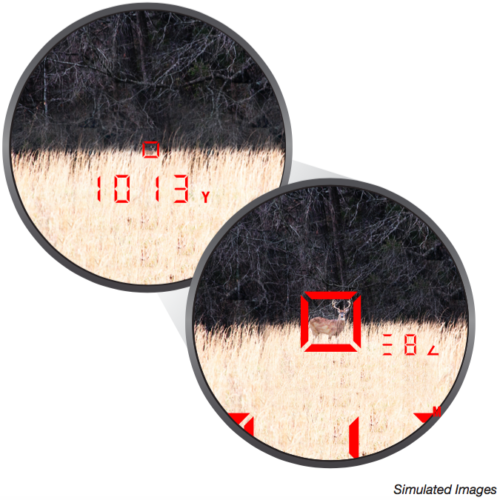 The binoculars are equipped with a laser rangefinder, something many hunters or target shooters will be happy to find here. As a matter of fact, anyone who wants to measure distances will love the rangefinder. It's a pretty good tool to have, and binoculars with rangefinders are so popular, we might see regular ones slowly fading away from the market soon. However, that's not what we're here to discuss, so let's get back to the LaserForce 10×42.
That rangefinder is powered by a single CR2 battery. It is the most impressive part of the binoculars, and a big part of the premium price tag – Nikon advertises that you can get up to 1900 yards of range with flat surfaces that are highly reflective, or up to 1100 yards on deer-sized animals. This number has been confirmed, with many users reporting that the range distances are pretty accurate. If you think that the 1100 yards isn't that much, know that it's more or less twice as much as what you could expect from Nikon's own RifleHunter 1000. Another important thing while we're at the range – the minimum distances the LaserForce will measure are as close as 10 yards, and the accuracy is verified to be 1/10th of a yard. This is impressive as well, and an important factor for people such as bow hunters. You can view our 10 best rangefinder binoculars article for other competitors.
The fact that you get instantaneous measurements, regardless of what kind of distance you're measuring at, is excellent. The range readings will give you increments of 0.1 yards when you're up to 100 yards, as well as increments of 1 yard when you're past that. You're seeing these readings on a sharp and brightness-configurable OLED display. You have 4 brightness levels, which is a good choice to have as the light outside changes from dawn, to midday, and to dusk. There's also the benefit of being able to change between them as you're looking at light, or dark landscapes, in order to have a perfect view.
The magnification configuration
At this point, you can only get the Nikon LaserForce binoculars in a 10×42 configuration. This just confirms that Nikon's target market for the LaserForce are hunters and wildlife explorers. If, for example, the focus was on the marine world, we would most likely see something with less magnification, such as a 7×50, due to the fact that using optics on a boat is unsteady. If you're a hunter, though, that 10x magnification is just what you need.
Nikon gives a 320 feet field of view (FOV) at 1000 yards, which is great. It will make scanning for animals when you're hunting very easy, especially if you're comparing to binoculars that have a narrower field of view. There's also an acceptable amount of eye-relief, and even though it is not huge by any means, it should be plenty for anyone wearing glasses.
Other specifications and advantages of the LaserForce 10×42
Among the other tech that Nikon include on the LaserForce, there's also their ID technology. ID stands for Incline/Decline, and is what will compensate for downhill, or uphill, shooting angles. You have a mode button which lets you toggle between the actual or angled distance, which is with ID off, or the true horizontal distance, with ID on. This is an interesting option which might be useful in some situations.
The continuous ranging is another well thought out feature. When you have a moving target, you can press and hold the ranging button down. The display will be refreshed, and distance will be measured continuously, for up to 8 seconds. And, if you happen not to use it for 8 seconds, it will turn itself off, which will save the battery.
Construction and build quality
The LaserForce is built for people who wander around rugged terrain. You get a metal die-cast body, which is then covered with rubber armor. This gives you both an exterior that is very durable, and one that feels comfortable to hold, and grippy as well. Thanks to the body being nitrogen-purged, you won't have any fogging issues, and it's also waterproof, so you don't have to worry about any rain causing you problems. There are also two diopter rings, which let you adjust both the binocular, using the left barrel, as well as the rangefinder display, using the right barrel.
The lenses feature Nikon's ED glass. These lenses are well proven, both in Nikon's camera lenses, and their Monarch 7 binocular line. This is a line that's considered to be very high quality. The glass corrects any chromatic aberration, so you won't see any color fringing. Instead, you'll get a high resolution image that is rich with contrast. The lenses and prisms are multilayer-coated, and you also get a reflective mirror coating on the mirror surface, for a bright image display. All things considered, it's made to last, and it's made to give you a sharp and vivid image while you're using it.
Conclusion
To sum things up, the LaserForce 10×42 is a premium pair of laser rangefinder binoculars that do many things, and do them well. They do come with a premium price tag as well, but with the build quality, construction, rangefinder quality and additional features they come with, that price tag is more than worth it. If you're a hunter or wildlife explorer, and you have the available budget, you will not regret getting Nikon's LaserForce 10×42.