PointOptics is reader supported. We earn an affiliate commission if you buy through our links . Learn More.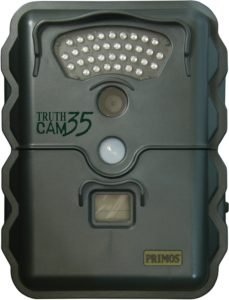 The Primos Truth Cam 35 Camera is another inexpensive offering that thoroughly impressed me with what it is able to deliver. I have seen it before with the Moultrie A5, but the Primos Truth Cam offers a worthy and equally cost effective alternative. Once again, it is not as feature-rich as some of the high-end models but, depending on your needs, you will find the Primos Truth Cam to be more than adequate. As with the Moultrie, the main benefit of the Primos is that it is cheaper to invest in more than one of these cameras to enhance your coverage range, which is a real blessing to folks with large properties that they want to cover or multiple game trails to scout.
Durability
Primos states that their goal with this camera is to offer something that is simple to use, yet reliable and based on my experience with the Truth Cam 35 they have succeeded in this. I had no issues with the durability of the camera and it continued to function perfectly even after extended periods outdoors. This is a camera that is built to last in the elements and require minimal maintenance to stay in working order.
Design
The Truth Cam 35 doesn't look as flashy as some other game cameras, but this is a good thing in my opinion. The design of the camera is very much aimed at concealment and it is packed in a thin, low-profile casing. The Matrix camo finish also helps to blend the camera in with the environment. Viewed from the front the infrared LED lights, camera lens, PIR motion sensor and external LCD viewing window is visible with the battery compartments and camera buttons hidden behind the camera door. The case has a molded security cable hole and the door latch can be padlocked for extra security.
What makes this camera so appealing to new users, apart from the low price of course, is how easy it is to operate. The camera is pre-configured so it is basically ready to use right out of the box. You just need to pop in four "D" size Alkaline or rechargeable batteries and a SD memory card and it is good to go. The SD card slot is on the bottom of the unit and protected by a rubber cover and there is also a port for an external battery. In my experience, the battery life is pretty good and even after taking thousands of photos, the battery indicator is still very high.
Features
I mentioned earlier that the camera is pre-configured to make it easier for novices to operate, but if you are a seasoned pro you will be glad to hear that it offers you a lot of options to tweak. The camera supports photos and videos with the ability to record videos of 10, 30 or 60 seconds in length. I also really like the multi-burst mode which is able to capture 1, 3, 5, 7 or 9 images per triggering to ensure that you boost the chances of getting a clear photo. The sensor can be set to high or low if the normal mode doesn't meet your needs or you can manually set a delay of 10, 30 or 60 seconds between photo or video recordings. These settings are all easily adjusted using clearly marked sliding switches. The unit has a back lit LED screen as well, which displays information such as the date and remaining battery power. How long the batteries ultimately last will obviously depend on factors such as the brand, temperature and how frequently photos are taken. One thing to keep in mind is that capturing videos uses more power than taking photos and will of course also fill up the SD card quicker.
Thanks to the 35 infrared LED bank the camera is able achieve a nighttime range of about 40 feet which isn't bad for the price. The image resolution is 3 megapixels, which is adequate for getting some good shots, but if you want National Geographic quality images you would need a much more expensive camera. The trigger speed is quite fast with a 1.5 second delay although if the camera is not in sleep mode this is reduced to an impressive 0.3 seconds. Apart from the usual photo stamps for date and time, the Primos Truth Cam 35 also indicates the temperature and moon phase, which is something hunters and trackers will really appreciate.
Video Quality Samples
Pros & Cons
Considering the price of the Primos Truth Cam 35 and the amount of features that it packs I can wholeheartedly recommend the camera, but if you need further convincing take a look at the list of pros and cons.
Primos Truth Cam 35 Camera Pros
Very affordable
Able to capture still images and videos
Long battery life
Adjustable settings
35 Infrared LED bank with a nighttime range of up to 40 feet
Fast trigger speed
Security features such as password protection and molded security cable hole
Pre-configured right out of the box
Stamps photo with date, time, temperature and moon phase
Primos Truth Cam 35 Cons
Some users report errors with the card reader detecting all cards as full
Red and green LED near lens used to indicate movement make the camera unsuitable for security purposes
Not really suited for indoors operations
Camera automatically changes settings during light transitions which can result in darker or lighter photos during this period
Conclusion
It is not often that a game camera with such a low price has so little that I can fault. If you are looking for a camera that you can set up very quickly, but still offers enough options to customize it when needed then the Primos Truth cam 35 is the one for the job. As with the Moultrie A5 the low price means you can get more than one for the same price as one of the higher end models.