PointOptics is reader supported. We earn an affiliate commission if you buy through our links . Learn More.
Qiyat is not as well known as some of the other camera binoculars but they are a strong contender within the field of the camera binoculars. Instead of being black they are a deep green, almost looking like something that action man would carry with him! These are designed for a multitude of uses but they would certainly be a valuable addition to anyone who hunts regularly.
It is also a great accessory for any avid outdoor enthusiast or camper. It can be used for surveillance purposes as well as search and rescue. These binoculars are for anyone, really! In the box, you will get one set of camera binoculars, a shoulder strap, soft carry pouch, a short strap and two cables for connecting it to your computer or television. In addition, you will receive a comprehensive instruction manual which is in English. It is worth noting that this product is a bit more expensive with a price range from $375 to $425.
Design
These binoculars are high performance and have a 1.5-inch screen built into them. You can see it through the eyepiece by simply tapping one of the 8 buttons set into the center of the binoculars. Between the switches sits the large focus wheel. The eyepieces also rotate to help you fine tune the focus and get the best possible picture. The inbuilt camera takes 5-megapixel photos which are respectable. They are made of heavy-duty plastic, the same as that used by the military. This makes it a great product to be used in any field, whether it be camping, hunting or surveillance. The Night Vision Binoculars also come with an adjustable eyepiece for outstanding optical clarity. 
In addition, they are fully waterproof and the infrared feature will allow you to see for 980 feet at night, even with no light! The video is recorded at 720 pixels, perhaps not the best but certainly better than the VGA offerings on other cameras. The Qiyat Infrared NightVision Binoculars comes with a sound recorder which is a bonus. The buttons are well positioned so that you will quickly be hitting them to change the view or other features while looking at the screen.
You can magnify items by x4 and then magnify them further with the digital zoom function; which operates at x5. The objective lenses are 50mm which is nice and wide, encouraging a wide field of vision and maximum light to enable clear and bright images. The infrared illuminator is built in and can be switched on in less than a second. You might also appreciate the date and time stamp as well as the GPS log to show when and where every photo or video was taken. It can also be used as a real-time surveillance camera when it is connected to a tv with the tv cable.
Size and Weight
All videos and images are recorded on an SD card, the slot can handle cards as big as 32GB although it is not included. You can use the cables to download your images or display them directly to your television. The exit pupil distance is 30mm while the diameter is 2.8. There is a 10-inch field of view and an objective aperture of 31mm. These camera binoculars measure 8.1 inches by 6.6 inches by 3.5 inches and weigh just over 2 pounds. This means you can easily fit them into the palm of your hand and take them anywhere with you.
The camera binoculars include a built-in battery for optimal usage and it is designed to give an optimal performance even when the battery is drained by other devices after storage. The system also supports a range of languages including; French, German and Japanese. If you are looking for more options, we recommend you take a look at our best list.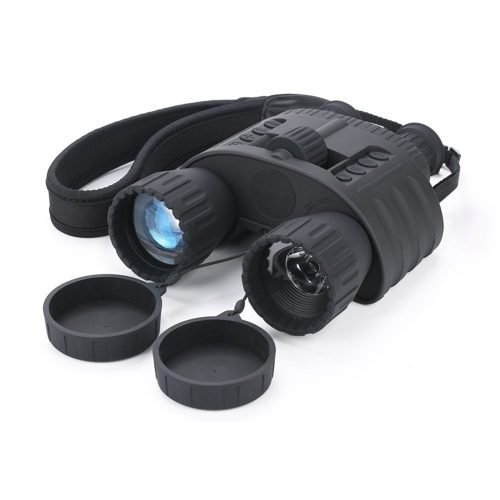 Conclusion – Is the Qiyat Infrared NightVision Binoculars worth it?
There are important factors one should take into account when purchasing NightVision Binoculars. These include the lens coating, eye relief, and portability. The Qiyat is a serious contender for anyone looking to get advanced in whichever field they are in. However, there are yet to be any user's reviews on Amazon which means it is difficult to confirm how well it performs in the real world. In addition, it does not have the same appeal as some other higher rated brands which has additional features and simply looks fantastic. The best thing to do is to buy it and try it out. Also, with so many add ons which are included, it is difficult not to want to add this night vision binoculars to your collection.