PointOptics is reader supported. We earn an affiliate commission if you buy through our links . Learn More.
Spotting scopes, especially ones for users on a budget, are often hit or miss. If you want to get something that isn't too expensive, you'll either end up with an excellent product, or you'll waste your money – there's no middle ground. Fortunately, the Roxant Spotting Scope is of the first variety.
Even though it doesn't cost too much, it's actually a great spotting scope that checks all the boxes, and then some. Whether you're looking to get into spotting scopes, and want to get your feet wet first, or are looking for a backup spotting scope that won't let you down, it's definitely a great option, one you should take a look at. Without wasting any more of your time, let's check it out.
The Blackbird on the outside
As the company's first spotting scope, it's obvious that Roxant went with functionality first, design second? Third? Not sure. It looks boring – an all-black body with nothing that really stands out. But when you think about it, in most of the situations where you're using a spotting scope, you'll want to stay concealed, so choosing this route with the design actually isn't a bad call.
That all-black surface isn't the body itself. The body is made of high-quality materials, which should guarantee durability, but on the outside, you have a rubber armor shell. This is important for two things. First, the rubber surface doesn't slip at all. Even if your hands are wet, and even if you don't have the best overall grip, you can be sure that the Blackbird will stay in your hand. Second, if you do happen to drop it, this rubber shell should absorb a good amount of the impact, thus protecting the internals and the glass from breaking.
While many of the competitors' products opt for a separate focus knob, usually on the top or at the side of the main barrel, Roxant opted for a focus ring that's actually a section of the main barrel. This is a double-edged sword. On one hand, you don't have to hunt for a separate knob – chances are one of your hands is already on the focus ring when you're holding the scope. On the other hand, this makes it somewhat easy for your hand to move the focus ring and get everything out of focus. Not much of an issue if, for example, you use it on a tripod, but handheld, it could be. Aside from that, the focus knob has a grippy and textured surface which makes it impossible to miss. It operates very smoothly, and you can make both fast adjustments, and slow, precise ones, with ease.
The spotting scope is made with a retractable eyepiece that allows you to use it with, or without glasses. There is an extendable sunshade that's built onto the main barrel, which you can use in extremely bright situations to help reduce glare.
The only downside with the Roxant Blackbird in terms of the design is the fact that there's no mention of either waterproofing or fog resistance. Even though it does look really well, we would advise that you throw it in your backpack if you get caught out in the rain. Also, there's a chance that you experience internal fogging when there is a sudden temperature change.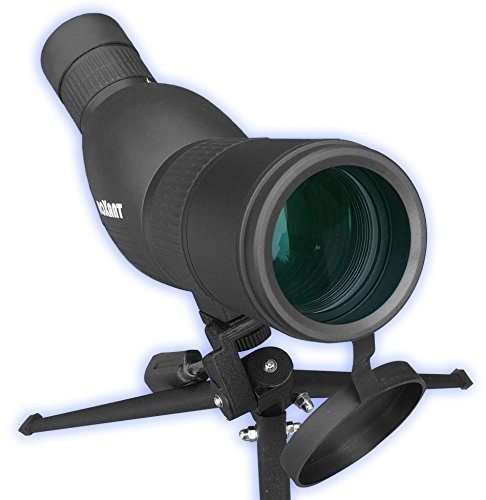 Let's discuss the internals
While the design, as we mentioned, obviously wasn't a top priority with the Blackbird, it's a whole different story with the internals. To begin with, you're getting high definition optics that are military grade. The glass is fully multi-coated, which gives you 90-95% light transmission, and is an excellent choice, especially at this price. Fully multi-coated optics are usually reserved for the high-end optics of the big dogs, so seeing them implemented so well here is a pleasant surprise.
It's not just the coating on the glass that's a positive surprise, but the prism as well. Unlike the more commonly used BK7 prism, which is cheaper but performs a bit worse, you have a BAK4 prism in the Blackbird. Combined with the glass, you are getting excellent optical performance for a fraction of what you'd pay with the competition.
Let's talk numbers for a minute. This is a 12-36×50 spotting scope. The name indicates that you'll get between 12x and 36x magnification, which is a great range. You can get both a wider field of view and a close-up zoom of the object you're looking at. At the front is a 50mm objective lens, which is large enough for the magnification and lets in plenty of light, making things even better.
What's in the box?
While we're discussing pleasant surprises, we should mention the contents of the box. There's more than just the spotting scope here. You'll also get lens caps and a carrying case, as well as a premium, handled portable tripod. The Blackbird has a metal mounting screw at the bottom which lets you easily place it on a tripod, yet getting one in the box isn't something we'd expect at this price.
Final words
To sum things up, there are a lot of things to love with the Roxant Blackbird 12-36×50 spotting scope. The build quality is excellent – a stealthy design with all the essentials covered, and then some. The choice of optics is also stellar, and as expected, you will get performance worthy of a much more expensive spotting scope. The icing on the cake is the inclusion of a carrying case and an excellent tripod, because thanks to this, you're ready to go right out of the box. If you're interested in any other scopes, we recommend looking at our best list here.
The only potential downside with the Roxant Blackbird is the lack of any kind of IP certification, so weather resistance is questionable. We'd recommend you stay on the safe side, and keep it away from water or dust. If you can live with this, the Blackbird is one of the best spotting scopes for users on a budget.