PointOptics is reader supported. We earn an affiliate commission if you buy through our links . Learn More.
Vortex has been a pioneer in the optics industry and they have been developing some of the very best binoculars known to man. Most of the Vortex binocular range is designed for versatility and to use for all your viewing pleasure. Today, we look at the Vortex Optics Diamondback Classic Binoculars and how they measure up to the standards of the wild.
Since Vortex is primarily a brand that has made it possible to view at longer distances, the brand has developed a lot of the latest technology we see in most top-range binoculars. In this article, we examine some of these features and you can find out if the Vortex Optics Diamondback Classic Binoculars is the right binoculars for you.
Technical Specifications:
BAK 4 prism lenses have been used for the viewing area.
The dimensions are 5.1 x 5.8-inches
They have a weight of around 21.4-ounces
The close focus is 6.6-feet
At 1000-yards, the field of view is 345-feet
With the eye caps, it still has an eye relief of 15mm
The magnification is a massive 10X
A large objective lens is used with a 42mm diameter
The lenses are multi-coated for better light dispersion
Review:
It can be easy to settle for something less formidable than the Vortex Optics Diamondback Classic Binoculars, but you will be losing out on so many great features. The main case of the binoculars have been constructed from durable aluminum and it features a durable coating that will fit in your hands for an ergonomic feel.
The coating not only makes the binoculars more aesthetically pleasing but also helps to resist any potential hazards. It can fall from a couple of feet and the impact will be resisted to keep the lenses protected. Additionally, the coating also protects the unit from weather conditions and gives it a water-resistant rating.
Speaking of the lenses, we have BAK 4 lenses that have been multicoated for better light dispersion. These lenses will ensure that the binoculars are can be used almost any time of the day and they won't fall prey to sharp lighting that could impair your view. A 15mm eye relief has helped a lot with adjusting the focus, which works at it's best at around 5-feet to the target.
Since you need to see the target up close and personal, Vortex has made the diameter of the objective lens 42mm. Having a large objective lens like this allows a lot of light to be absorbed and gives you a crisp and clear view of the target. Additionally, the unit also features 10X magnification to ensure that you can see the best picture. Should be using it for birdwatching, you might need a larger than average field of view. Birds can be daunting creatures and since they move rapidly, the field of view allows you to keep them in your sights. These binoculars have a field of view that spans 345-feet at a range of 1000-yards, which does ensure you keep track of your target.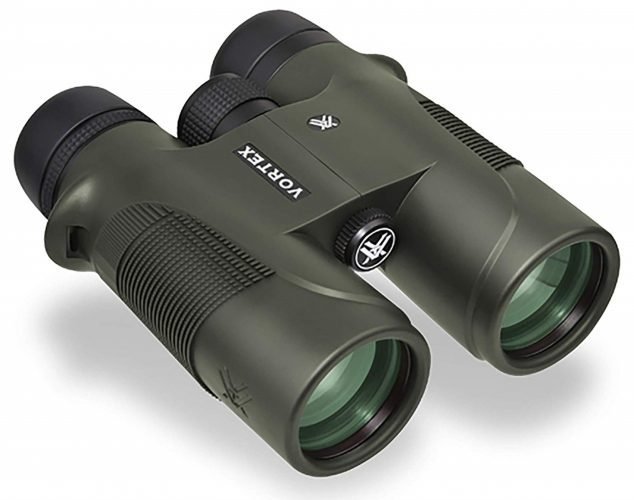 As for the binoculars themselves, they have been designed of the minimalist and while 21.4-ounces can seem like a lot, it definitely is not when you look at some of the competitors with weights in the range of 30-ounces. This lightweight has made it more comfortable to carry for longer treks and it does not bog you down.
Since these binoculars hold a dear place in my heart, it is worth mentioning that they are comfortable to use. They will fit into your hands without any issue while allowing you to easily adjust the focus knob when you are looking through them. Additionally, they are ideal for foggy conditions and should ensure that you see your target.
The unit has one downside that is related to adding tripods to it. Unfortunately, it does not include the tripods and you need to buy an additional mounting bracket if you want to use them. Fortunately, most tripods that are compatible with the unit can also be used for your cameras, which give you a lot of versatility if you only need to use it once on your tripod.
What We Like:
Durable (Fogproog, Shockproof, and Water-resistant)
Lightweight and compact sizing
Can be used in all lighting conditions
Large eye relief for users wearing glasses
A massive field of view for keeping track of your targets
Includes a limited lifetime warranty from Vortex
What We Didn't Like:
The unit is a little expensive for beginners
You need to play around with it to find the best focus
Is It Worth The Price?
The Vortex Optics Diamondback Classic Binoculars are available in 3 different sizes that relate to the objective lens and the magnification. These binoculars have been designed to fit into most competitive pricing bracket and they compete with many of the revolutionary brands like Bushnell and many other top binocular brands.
However, the limited lifetime warranty that has been included is not only for potential damages that might occur to the unit. The warranty will also repair any damages that happen over time and should the unit wear out, they will potentially replace it. This gives it a lot more value and you are the user will have peace of mind. If you are looking to save in the long-term, and you have the funds to spend now, this is one hell of a unit that will allow you to do everything you need. If you're looking for more options, look at our Best List here 
Wrap-Up:
Binoculars can be intimidating but when you don't know what to look for. Since it is one of the things you will buy with aspirations of long-term use, you might need to spend a couple of bucks extra to make it worth your time. Fortunately, the Vortex Optics Diamondback Classic Binoculars are designed for those looking for the best on the market today.