PointOptics is reader supported. We earn an affiliate commission if you buy through our links . Learn More.
Vortex Optics have been around for a good while, and they've established themselves as a household name in the optics industry. From binoculars and spotting scopes to their truly excellent rifle scopes, they've got an extensive range of products that are all high quality and great performers.
One of those products is their Viper PST Gen II riflescope. Even though it's a single riflescope, it actually comes in a host of variants – from a close-range 1-6x24mm to a highly versatile 5-25x50mm model, and all of them have multiple MOA/MRAD reticle variants as well. Oh, and some have the reticle on the first focal plane, while others have it on the second.
If you're looking to buy a riflescope, and want something that's going to be effective at both far away, and a bit closer, we've got our Vortex Optics Viper PST Gen II riflescope review to help you out. Since aside from magnification, objective lens diameter, and adjustment units, most models are very similar, we'll be focusing on the 5-25x50mm model with an EBR-2C MRAD reticle.
The Viper PST on the outside
The Gen I was an excellent scope, loved, used and abused by many, and the Gen II is only better. On the outside, you'll initially notice a somewhat boring black design. The matte finish, which is actually hard-coat anodization, is made to reduce glare and camouflage your position as a shooter, which is very welcome in such a use case.
Aside from the looks, the body is made from aircraft-grade aluminum. The 30mm tube diameter is great for two reasons. First, it guarantees compatibility with various mounts, and second, it gives you a strong, shockproof scope with a lot of room for internal adjustments. It's a single-piece tube, which adds even more stiffness, and improves accuracy.
Since this is a product that's meant to be used outdoors, it only makes sense that Vortex Optics has taken care of some kind of weather resistance. The entire body has been sealed with O-rings, which is enough to prevent any moisture, dust or debris from getting inside the riflescope. The O-rings also keep the argon gas inside. The scope has been purged with Argon to ensure that no internal fogging happens when you have a large difference in temperatures. It's as weatherproof as they come, which is excellent.
One more thing on the outside are the turrets. While this is an area where many scope manufacturers tend to cut corners in order to save a bit, Vortex has decided against that. Instead, they've got excellent exposed turrets that allow you to read elevation and windage really quickly and accurately, and then adjust so you can get your shot just right.
Last but not least, there's something you just don't see on many scopes, even within the higher end market. The lenses have been coated with ArmorTek on the outside. ArmorTek is a very durable, very hard and highly scratch-resistant coating, which keeps the lenses free from scratches, oil, and dirt, regardless of where you use them.
To conclude, Vortex didn't cut absolutely any corners on the build of the Viper PST Gen II. It's a very well made scope and one that's designed to last you for a good while. We have some other options to look at here too.
Is it just as good on the inside?
Yes, it absolutely is. As the name implies, the Viper PST comes with a 5-25x50mm configuration. The first two numbers, 5-25x, indicate the magnification. You have a variable one, so you can choose between a 5x or 25x, and anywhere in between. The field of view is 24.1ft and 4.8ft at 100 yards, at 5x and 25x respectively, which is pretty good. The second number, 50mm, indicates the objective lens diameter, or simply put, how big the lens at the front is. With the decently high magnification of the Viper, the lens is just the right size to let in plenty of light, while keeping the weight of the scope on a reasonable level.
While we're discussing the internals, there's another thing that's very important – the lenses. Vortex Optics have opted for extra-low dispersion glass, which gives you crisp, sharp images while significantly reducing chromatic aberration. To add to that, the lenses have also been fully multi-coated with a proprietary coating. This means you get multiple anti-reflective coatings that increase light transmission and reduce glare on all air-to-glass surfaces.
The last thing we'd like to mention is the reticle and zeroing features of the Viper PST. With a glass etched reticle on the first focal plane, the reticle's scale remains proportionate to the zoomed image which lets you accurately hold for windage and elevation at any magnification. It's also an illuminated reticle, which makes things a lot easier when there isn't a lot of available light. Then, you've got Vortex's RZR Zero Stop feature. Once you've set the zero-stop position, the RZR feature will stop the turret from dialing below sight, so you know that once it's set, it stays at zero.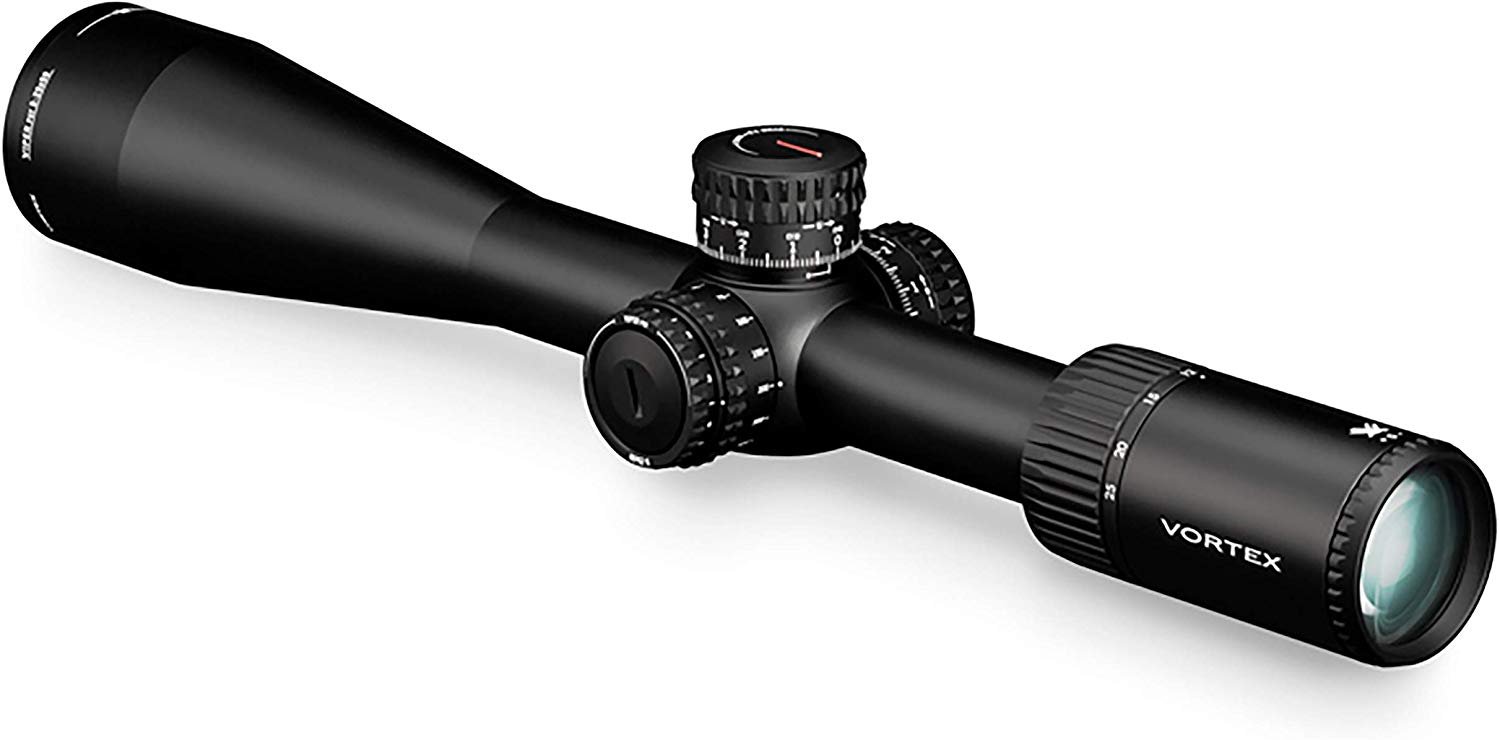 Wrapping things up
After all, is said and done, you'll find that the Vortex Optics Viper PST Gen II is actually an excellent scope. It's built like a tank, it's got all the adjustments you'll need, and the 5-25x configuration gives you plenty of versatility when you're outdoors. It also uses high-quality glass with all the necessary coatings, and the construction has been sealed against the elements very well.
With that in mind, there's one glaring downside to the Viper PST – its price. With it costing this much, it's actually not any good for first-time shoppers who want something that works really well but won't break the bank. However, if you're someone who knows what they're getting, and doesn't mind paying for the privilege, it's definitely a scope that you should consider.