PointOptics is reader supported. We earn an affiliate commission if you buy through our links . Learn More.
When you are looking for new optics, Vortex is one of the best brands to start with. They have been in the market for numerous years and the sights they have produced are highly rated by most of the top shooters. Since Vortex does have such a good reputation, we decided to give them a go and test the Vortex Optics Strikefire II Red Dot Sights to see how they stack up under pressure.
Since receiving these sights, one cannot help but be excited to test them and see how well they work. We had the opportunity to find out a little more and aside from testing, we also went the extra mile to do some legwork in the research department. This gave a clear and better understanding of this scope and how it does work on most rifles.
With that being said, here are our thoughts on the state of the art Vortex Optics Strikefire II Red Dot Sights:
Technical Specifications:
Red and green dot reticle for more functionality
4 MOA reticle
B10 different brightness settings for all types of lighting conditions
Multicoated optics allowing you block out the glare of the sun with ease
Anodized aluminum coating adding to the overall durability of Vortex products
Parallax-free design giving you unlimited eye-relief and an unlimited field of view
Nitrogen purged, making it fog proof
Cantilever sight allowing you to move the sights as needed
Review: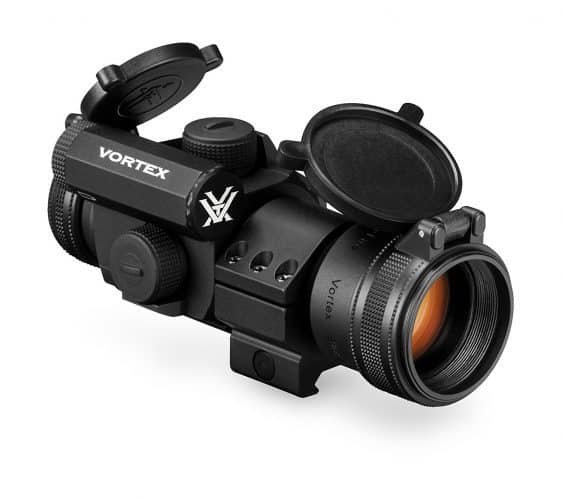 The Vortex Optics Strikefire II Red Dot Sight is one of the best red dot sights on the market today. The scope has been constructed from anodized aircraft aluminum and this adds to the overall durability that you may want. Tested to have an impressive waterproof rating of IPX7, the scope is capable of being submerged for up to 30 minutes in 3-feet of water.
Since it has also been nitrogen purged, the scope is easy to use and functional in all weather conditions. It enables you to see through the fog, while the multicoated lenses will make it possible for users to shoot in the midst of the day and resist and potential glare that may be caused by the sun. Additionally, we also like the parallax-free design as this will ensure that you have an unlimited field of view and eye-relief.
Having a cantilever-mounting rail is one of the best decisions you can make. This rail enables you to choose the position of the scope on the rifle. It also enables you to move this scope and this adds to the versatility. If you are the proud owner of an AR-15, this will enable you to easily co-witness your iron sights if needed.
With an approximate battery life of 6000-hours, the CR2 battery will keep you lit up in all lighting conditions. We love the 10 different brightness settings as this enables you to easily adjust the scope to your needs. However, you should keep in mind that it might use more battery life if you are choosing the higher brightness settings.
Last, but certainly not least, this scope is also fitted with a massive 30mm objective lens. Having such a large objective lens will enable you to have a much better light transmission. Since this is already combined with the multicoated optics, we can proudly say that we did not find any problems related to viewing your red dot. However, it is worth noting that you need to choose between having either the bright red dot or the combination of the green and red dot reticles.
What we like:
A reasonable price tag for an advanced optic
Red and green dot option
Massive battery life to keep you powered up
Cantilever rail adds more functionality to the scope
Excellent light transmission with a large objective lens
Limited lifetime warranty included
Extremely durable
What we didn't like:
Stabilizing the mount does seem to be a little tricky
Should you buy it?
When it comes to Vortex Optics, we always recommend their sights and the Vortex Optics Strikefire II Red Dot Sight is no difference. The sight features everything that you will need if you love tactical shooting and the precision shooting is on par as well. This also makes it a favorite option for the avid hunter.
In terms of the price, this scope is somewhat more expensive than some of the other models on the market. However, it has been backed by a very strong limited lifetime warranty from the Vortex brand. It is also worth noting that all Vortex Optics are backed by this generous warranty to ensure that you have time to spot any flaws and show the confidence they have in their products.
Conclusion:
Vortex Optics is certainly designed for the avid shooter and this scope is designed for shooters at all levels of the game. It can be used for hunting and combat shooting and we would once again like to recommend it. However, if you need to improve the magnification, the Vortex Optics VMX-3T Magnifier will be an excellent option for hunters who might need a closer look at the target.
We would like to thank you for reading this article and while we have a real soft spot for Vortex Optics, we would also like you to post some of your thoughts in the comment section below. Be sure to let us know if you have ever used this scope and if it lived up to expectations. We would also like to see if you have any other red dot sight recommendations we might have missed.