PointOptics is reader supported. We earn an affiliate commission if you buy through our links . Learn More.
Sniper scopes are an interesting category when you're an outdoorsman and need to go shopping. There are many to choose from, they range from great, reputable brands such as Bushnell scopes, that usually cost quite a bit, to budget-oriented ones that still perform admirably. Making the right choice, especially if you're buying for the first time, can be difficult.
The Viper PST Gen II takes incredible performance and rock solid tactical features to new heights!
But fear not, as we're here to help. Now, if you're already an experienced outdoorsman, chances are you know your sniper scopes, and know what you're looking for. If that's the case, you can skip right to our best sniper scopes list below, and see which one suits you best. However, if you're only buying your first sniper scope now, you'll be happy to know that we've also got a pretty informative buyers' guide, too. We'll cover things such as what the numbers in the model name mean, what all the coatings indicate, etc.
Without wasting any more of your time, let's dive into our buyers' guide, and see how to choose sniper scopes when you're in need of one.
Our list of The 6 Best Sniper Scopes
Field View: 24.1′-4.8′(100Yrds)
First on our list is the Viper PST Gen II from Vortex Optics. This is an excellent option if you're looking at premium sniper scopes, and it comes with all the bells and whistles of a great scope. With a 5-25x magnification power, this is a very versatile scope. From close range, to long range scenarios, you're pretty much covered in any situation.
The turrets are laser etched with adjustable parallax, and an RZR zero stop. There's a fiber optic rotation indicator which helps you keep track of the position of your turrets even when there isn't a lot of light. The reticle gives you ten intensity levels to choose from, so you can get it just right. To add to it, you've got extra-low dispersion glass, combined with XR fully multi-coated lenses with Armortek coatings.
On the outside, the Viper PST is built like a tank. There are a single-piece construction, O-ring sealing, and argon purging, so the weather can't do anything when you're out using the scope. An excellent option if you can spend a bit more on your purchase.
Available at: Amazon.com
Field View: 4.7 – 17.5 ft at 100 yds
If you're looking for something with quite a bit of range, and a large objective lens to let in plenty of light, the Nightforce NXS might be the right scope for you. It covers all the basics, and then some, and performs admirably in a variety of conditions.
To begin with, you've got a magnification of 5.5x at the low end and 22x when you want to get close. Pair this with the 56mm objective lens, and you've got one of the most versatile sniper scopes, even when there isn't too much light.
The illuminated reticle will help you during those darker scenarios, and the glass is really, really good. Optical performance is flawless, and you won't be left asking for more. You'll also appreciate the 100 M.O.A. of internal adjustment, which should have you covered in terms of versatility.
Last but not least, with a 6061-T6 aircraft grade aluminum build, this is a sturdy scope that's meant to stand the test of time. However, there's no mention of weather resistance, so we would advise being careful when using it, and keeping it out of bad weather.
Available at: Amazon.com
Field View: 74.2 ft at 100 yds
Leupold is a household name when it comes to optics, and their VX-R Patrol riflescope is an excellent example of why. This is a close-range sniper scope, with a magnification range of 1.25x to 4x, and an objective lens diameter of 20mm. It's perfect for a compact rifle, and situations where you need a small, lightweight sniper scope for close range.
The reticle is illuminated, but it comes with a motion sensor that turns it off after a few minutes of inactivity. This will save you quite a bit of battery life, and works really well. You're getting a Fire Dot SPR reticle, which is great and performs admirably in a variety of conditions.
The entire scope is made of 6061-T6 aircraft grade aluminum, and it's been tried and tested in a brutal manner, to say the least. It's built like a tank, and it won't move even under significant recoil. It's also completely water, fog and shock proof, so it remains operational regardless of the weather. If you're looking for sniper scopes from a reputable manufacturer, for close range scenarios, and don't mind spending a pretty penny, the Leupold VX-R Patrol is as good as they come.
Available at: Amazon.com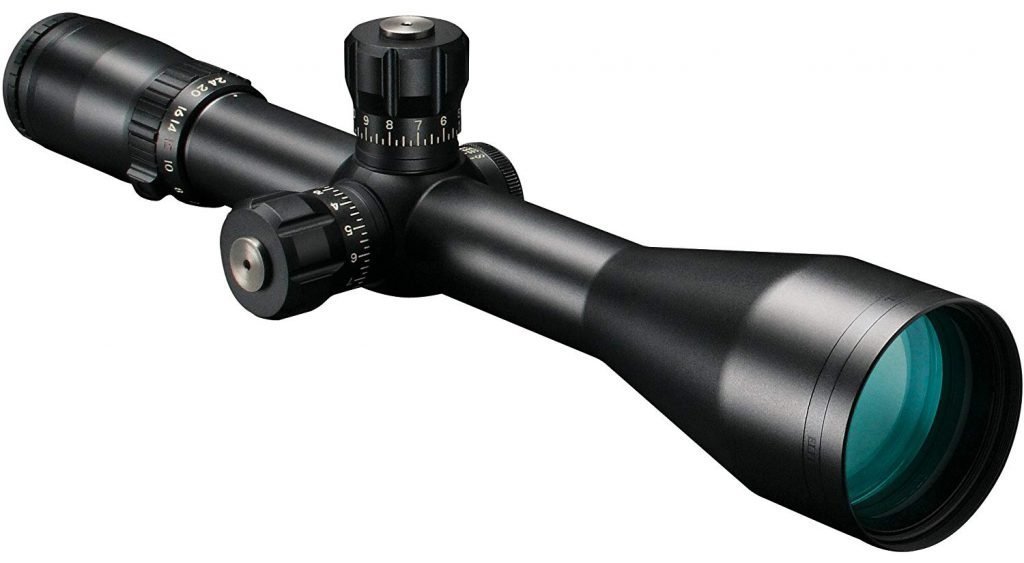 Bushnell scopes are constantly praised for their incredible optical performance and durability, and we're happy to report that the Elite Tactical is no exception here. With a 6-24x magnification, the sniper scope is pretty versatile, and a 50mm objective lens will allow plenty of light to enter the scope. Add to that the fully multi-coated optics and the aforementioned Rainguard HD coating, and you've got yourself the best of the best in terms of optical performance.
The G2DMR has a mil-hash marked reticle on the first focal plane, which makes it easy to range and hold for windage and elevation. To adjust long-range accuracy, you've got a side focus parallax adjustment. You'll be able to use it in a variety of conditions, and as we mentioned, optical performance is flawless.
On the outside, this is a 30mm one-piece construction, which is as durable as they come, and it's sealed with O-rings and purged with nitrogen, so it's weatherproof, too. Last but not least, you get a 3" sunshade for those bright days, and Bushnell's excellent limited lifetime warranty. Overall, this is one of the best sniper scopes on the market today.
Available at: Amazon.com

Field View: 13.1-32.9 ft/100 yds
While Redfield isn't a name that's as popular as Leupold or Bushnell, for example, their Revolution is on our list of best sniper scopes for a lot of reasons. It's a great performer that's also extremely durable, and would be a great pick for many. With a magnification range of 3-9x, you won't be able to go too much in terms of long range, but for close to medium range, it's perfect. A 40mm objective lens diameter ensures plenty of light gets in, too.
The lenses have vapor-deposition coatings which give you light transmission that rivals all the high-end sniper scopes on the market. In practice, you get great optical performance in just about any conditions. The Accu-Range reticle gives you great precision, and combined with the Rapid Target Acquisition (RTA) eyepiece, you can align things really fast.
To round things off, we've got excellent build quality on the Redfield Revolution. It's a sturdy, durable build, and it's also completely water, fog and shockproof, which means it'll last you a good while. All things considered, it's a great, versatile option for people who don't need a long range scope.
Available at: Amazon.com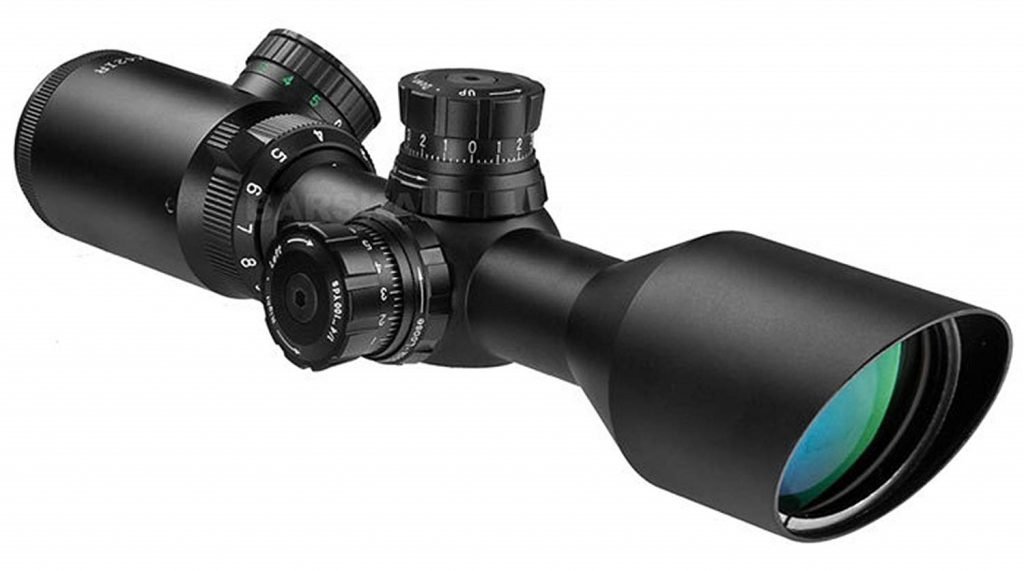 Field View: 9.94ft / 3.02m
We're rounding out the list of best sniper scopes with a budget-oriented option from Barska, and it's their 2nd generation IR scope. With a magnification range of 10-40x, this is an excellent option for those who want to go long range. The 50mm objective lens diameter, combined with the multi-coated optics, will give you plenty of light, and optical performance is great.
On the inside, you get an illuminated Mil-Dot reticle that can be either red or green and has five levels of brightness. You can get things just right, depending on the conditions you're hunting in. The reticle is on the second focal plane, and there's also a side adjustable parallax, too, which helps with the distance.
On the outside, this looks like a durable scope. However, with no mention of materials used, or weather resistance, we'd take this with a grain of salt, and we'd be a bit more careful with the Barska.
If you're on a budget, and need a long range sniper scope, the Barska should do well. But if you can afford something a bit more higher-end, chances are you won't regret it.
Available at: Amazon.com
Buyers' guide
Make no mistake, many brands, especially budget-oriented ones, will try to push you towards buying their products with marketing. Even though there are often claims that hold true, chances are a brand like that is usually exaggerating. If you aren't familiar with the terminology of sniper scopes, and what matters, you can easily make a mistake. We'll talk about all the important things, starting with the key ones – magnification and objective lens diameter, and then discussing a few more others.
Magnification and variable vs. fixed power
Regardless of what kind of sniper scopes you're looking at, they all come with a particular magnification level. The higher that magnification level, the closer you'll "be" to your target. If you're closer to your target, you can see it more clearly and fire a much more accurate shot.
This isn't as simple as "bigger is better", though. If you're using your scope in a smaller environment, a high magnification factor can only mean that you're stuck with a narrow field of view and a semi-useless scope.
So, how do you recognize the magnification before you buy? Well, there are two numbers when you're looking at scopes, for example 3-9×42. The first number (or set of numbers in this case), 3-9, indicates the magnification power. The second is the objective lens diameter, but we'll get to that in a second.
Now, we mentioned number, and set of numbers. When we're discussing magnification, there are two types of sniper scopes – ones with variable magnification, and ones with a fixed magnification. In the example above, we've got a scope with a variable magnification, from 3 to 9x. Depending on the conditions and environment you're hunting in, you can choose to stop anywhere from 3x to 9x. There are also fixed ones, for example 10×42, which only come with a single, fixed magnification. This is a matter of personal choice and convenience, but note that scopes with a fixed magnification have less moving parts, and are usually better performers, at least optically.
Objective lens diameter
The objective lens diameter is the second number in the sniper scopes' name, and is the other important factor that has a great impact on optical performance. It's pretty simple here as well, a larger objective lens diameter allows the scope to have more light enter inside the tube. Consequently, you're getting better clarity, contrast and sharpness, and an overall better image.
However, "bigger is better" doesn't apply here either. With a larger objective lens diameter, you also get a much larger and significantly heavier scope. This isn't really practical, especially if you're going to be carrying your rifle for extended periods of time.
The perfect compromise would be to settle on magnification, and then see what kind of objective lens diameter lets in enough light, without it being too large and heavy. Once you've got this settled, you can choose from our list of best sniper scopes and get the one that's closest to what you need.
Lens coatings and their importance
While the magnification and the objective lens diameter are the key things in determining how usable a sniper scope is, the coatings can make or break the entire experience. The coatings are applied to the lenses, and depending on the type of coatings, you could have them on one, or all elements, and in different types.
The basic anti-glare coatings will collect light from the surroundings and prevent extra glare from entering the scope, and distorting your image. You also have some Bushnell scopes that come with a Rainguard HD coating, which is a water-repellant coating that prevents fogging, resulting in a much better image even when it's raining.
There are a couple of terms that you'll find when you're looking at coatings, and here they are, ranging from the best to the worst:
Fully multicoated lenses have multiple coating layers on all surfaces that are air-to-glass
Multicoated lenses have more than one layer, on at least one surface of the lens
Fully coated lenses come with one layer on all surfaces that are air-to-glass
Coated lenses only have a single layer, on at least one surface of the lens
If you can afford it, we'd always advise going for multicoated or fully multicoated lenses. However, that can command a significant price increase, especially if you're looking at premium sniper scopes from reputable brands.
Tube diameter and turrets
The scope's tube diameter is another factor you'll want to consider. Now, with a larger tube, you can have a more flexible scope. However, this also results in a heavier scope which may be a burden to carry around. Then, you also have the fact that a larger tube may be difficult to find mounts for. If you want to stay on the safe side, we'd recommend going for a tube that's between 30 and 35mm in diameter.
The turrets are what you'll use to hold for windage and elevation. This is an area where many budget brands tend to cut corners, and that's going to be immediately apparent when you start using the scope. The turrets are necessary for any and all adjustments on the scope. You'll want them to click on each rotation, so you can keep track of them more easily. Good turrets will be capped, and they may also have a locking mechanism that'll keep them in place in case you bump the scope into something.
Build quality and weather resistance
Last but certainly not least, we've got the build quality and weather resistance of sniper scopes. Everything from the best sniper scopes to the worst ones is meant to be used outdoors, so it must have at least some degree of durability. If this isn't the case, you'll damage it easily and end up with a useless scope.
Single-Piece design is usually an indicator of a quality scope, and then you've got things such as a rubberized contact surface and lens caps. That rubberized surface will ensure the scope won't slip out of your hands. And even if it does, it acts as a shock absorbent. The lens caps will keep scratches off your lenses when you aren't using them, which is another key feature.
The weather resistance is the last piece to the durability puzzle. You'll want a scope that's completely sealed with O-rings, and there's no chance of water getting inside. Also, while there is an argument between argon and nitrogen purging, you'll want at least some kind of purging. This will ensure that you won't get any fogging when you have a significant temperature change, which can impact your experience.
Wrapping things up
Now that you've got a good understanding of what matters with sniper scopes, and what some of the best sniper scopes on the market today are, all that's left is to choose which one works best for you!
The Viper PST Gen II takes incredible performance and rock solid tactical features to new heights!