PointOptics is reader supported. We earn an affiliate commission if you buy through our links . Learn More.
Apart from your bow or rifle, a rangefinder is one of the most useful pieces of equipment to have with you on a hunt. Unless you are a seasoned pro who is able to accurately estimate the distance to your target, a good quality rangefinder will really help to elevate your chances of making a clean kill. Even if you are good with your estimates, it doesn't hurt to have a good rangefinder to confirm your numbers before making the shot.
Although a rangefinder is designed to simply measure the distance from you to your target there are a wealth of options available on the market and to compete they include many other features. The best rangefinder is not necessarily the one with the highest price tag and most features, but the one that offers you what you need at a price that you can afford.

The ACULON-Laser Rangefinder
Small package with big features. It's compact and convenient, with a slim design too. You really can't ask for anything more.
Longest Range
The Sig-Sauer Kilo-2000 boasts a massive 1200 yard range with around 2 feet of accuracy, while still being able to provide closer accuracy around the 800-yard range. Highly recommended for those who are really looking to push range without sacrificing on quality.
Budget Choice
The Bushnell Bone Collector offers a unique design and quality performance for an affordable price. The lower price point does not impact the clarity or precision of this device. A worthy budget choice if you don't require a 6x magnification.
Lightweight Option
If you're looking for a quality lightweight device, the TecTecTec VPRO500 weighs in at just 0.4 pounds and also offers an excellent quality of range finder, in fact, this was a close second choice for our overall recommendation.
When it comes to buying a laser range finder there are a couple of factors to take into consideration before making your purchase, especially if it is your first time buying one of these gadgets. As you use a rangefinder to measure the distance, the maximum range is obviously very important, but watch out for claims that seem too good to be true. Some manufacturers list the maximum range based on highly reflective targets which, unless you are hunting aluminum deer, isn't going to help you much in the field.
Check the fine print to see what the real range is for trees and deer to get a much more accurate idea of what to expect in real life situations. Ease of use is also another important factor to take into consideration unless you want to waste time trying to figure out where to switch modes or even turn on the rangefinder while that trophy deer is slowly ambling out of range.
Our Selection of the 10 Best Rangefinders:
Your hunting style will also factor into your choice and options as a rangefinder that is great for rifle hunting might not be ideal for bow hunters. You can get rangefinders that cater to both, but make sure that you read the rangefinder reviews to determine whether they are worth the extra cash.
1. Nikon ACULON-Laser Rangefinder
550 YARDS
As the saying goes – Good things come in small packages. If that's so, then the ACULON laser rangefinder has to be one of the instruments any gun hunter, bow hunter or target shooter should have. This rangefinder is compact, almost like a slim design, yet it can range up to a maximum of 550 yards. If you think 550 yards is a small distance, try measuring distances with some rangefinders on the market. You will be lucky to hit past 200 yards for reflective surfaces.
Apart from having a true 550-yard ranging capability, this rangefinder excels in both speed and accuracy when locating targets. As soon as you press its single-operated button, it will report accurate readings throughout the entire range (6-550 yards) in 1yard/meter increments.
When it comes to compactness, not many rangefinders on the market can match its dimensions of 3.6 x 2.9 x 1.5 inches and its weight, which is 4.4 ounces. Of all the rangefinders we have reviewed, this one is probably the lightest. This means only one thing: that you will never leave it behind when going out for a hunt. If it's not on your palm scanning the environment and taking measurements, you can easily hang it around your neck or fit it in your jeans' pocket. Due to its unobtrusive nature, you will probably have to feel your pocket from time to time, just to assure yourself it's there.
Despite being ultra-compact, the ACULON features a rigid body with the sides roughened for a stronger grip. With such solid construction, the ACULON is built to be rainproof and can be used to range even foul weather days. Additionally, because of its user-friendly design, it's straightforward and intuitive to use – a simple tap of a button provides you with instant distance readings to your target object. When you hold down its button, it will give you up to 20 seconds of continuous measurements. Should you leave the rangefinder inactive for eight seconds, it automatically powers down to save battery power.
Besides having a sturdy design, the ACULON has a superior monocular optical system that features 6x magnification lens, 20mm diameter objective lens and long eye relief (16.7mm). You can bet it has a bright, uncluttered display because it uses Nikon's multilayer-coated lenses to transmit more light. Therefore, when scanning the environment with the rangefinder, you will be able to see a natural and clear view of your target through its intuitive LCD. It also has a diopter adjuster, which allows you to bring your image into focus and make it sharper. It has an illuminated internal display that shows the distances to your target – you can choose to view this either in meters or yards -, a reticle with a laser irradiation mark and the battery status.
While some high-end models on the market use special technology to compensate for changes in elevation angle, which benefits the hunter when shooting at an extreme angle, the ACULON lacks this provision. However, it makes up for that by having a programmable Distant Target Priority mode that lets you locate a distant target object amongst other objects that you are measuring. This feature is especially useful when measuring the distance to an object that is partially obscured by grass, brush or a tree. As a hunter, whether you use a rifle or a bow, you will find yourself in many situations where you may just need to active the Distant Target Priority mode.
This rangefinder uses CR2-3V lithium battery, so you can be sure it will keep you going for some time. By the time it completely drains, you will probably have taken up to 8000 measurements with it.
The ACULON has everything a hunter could ever ask for. Multilayer-coated optics, a long eye relief, easy to carry because of the ultra-compact size, ease of use, up to 6X magnification, water resistance, a decent range despite its compact size, speed and diopter adjustment. On top of this, the ACULON laser rangefinder comes at a very affordable price. The only downside to this rangefinder is that it does not compensate for angular changes.
2. Bushnell Bone Collector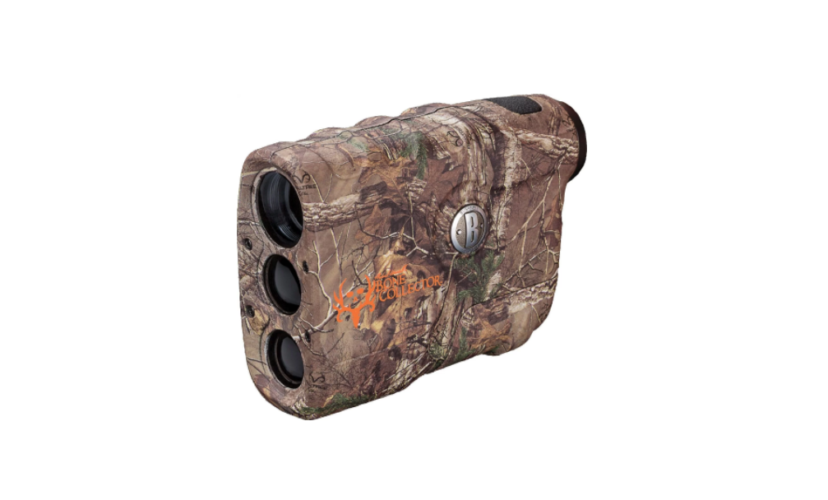 600 YARDS
The Bushnell Bone collector is a rangefinder meant to gives outdoor enthusiasts confidence when going for a hunt. Its camouflaged look will match quite well with most natural hunting grounds. With its Realtree Xtra camouflage finish with a Bone Collector logo on the side, plus a first-class eye-safe infrared laser that can beam up to 600 yards, the Bushnell bone collector will leave you fascinated, despite having a low magnification.
It has a maximum reflective range of 600 yards, 400 yards for tree ranging and 200 yards for deer ranging with a+/- 1-yard accuracy. Its minimum yardage is 10 yards. It does not have a powerful optics, but with its 4x magnification, a 21mm objective lens, 20 mm eye relief and 320 inches Field of View, you will still be able to see your target location in detail and measure distances.
When you activate the laser, its in-view LED Display, which is clear and uncluttered, comes to life displaying the various icons. The display shows the aiming reticle with an illuminated crosshair for aiming at your target, battery status and the distance in either yards or meters. The measurements are at the lower right part of the display. Although its LCD screen is clear, you will notice some black spots; however, you have nothing to worry about since the spots are inherent and they do not degrade its ranging performance.
It has only one button and no ARC or Targeting modes, which means it cannot measure changes in elevation in a sloping situation. With only one single button, you will not have a hard time using this rangefinder to calculate the range distance to your target. In reality, it's simple to use, and even someone who has never held such an instrument in their hand before can get correct measurements to objects. Because its power/laser button is textured, you can never miss it when you are ranging in low-light situations.
The Bone Collector gets its power from a 9V alkaline battery system, which you have to buy separately because it doesn't come with one. To install the battery, you will have to unscrew its compartment, fix the battery and then screw it back, though this process is not as hard as it sounds.
The Bone Collector has a sturdy and durable design that is built to go wherever you go. It measures 4.2 x 3.6 x 1.9 inches and it weighs around 8 ounces. You can easily fit it in your pocket when you are not using it, and you will hardly notice it's there. It also has a strong built-quality with finger indents on its surface for a secure and comfortable grip.
Although it lacks features like Rain-guard HD for protection against harsh weather, it can withstand rain and fog. However, make sure not to subject to heavy rain or a lot of solar. Just like any electronic device, it can malfunction when left or used in such conditions. The advantages of the Bushnell Bone Collector laser rangefinder are accuracy, its camouflaged casing, sturdy design, and high-quality optics.
3. Vortex Optics Ranger 1000
1000 YARDS
The Vortex Optics Ranger 1000 is an easy-to-use rangefinder that also compensates for angular differences. You will find it useful if you are an archer or rifle shooter. With the ranger 1000, you can attain a ranging distance of up to 1000 yards on reflective surfaces and up to 500 yards when you are ranging on soft targets like deer. When the ranging distance is 1,000 yards, its accuracy is about +/- 3 yards. Furthermore, it provides these measurements almost instantaneously after you press down on the power button.
Its interface is clean, simple and intuitive thanks to 6x magnification eyepiece, 22mm diameter objective lens, and fully multi-coated lenses. This means you will get to view clear and bright images of your target object. Another advantage is that it will allow you to adjust the viewfinder sharpness using its diopter adjustment knob. If you have eye problems, this is a useful feature.
Because it has two buttons – a menu button and the laser button – using the Vortex Optics Ranger 1000 is quite easy. When you want to take measurements, simply press and release the laser button. Use the crosshair to aim your target and when you want to get the distance readings, simply press and release the same button. In case you want to activate continuous scanning mode, press and hold down the laser button. This functionality will range various targets as you scan across your hunting grounds. This mode is also useful for ranging moving targets.
The Ranger 1000 has a rugged build with a rubberized armor on its surface. This makes it comfortable to hold in the hand. The rangefinder measures 5 x 3 x 5 inches, making it compact enough to fit in a small carrying case. The Ranger 1000 is also lightweight, weighing only 7.7 ounces. This means you can hang it around your neck all day and without the risk of any neck strains. Its compact size makes it easy to slip into your bag or pocket.
The Ranger 1,000 uses three different modes: The Horizontal Component Distance (HCD), the Line of Sight (LOS) mode and the Scan mode. The HCD mode, which is the primary mode, and the most suitable for rifle and archery shooters – this setting compensates for changes in elevation and angle of sight, which is highly beneficial to rifle and bow hunters. This mode presents the required info quickly and simply. The second mode is the Line of Sight (LOS) mode, which determines the distance to an object through a direct path without compensating for angle changes. Lastly, there is the scan mode – As you scan across the terrain, this option provides continuous range readings. In case you don't use it for 10 seconds, the Ranger 1,000 will automatically power down.
The Vortex Optics Ranger 1000 rangefinder keeps its reticles deactivated unless you aim at a target. That way, the rangefinder can acquire the target better when aiming. Even though this makes the ranging time slow by a second or so, it's a useful feature when you are ranging in conditions where you can hardly see anything, perhaps because of low-light situation.
It has a socket for mounting on a tripod, which comes in handy when aiming at small targets at long distances. It also comes with a loop lanyard for hanging the rangefinder around your neck. Because it has rainproof housing construction, you can use it even during harsh weather without the risk of damaging it. Lastly, it uses CR2 coin cell battery that lasts long and it's readily available in most stores.
All in all, the Vortex Optics Ranger 1000 has a number of advantages. It is compact and lightweight, has an impressive range of up to 1000 yards, it is fast and accurate, has an easy to use menu, is fully waterproof, has slope compensation functionality and fully multicoated optics. On top of that, it also has diopter adjustment and comes at an affordable price. You cannot go wrong with the Ranger 1000.
4. Simmons 801600 Volt 600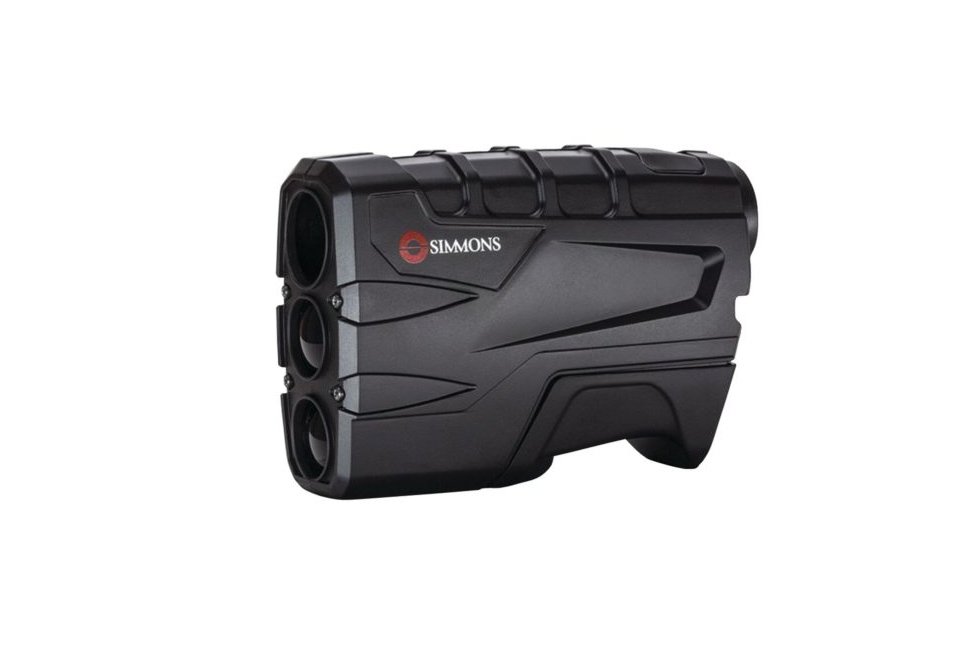 600 YARDS
The Volt 600 from Simmons is an excellent rangefinder for a bow hunter. If you are looking for a rangefinder that you can use for rifle hunting or golf, perhaps you are better off with another higher end model. This one is a good choice if you are on a tight budget and you don't mind a rangefinder with simple features. The good thing is, despite its affordable price and simple features, it will still provide you with accurate distance measurements when you are hanging out there in the field.
With this rangefinder, the ranging distance for reflective targets is estimated to be 600 yards, 400 yards for trees and 200 yards for deer, with an accuracy of +/- 1 yard. While 600 yards is not bad for a close target shooter, 200 yards is somehow not an impressive ranging distance for a deer.
Although it uses a 4x magnification eyepiece and a 20mm objective lens, it has clear optics. While you can get a clear and bright image when ranging during the day, it can get a little tricky to read the readings during early dawn or late dusk. This 4x magnification is decent for close ranger hunters like archers or those people who have a hard time ranging with models with higher magnification. Despite having a low magnification lens, its LCD is clear and uncluttered. Its display shows the battery indicator on the left, a box-like reticle with diagonal hash lines/marks at the corners when active and the distance in yardage or meters right below the reticle. Unlike most rangefinders that display the angle of shot, rifle/bow icons or a target priority icon, this rangefinder lacks these features.
The Simmons 801600 Volt 600 has only a line of sight (LOS) mode and no ARC mode to compensate for angle difference. Because this lens does not compensate for the angular difference, perhaps it makes up for this by having the tilt intelligence mode that provides the true horizontal distance when ranging at your target at extreme angles. This true horizontal distance is displayed in yards for targets that are not further than 99 yards. From that point, you can only use the line of sight yardage. The tilt intelligence provides angle compensated readings.
The Volt 600 also features a sturdy design, which is a win given. As for its size and weight, this rangefinder weighs 8 ounces and has dimensions of 4 x 5 x 3 inches. While it is heavier than some models in this list, it is still a compact unit; your cargo pocket will probably be an ideal place to keep it. If you like, you can also hang it around your neck, but you would have to fix a string around its eye socket since it does not come with one. It also comes with a tripod mount, which comes in handy for those days that you are feeling shaky. You can easily mount it on a tripod for increased stability.
Unlike other rangefinders that use a 3-volt CR2 battery, the Simmons uses a 9 Volt Alkaline battery. The good news – it is readily available and affordable. The bad news – it does come together with the rangefinder, you have to buy separately.
To be honest, the Volt 600 is a basic rangefinder. Sure it lacks advanced features like eye relief, target priority mode and scan mode that you will find in other rangefinders. It also does not have a lanyard, so hanging it around your neck is not an option unless you fix one. However, many hunters will appreciate the low price, the precision, and accuracy, ease of use, as well as the Tilt Intelligence Mode.
5. Bushnell Scout DX 1000 ARC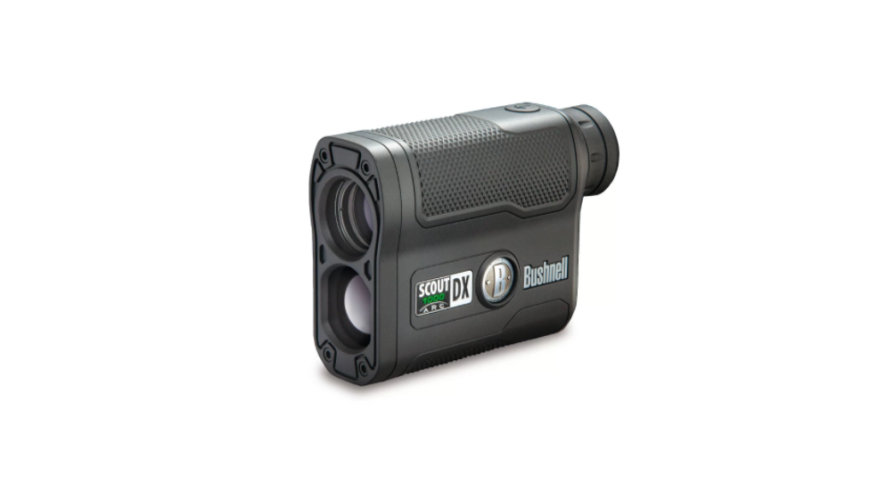 1000 YARDS
The Scout DX 1000 is the real definition of a laser rangefinder with accuracy and precision that doesn't leave much to be desired. It comes with an Advanced Digital microprocessor, plus an ASIC chip (Applications-Specific Integrated Circuit) which guarantees you instant and accurate readings whenever you are ranging with this device. Although its maximum range is advertised as 1,000 yards, it can't seem to range past 600 yards for reflective objects and 350 yards for a deer. However, it's spot on when it comes to accuracy. When ranging between 5 and 125 yards, you get an accuracy of a ½ yard and 1/10 precision. Its accuracy when ranging between 125 and 1000 yards is +/- 1yard.
When shooting during the day with the Scout DX 1000, you will immediately notice its high-quality optics. At low-light situations like at dawn or dusk, it has an average performance. Although it will give you accurate readings, it may be hard to see at that particular time. The rangefinder is integrated with a 21mm objective lens and 6x magnification eyepiece. It also has fully-multi-coated lenses for optimal light transmission. Its LCD is bright and clear, such that you won't have any trouble viewing your target's location to measure the exact ranging distance.
The Scout DX 1000 also has a diopter adjustment knob for enhancing the image's sharpness. It has an advanced display, which shows angle range compensation symbols like Rifle mode and bow mode, battery life indicator and an aiming circle with an active laser. It also it displays targeting symbols like Bulls Eye mode, Brush Mode and the Line of Sight distance.
Because the Scout DX 1000 can compensate for angular elevation, you can target objects when hunting in an uphill or downhill situation. It uses a built-in inclinometer to show the exact angle of elevation with a plus or minus one-degree accuracy. Keep in mind there are two Angle Range Compensation (ARC) modes – the Bow mode and the Rifle mode. The Bow mode shows the LOS distance, the true horizontal distance, which is between 10-99 yards, the degree of elevation, and the exact angle of inclination, which ranges from -90 to +90 degrees.
The rifle mode, on the other hand, has two settings. The first one is the Variable Sight-In (VSI) feature that provides holdover/bullet drop information and lets you set the sight-in distances for your rifle, which can be 100, 150, 200, or 300 (yards or centimeters). You can also choose which scale you want to use to see the hold-over/bullet-drop measurements – it can be in inches, MIL, MOA, or centimeters. Apart from bow mode and rifle mode, there is the regular mode that only displays the line of sight; it does not display the compensated distance or the degree of elevation.
The Scout DX 1000 also offers selective Targeting Modes that let you adjust the unit's performance parameters to get the best out of your hunting. The various Selective Targeting modes include Automatic Scan Mode, Bulls Eye Mode, and Brush Mode. Automatic Scan setting mode displays the distance between you and your target object as you scan across the field of view. It continuously updates the range as you scan multiple objects.
When the Brush mode is on, you can ignore foreground objects like a brush and tree branches so that only targets at the background stand out. When ranging to many objects, it will calculate the distance of the furthest object and display its measures. Whenever this happens, a small circle surrounds the Brush Indicator. For instance, if you are ranging and the laser recognizes let's say a brush and deer in the background, it will display the distance to the deer. The Bulls Eye setting will allow you to acquire the range of small targets while ignoring distances of background targets. When the laser senses multiple objects, it displays the distance to the closest target. For instance, if you are aiming at a deer and there are background trees, the display will show the distance of the deer.
You will love its rainproof construction, the black finish and the rubberized parts that ensure a firm grip. Weighing only 8 ounces and measuring 1.3 x 4 x 2.9 inches, it's a small-sized rangefinder that's also portable. It's powered by CR2- 3V Lithium battery, and it has a tripod mount molded at the bottom that's useful during those times you want to get a more stable shot.
The Scout DX 1000 is a premium engineered rangefinder. While it might take you some time to learn how to use it, many hunters will love its small and lightweight build, rainproof rating, the fully multi-coated optics and the compatibility with a magnetic attachment system for the tripod.
6. TecTecTec VPRO500 Golf Rangefinder
540 YARDS
Aside from being a golf rangefinder, it can also be used out in the woods for hunting. If you remember back in the day, getting a premium laser rangefinder was a hassle because most were overpriced at the time. Who would ever think you could get one for less than 200 bucks? If you are just starting out with rangefinders in the game of golf, there is no doubt you will love the TecTecTec VPRO 500. Its performance out in the field is one of the reasons that will make you fall in love with it. It's amazing that it can deliver on performance just like other high-priced rangefinders even though it's a couple of hundred dollars cheaper. Why pay more for a rangefinder when you can get an equally effective one for a fraction of the price?
The VPRO500 is spot on straight from the box. When you power it and point at the flagstick, it quickly calculates the range to the pin. It's not only fast at calculating the pin distance but it also lets you locate the ball amidst the green grass. It has a maximum ranging distance of 500 yards. When reporting the ranging distance, it does so almost instantaneously.
Ranging with the TecTecTec VPRO 500 is pretty straightforward. You simply need to fire it up by pressing the power button. You then select the targeting mode and align the reticle with the target. After that, press the power button to view the distance in yards or meters.
The VPRO500 is versatile rangefinder with multiple user modes. It uses selective targeting modes to enable the user to adjust the device settings to match their hunting/shooting environment. It has three targeting modes. First, there is the Normal mode that allows you to measure the distance to the target. The second one is the continuous scanning mode that allows you to scan multiple objects across the field of view in a continuous measurement. The third option is the Pin Mode, which gives priority to the closest object in a group of objects. With this setting on, you can easily find the distance to your target even when there is a group of trees behind your target.
With an optical system that features an eyepiece with 6x magnification and a 24mm objective lens, images seen through its LCD have excellent clarity. This uncluttered display allows you to easily scan your environment to find your target. In case you want to improve your target's image sharpness, you can play around with its adjustable eyepiece, which has a range of +/-4. Just turn the ring clockwise or counter-clockwise to bring the object into focus.
Given its weight of 185g and dimensions of 104 x 72 x 41mm, the TecTecTec VPRO 500 is neither heavy nor does it take up much space. The fact that it's small means it can fit in your golf case and if you were to hang it around your neck, you would probably not feel its weight.
It comes with a protective and stylish case that looks like a camera case. It also has a lanyard that makes it easy to carry. Lastly, because it has a waterproof casing, you can use it even on poor-weather days. The recommended working temperature falls between -20° and +50° Celsius. Overall, the TecTecTec VPRO 500 is fast and easy to use, provides precise measurements, is compact and lightweight, has an ergonomic design and is water and dust resistant. It also has diopter adjustment capability and uses an advanced Pinsensor technology for more precise measurements.
7. Nikon CoolShot 20 Laser Rangefinder
550 YARDS
When you look at COOLSHOT 20 laser rangefinder, at first it would be hard to believe it can make any significant difference to a pro golfer's game or a seasoned hunter's shot. Despite being unbelievably tiny, probably the most compact model from Nikon, it does not disappoint when it comes to speed, precision, optical quality, and performance. It can measure a maximum distance of 550 yards and a minimum of 6 yards.
With this rangefinder, you will not only get to see the exact distance to the target but also you will be able to see what's ahead or behind the flagstick. This versatile tool will range any object within sight including bunkers, golf carts, doglegs, and trees. It accurately locates the distance to the flag or any other object and instantaneously displays the readings. Since it gives accurate results, you can make a smooth swing with confidence.
The Coolshot 20 comes with a 20mm Monocular objective lens, a multilayer coated eyepiece with 6x magnification and an excellent LCD screen that displays a sharp image with a decent contrast. Its diopter adjustment ring will help you make LCD clearer so that you can take a clean shot. Its screen shows distance in either meters or yards, target mark with a laser irradiation, and the battery condition.
In case you want to take quick measurements of multiple or small targets, simply push its power button to begin scanning for eight continuous seconds. The Coolshot 20 provides you with various mode settings to help you view and pinpoint your target to get a good shot. Although it does measure changes in the angle of incline, it uses a setting known as the First Target Priority mode. With this setting active, you can measure the distance to the closest object when viewing overlapping subjects. This advanced Target priority system is useful when you want to measure the distance to the flagstick, but there is a group of trees behind it.
Rangefinders come in a variety of colors – while some are black or camouflaged, the Coolshot 20 is white with shades of black around its field of view, buttons, and eyepiece. On the sides, it is roughened to provide a tight grip. In addition, its vertical design and dimension of 3.6 x 2.9 x 1.5 inches ensure that it comfortably fits in your palm, pockets or golf bag.
You can take it on a golf course when the weather is as low as -10° or as high as +50° because it features a protective housing that can withstand inclement weather. Although you can use it during poor weather days, it is not meant to be used in the rain or underwater. Harsh weather environments like rain or a lot of heat can make the device to malfunction.
For a golfer taking a tee shot with a dogleg corner, it can be difficult to guess the distance. However, with the Coolshot 20, the golfer can measure the distance from the tee box/ground to the fairway's center, and then calculate the distance from the fairway to the flagstick. Additionally, when at the golf course and you want to take the second shot but a hazard is in front of the green area, this rangefinder will help you measure the distance to the bunker or pond and the distance to the edge of the green, so you don't mess up your shot. The Coolshot 20 can help you measure the distance to the edge of the green and the distance to the flagstick, so you can strike the ball towards the putting green when taking the approach shot.
It is powered by a CR2- 3V Lithium battery that will keep you going for several months before it depletes. If you leave the device for eight seconds without using, it has an auto shutdown feature that automatically powers it off to conserve the battery. For the golf player with a desire to improve their game, you cannot go wrong with the Coolshot 20. The rangefinder is fast and accurate, small and lightweight, easy to use, has splendid optics and comes at an affordable price.
8. TecTecTec VPRO DLX Waterproof Laser Rangefinder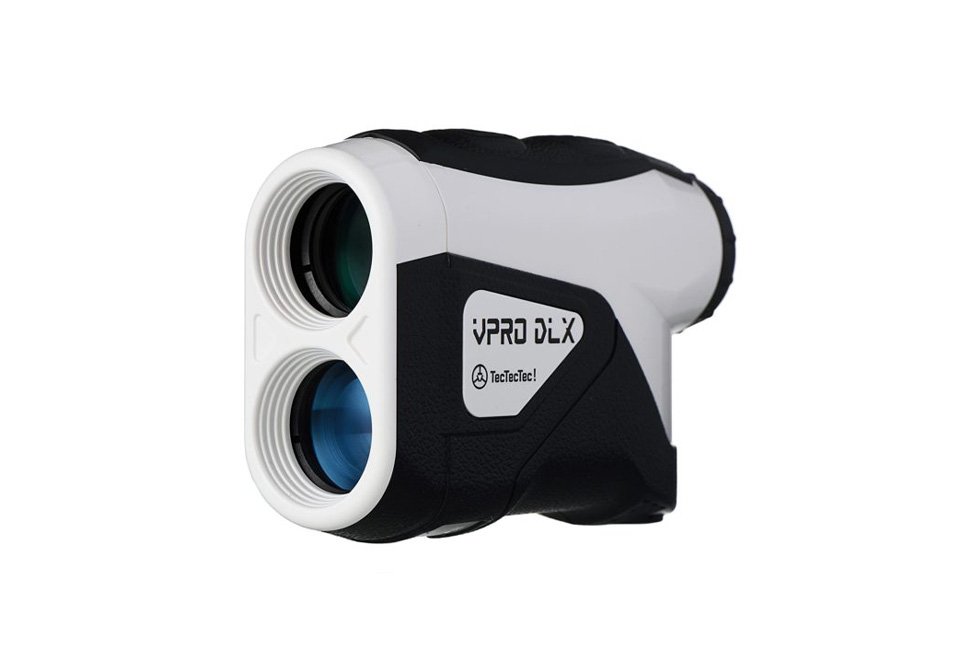 600 YARDS
TecTecTec is another company that is well known when it comes to the manufacture of optical and distance measuring equipment. The VPRO DLX is one of their best laser rangefinders, which is suitable for use both on a golf course and out in the woods for hunting. Every golf player knows that the secret to getting good results when on the course is to have a good knowledge and understanding of the course. This is what rangefinders do. They help golfers know the exact distances to objects and therefore adjust their swing accordingly. The VPRO DLX is meant to do exactly this. It is a premium golf rangefinder that will help you take your game to the next level.
Compared to its predecessor, the VPRO 500, this model has improved components and optics. It incorporates a multilayered optical lens which and an ultra-clear LCD Screen which ensure that you see your targets and the surrounding in detail.
You will find the VPRO DLX500helpful in situations where you need to take a shot but you have trouble figuring out the true distance to the flag, especially because of a huge green on the course. With the VPRO DLX, you will have no trouble getting the yardage – simply aim at your object or pin and you will have the readings in a second. The Rangefinder can measure Line of Sight distance and display the results in yard or meters.
It is capable of calculating the true distance to flags, hazards, and trees with an accuracy of +/- yard. It has a range of up to 600, which is sufficient for almost all golf courses you might come across. Apart from its accuracy, the VPRO DLX is also quite fast. Readings are delivered in less than a second. The rangefinder comes with a monocular optical system featuring with multi-layered optics that are capable of up to 6X magnification. The VPRO DLX also has a diopter adjustment ring that allows you to bring the image into focus. With these three specs combined, you can bet the VPRO DLX delivers bright, clear images.
It comes with a protective carrying case, with a yellow zipper, which makes it easy to spot the rangefinder. With the shock resistant case, you will have peace of mind knowing your rangefinder is safe when you are out golfing. It also comes with a strap for hanging around the neck. Since it is neither big nor heavy, it won't wear you down. The VRPRO DLX measures 4.1 x 2.8 x 1.6 inches and weighs only 0.41 lbs.
The VRPRO DLX comes with three scanning modes. You can use its regular scan mode to check the view to see the distance of bunkers and hazards so that you can take a clean shot. Then there is the First target mode that shows the distance to the closet object. If you are ranging at a golf flag with trees in the background, it will measure and display the distance to the flagstick while ignoring the background trees. The other scanning mode is the FLAGSEEKER with advanced PinSensor Technology that helps single out the flag from a group of objects and provide precise readings. This setting is useful when measuring the distance to the flag and background objects like trees or in situations where you cannot spot the flag with your naked eye.
Because the rangefinder has a waterproof body, you should feel free to bring it out with you even on days when the weather promises some rain. The VPRO DLX is powered by a 3V CR2 Lithium battery that will keep it running for through several games.
The fans of the TecTecTec VPRO DLX love it for its rugged and durable build, ergonomic design, ease of use, affordability and the FLAGSEEKER mode, which comes with advanced Pinsensor technology.
9. Bushnell 202442 4x20mm Bowhunting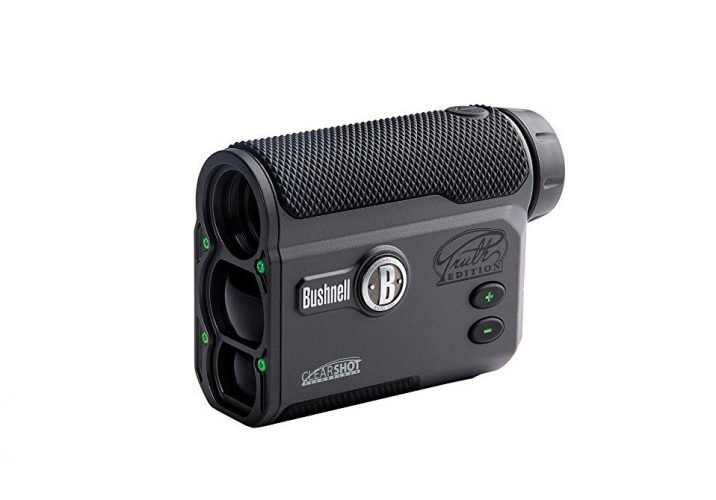 600 YARDS
Elevate your hunting confidence with this rangefinder from Bushnell, which is also nicknamed "The Truth." It's a great rangefinder that is compact, lightweight and fantastically fast. The Bushnell 202442 4x20mm bow hunting laser rangefinder has an impressive range of up to 850 yards for reflective objects and up to 600 yards for non-reflective objects. The maximum range for deer is 200 yards.
Although it has a smaller magnification compared to some other models, you will still be able to see your target object clearly through its 4x magnification eyepiece. This rangefinder outshines other models in the market when it comes to shooting at steep terrains and tree stands because it has Angle Range Compensation (ARC) capabilities
You will face no difficulties using this device to get the ranging distance to your target object. Simply look through its 4x eyepiece and then activate its display by pressing the power button. Next, align the aiming circle on your target then press and hold its power button to see the range readings on the LCD. When you are focusing on the target, you will notice crosshairs surround the aiming circle – this means the instrument is transmitting the laser.
When you are out hunting with The Truth, you will be able to see your target clearly thanks to a Perma Focus monocular optical system. Mounted on this optical system is an LCD that shows the reticle for aiming, battery life, and the unit of measure. The LCD will also tell you when the device's laser is being transmitted and when you have acquired the target. When in bow mode, the display shows the degree of elevation, true horizontal ranging distance (7-199 yards), the line of sight distance and a maximum inclination (+/- 90 °). Its screen has small black spots, which are impossible to eliminate because they are inherent. However, these black spots do not mess the unit's ranging ability.
Like we mentioned before, the Bushnell 202442 4x20mm bow hunting laser rangefinder uses ARC integrated inclinometer technology, which allow it to measure and display the angle of inclination. When ranging either uphill or downhill, it will show the exact of angle inclination, in the range -90 to +90 degrees, with an accuracy of plus or minus one degree. This feature is a plus for a bow hunter who has difficulty taking shots at extreme angles because once you know the true horizontal distance, it's easy to make necessary adjustments with confidence.
When taking archery shots, take advantage of the ClearShot technology that allows you to make long shots without being obstructed by objects like clipping branches along your shooting path. With this setting on, you can take a clear shot without worrying about obstacles along your shooting trajectory line. This advanced laser technology will provide you with instant feedback about whether you have a clear shot or if there are obstacles in your path. When it's in use, it will display a dot/line to show the maximum height your arrow can travel. You can achieve a range of up to 850 yards with ClearShot Technology. On top of that, it can range out to 200 yards for "shoots like" distances, and at the same time display the angle of your shot.
Combine the ClearShot Technology with its ARC capability and you have a rangefinder that is easily the most favorite measuring equipment for the serious bow hunter. Rifle hunters haven't been left out either; the rangefinder will determine the exact line of sight distance between seven and 850 yards.
This Bushnell 202442 4x20mm bow hunting laser rangefinder is small and lightweight. It weighs 5.2 ounces and measures 1.4 x 2.4 x 3.8 inches. This means that it can easily fit in your shirt pocket. On the side, it has a compartment with a Posi-Thread battery door that houses a CR2-3V Lithium battery. The advantages of the Bushnell 202442 4x20mm bow hunting laser rangefinder include its beautiful and sturdy design, high-quality optics with striking HD clarity, ARC technology, and the ClearShot Technology, which allows hunters to determine the arrow's trajectory path.
10. Sig-Sauer Kilo-2000 Graphite Rangefinder
1200 YARDS
The Kilo 2000 laser rangefinder from Sig Sauer is on a level of its own. It boasts of 7x magnification, 25mm objective lens, an OLED display, SpectraCoat anti-reflection coatings and it can compensate for angular elevation with its Angle Modified Range (AMR) mode. With a Revolutionary Lightwave DSP technology, this instrument quickly provides measurements to the longest distance.
With the Kilo 2000, you can hunt whichever time of the day you wish, thanks to an organic light emitting diode (OLED) display and SpectraCoat anti-reflection coatings that delivers bright and clear images, whether it's daytime or during the night. It has a built-in ambient light sensor that automatically adjusts the display's brightness. It can be difficult to see your target in low light, but this technology helps to keep your eye dilated so you can see your target. Its objective lens has a small light sensor that samples the light condition and then instantly updates the brightness. When viewing your target image, you can select from 10 different brightness levels. On top of that, it has an eyecup adjustment ring to help you adjust the eye relief when you are wearing glasses.
The display when illuminated shows a circular aiming reticle, unit of measure in yards, battery status indicator, the Line of Sight( LOS) distance, Angle Modified Range (AMR) icon and the Last Target icon. In case your OLED display or your target object is not sharp as you would like, use its diopter ring to adjust the sharpness, by either rotating it clockwise or counter-clockwise.
The Kilo 2000 also has one of the most impressive ranges. The rangefinder is capable of achieving a target range of around 1,200 yards with an accuracy of +/- 2 yards. It can hit an accuracy of +/- 1 yard when ranging between 5,00 and 1,000 yards while below the range of 5,00, it has an accuracy of +/- 0.5.
The Kilo 2000 gives you the option of using two simple modes. First, there is the Line of Sight Distance mode that displays the ranging distance along without the angle of incline. Then there is the angle modified range mode that is more accurate and combines the LOS range and angle of incline to determine the horizontal distance between you and your target. Rifle hunters and archers will love the AMR mode because of its precision and accuracy.
The OLED display on the Bushnell 202442 4x20mm bow hunting laser rangefinder will also impress you. Not many models on the market can match its adaptive ability display given its price. With its large dynamic OLED display, you can view images in bright sunlight or dark situations. The display tends to have high brightness when in bright sunlight or snow conditions while during dusk or dawn, the display dims down, almost to night vision capabilities. With this rangefinder by your side, you will never hesitate going for a hunt, whether it's early morning hours or late in the evening.
Apart from the ordinary scan mode, you can get faster readings by activating its HyperScan mode, which will enable you to scan your target a lightning-fast speed – 4x/second. This will help you significantly improve your ranging performance when measuring extreme distances. In addition to the HyperScan mode, it has a Best Target Mode that returns the distance for the first or last target. The Best Target mode will help you determine the distance to the best or most likely target. That's not all. When you want to get the report of the last range readings, the RangeLock technology will allow you to do that.
It uses a long-lasting CR2 battery that will keep the rangefinder powered for several hunting missions. Despite the high battery rating, using the Hyperscan mode heavily drains the battery a lot faster. To prolong its battery life, you can pluck it off when you are not using it, or you can fit a thin sheet of plastic at the battery's negative area – doing this will break off the electric contact.
The features on the Sig Sauer Kilo 2000 Graphite Rangefinder are really impressive. This is clearly a high-end rangefinder. If you have the money to splash on a high-quality device, you should definitely go with the Sig Sauer Kilo 2000 Graphite Rangefinder. This rangefinder is going to meet your expectations in every possible way.

You can also check out our review of the best golf rangefinders.
Buyers' Guide
So you've read our article about the best rangefinders, here is some of the factors to keep in mind when shopping for a rangefinder, so you don't end up buying an inferior product. Choosing a rangefinder can be a challenging task since you don't want to end up with a whack product after digging deep into your pockets.
Always keep the following tips in mind and you will never go wrong when buying a laser rangefinder;
Purpose
Although rangefinders use the same technology to calculate the distance to the target, each product is designed to meet a specific purpose. If you are a hunter, you need to pick a rangefinder that's specifically designed for bow or rifle hunting. Rangefinders designed for bow and rifle hunters provide precise readings in seconds, and they can range up to 800 yards for bow hunting, while rangefinders for rifles can measure distances between 600 yards and 1,200 yards. Some units can also compensate for the angle of incline or decline by providing a "true horizontal distance." This way, a hunter can take a more accurate shot unlike when shooting at an angle. Some rangefinders can even determine the bullet drop compensation.
As for golfers, obviously, you need a rangefinder that can measure the exact distance to the flagstick. Once you lock on the flag, you will be able to take the next swing with confidence.
Maximum Range
The other factor you have to think about when getting a laser rangefinder is the ranging distance of the instrument. The maximum range greatly varies in products, but the figure will depend on the model and purpose of the rangefinder. This figure can range between 500 yards and 1,200 yards. Of course, rangefinders that can measure extreme distances are costly. So, think about your needs, your scale of activity and the approximate ranging distance to your target. If you are a bow hunter, you need an instrument capable of ranging short distance. On the other hand, a high ranging distance is necessary to rifle hunter. Please note the maximum distance advertised by manufacturers vary depending on factors like the weather condition, light, target's size, surface finish, shape, the color of the target and stability of the shooter.
Optics
Magnification and lens quality is another critical factor to think about. Basic rangefinders will have a magnification of at least 4x while others can go to a max of up to 8x. Typically, a high magnification value on the lens means a clearer view of your target. It is no surprise that hunters opt for models that feature a higher magnification. Still, a high magnification means you will be stuck with a small Field of View, but in situations where it's easy to locate the target, it's better to have a clear image of your target.
Lenses also affect the image's clarity and they can have layers of coatings on them to enhance the amount of light passing through them. You can choose rangefinders with coated or fully coated lenses. Coated lenses have one thin layer of coating on one of the lens' surfaces while fully coated units have coatings on both sides of the lens. Some rangefinders also have multi-coated and fully-multi-coated lenses. For multi-coated rangefinders, one of its lens' surfaces has multiple layers of coatings while for multi-coated instruments, all the lens' surfaces have multiple coatings.
Is it Waterproof?
Once you get your rangefinder, you probably won't be using it to measure distances indoors. You will be out there in the field, where the weather can get ugly. That means having an instrument that you can take out with you even during unfriendly weather is a significant advantage. Today, almost every rangefinder out there is designed to be waterproof and weather resistant. Make sure you get a unit that's waterproof so if you are caught in a storm, you will be safe.
Brand
With so many manufacturers and retailers out there, it is easy to get confused about whom to trust. After all, you don't want to spend your hard-earned cash on products that rarely meet your expectations. That said, there are trusted and reliable sellers out there – some of the industry's leading providers include:
Nikon.
Sig Sauer.
Vortex Optics.
Bushnell.
Simmons.
TecTecTec.
Price
This point should have been the first one on our list because your size of your wallet will dictate which product you can purchase. When thinking about the price aspect, your goal is to find a rangefinder that precisely suits your purpose at the best possible price. Although the size of your wallet matters, you don't always have to go for the cheapest product in the catalog – remember, you get what you pay for. Still, there are some well-crafted and high-performing products at an affordable price. Expect high-end models with advanced features like ARC and Smart Targeting modes to cost more than those instruments that can only calculate the Line of Sight distance.
Size and Weight
Although most rangefinders are small, lightweight, and portable, the measurements can differ from one product to another. Some units are incredibly tiny, such that they can fit into your palm and some weigh no more than 4 ounces. Others weigh slightly heavier, with some weighing up to 10 ounces. This will probably take up more space because they are relatively big.
Advanced Features
Lastly, you may want to think about advanced features like ARC mode, Scan Mode, or First Target Priority mode in some rangefinders will benefit you. Some rangefinders use modern technology like PinSensor Technology, ClearShot Technology to enhance acquisition of the target. Then, some units come with built-in diopter and eyecup adjustment knobs that help keep the image in focus and clear. Depending on your purpose, and the hunting situation, you ought to think about if some of these advanced features will make a difference to your technique of shooting.

The ACULON-Laser Rangefinder
Small package with big features. It's compact and convenient, with a slim design too. You really can't ask for anything more.