PointOptics is reader supported. We earn an affiliate commission if you buy through our links . Learn More.
At one point in time, a rifle scope was nothing more than a rifle accessory. However, today, unless you're relegated to using an open sight, by regulation or choice, you'll need a rifle scope for your long gun. But, how do you choose the best rifle scope? With so many rifle scopes available, how do you know the one you want works with your gun? How do you know you're not overpaying for it?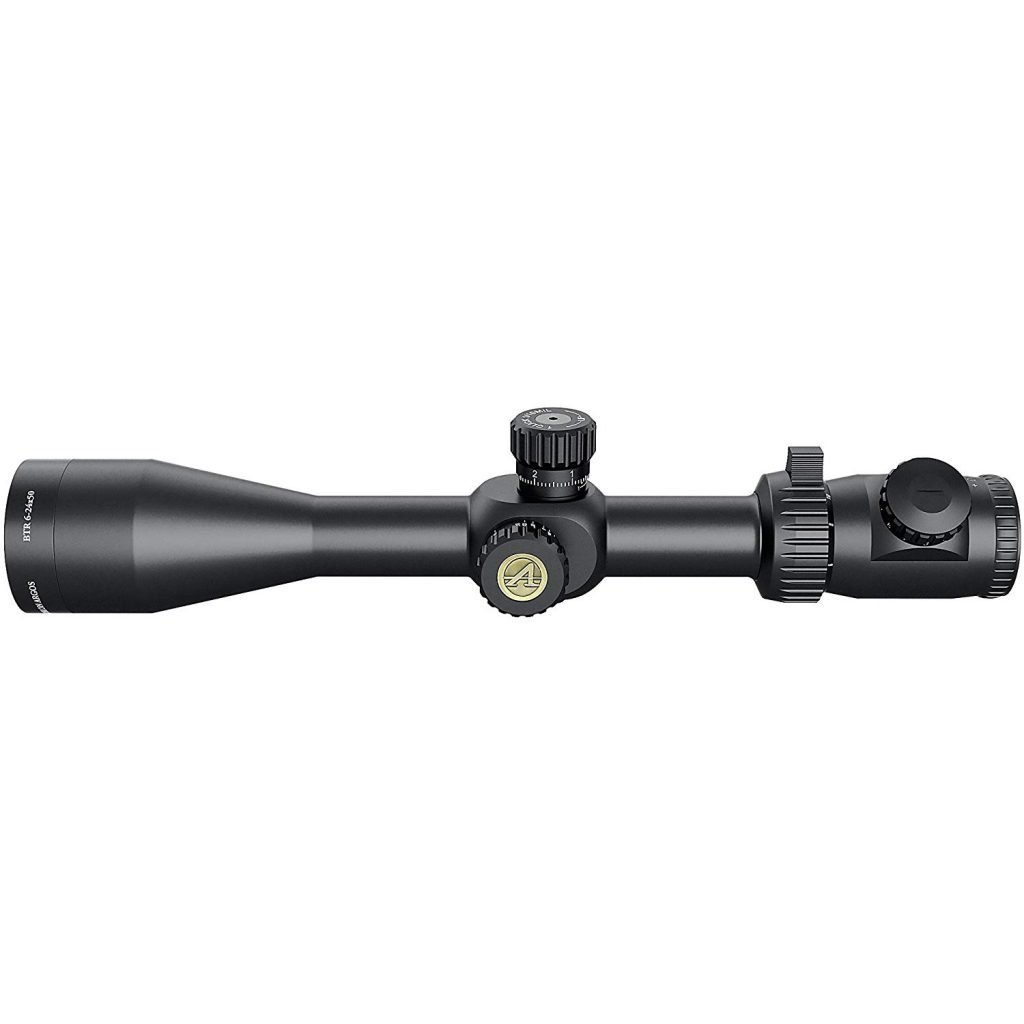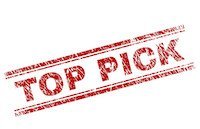 Athlon Argos BTR 6-24x50mm
An affordable scope that covers all the bases. Sleek design, excellent eye relief and up to 24x magnification
Budget Choice
The Bushnell Trophy Rifle is a scope that offers great value for money, it's a lightweight options that is a customer favorite in the budget range. It is waterproof, fogproof and shockproof as well as offers excellent eye-relief.
The truth is, choosing the best rifle scope is a daunting and difficult task. You can easily make a mistake, especially with all the choices available on the market nowadays. There are some fairly new brands that can give you a lot of bang for your buck. But, discerning them from those who sell you overpriced rifle scopes that aren't worth it, isn't really easy. Let's be honest – you're out in the wild, you're handling a firearm. You don't want to be making a mistake of any kind here, as the consequences can be pretty serious. What you want is the best rifle scope for your needs. You can also have a look at our Top picks for thermal rifle scopes here. 
Well, we're here to help. Below you will find two things. First, we'll give you ten of the best rifle scopes you can get on the market today. There are budget solutions, and there are premium ones. There are some that offer just the basics, and there are ones that give you advanced features and functionalities. Regardless of what you need, we have a rifle scope for you on the list below.
To add to that, when you're done with the list, we have a bit of food for thought as well, in the form of a buyers' guide. We'll guide you through what you should, and shouldn't be looking for, and where you should be spending your money when purchasing a rifle scope. Once you're done, you'll not only have a list of options but the knowledge you need to make an informed buying decision on what's the best rifle scope as well. Let's begin.
1. Athlon Argos BTR 6-24x50mm Rifle Scope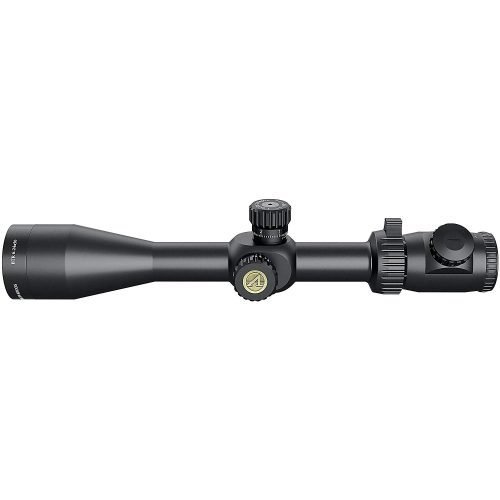 3-14x Magnification
There are plenty of users out there who need scopes that are large and have high magnification factors. For these users, a 3-9x just won't cut it, and they need more. However, if they were to get a high-end scope, that would cost quite a bit, making the purchase unjustifiable for many. This is where the Argos BTR by Athlon Optics comes in. It's a midrange scope with some high-end features and a magnification that is more powerful than anything on this list. If you need a lot of zoom, this is the one we have for you, so read on through our full review.
2. BARSKA 3-9x40mm Rifle Scope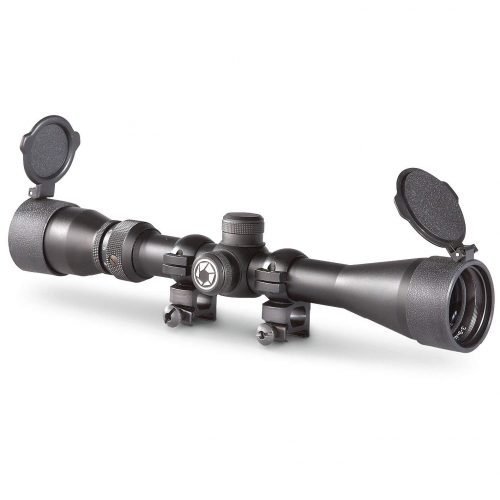 3-14x Magnification
When the Bushnells, Leupolds and Carl Zeiss options are out of your budget, or you simply don't want to pay for them, you're pretty much forced to look at budget rifle scopes. However, budget doesn't always mean cheap, especially with some of the brands that started making rifle scopes in the past period. One of those brands is BARSKA. They are well known for budget-oriented scopes that are built well and offer all the adjustments and performance you could expect from that price range.
3. UTG 3-9x32mm BugBuster Rifle Scope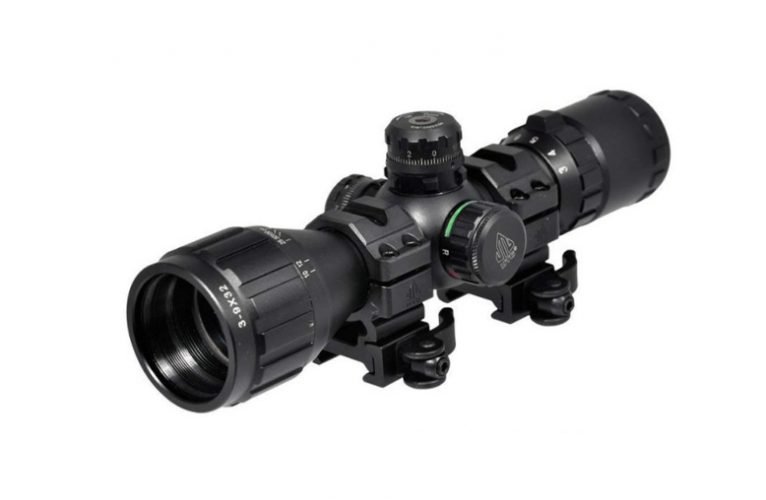 3-14x Magnification
Even though it isn't extremely budget oriented, we have to admit that the UTG BugBuster is much closer in price to the likes of the BARSKA than the Bushnell. It makes a compelling argument for a scope that doesn't cost much more but improves on a lot of the shortcomings of the BARSKA. If you're on a budget, but want some of the higher-end features, this might be an excellent option for you. Let's take a closer look.
Kicking things off with the basics, this is a 3-9x scope. As we mentioned, this is a versatile magnification range. It works great at both close range, and further away. There's a 32mm objective lens which should do the job. You might think this is less than the BARSKA, but the higher end optics in the UTG more than makeup for that. Especially in situations where you have insufficient light and require the most out of your scope, this works better.
4. Bushnell Trophy Rifle Scope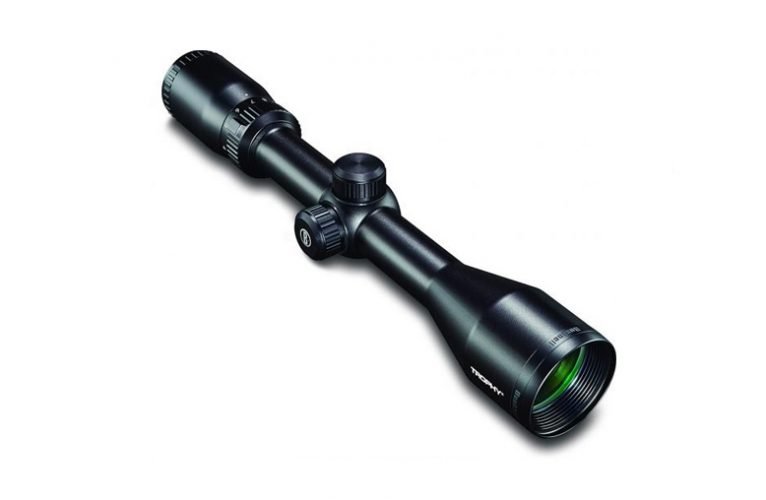 3-14x Magnification
If you've read a few reviews here and there, we couldn't blame you for wanting a Bushnell scope. However, most of them are fairly high end, and not everyone is ready to invest that much in a scope. Well, Bushnell does have a budget-oriented lineup, and the Trophy is right in there. Well, that depends on the configuration you get it in, but it's still cheaper than most of the competition. It's an excellent entry-level scope, without any of the fuss of some extremely expensive rifle scopes. It does, however, cover all the basics, and there are a few nifty features built-in. Let's take a closer look.
5. Simmons Truplex 3-9x40mm
3-14x Magnification
Even though we did look at a couple of budget options earlier, what we have here from Simmons may very well be the budget king. It comes at an insanely low price, yet manages to provide features and optical performance that rivals even some of the high-end scopes that we took a look at. With its versatile magnification range and high-quality build, you will absolutely love it if this is what you need. Read on through our full review to see why we loved the Truplex, and why it might be your next purchase.
6. Vortex Crossfire II Hog Hunter 3-12x56mm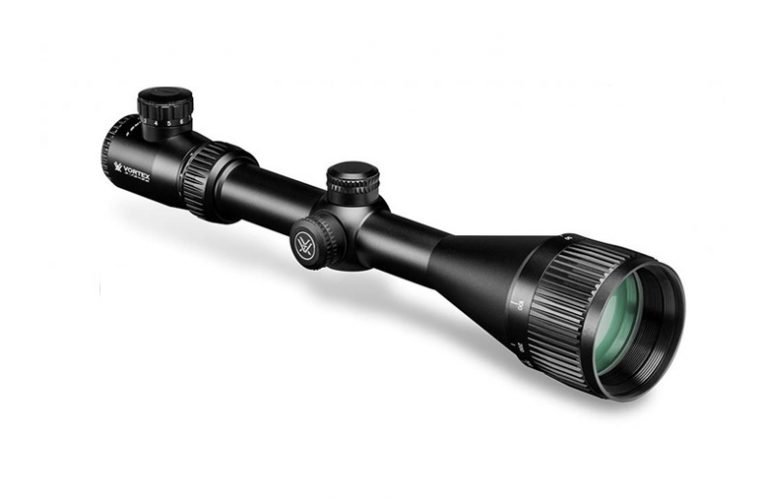 3-14x Magnification
Going back to the midrange to high-end options, we have the Vortex Crossfire II. In terms of pricing, it's close to some truly high-end scopes, but you do pay a bit of a premium for the Vortex name. They have a proven track record, from binoculars to rifle optics, and everything they make is an incredible value proposition. We'll be honest with you – this isn't a scope for people who have a somewhat limited budget. However, if you can afford it, the Crossfire II will give you a couple of things that you seriously won't find anywhere else. Read on for our full review, and see why it's worth your time.
7. ATN X-Sight II 3-14x
3-14x Magnification
This wouldn't be an up-to-date list if we didn't include something that has a lot of high technology built in, and that's exactly what we have to wrap things up. ATN is known to make higher end scopes with tech you would expect on cameras, not on a rifle scope, but their products are field proven and work very well. Today we have their 3-14x X-Sight II, so read on through the full review to see if this relatively expensive rifle scope is worth your money.
8. Leupold VX-1 3-9x40mm
3-14x Magnification
If you've ever ventured into the sports optics game, you'll know the name. They have amazing solutions, from binoculars, to rifle scopes. They have set a couple of industry standards as well, and the Leupold VX-1 is absolutely one of their best rifle scopes on the market today. But, just how good is it?
To begin with, we have a 3:1 zoom ratio. As you'll see in our buyers' guide below, that's the most versatile setup you could go with. Magnification factors are 3-9x, and they cover both close firing situations, as well as some that are a bit further away. If you're looking for an all round rifle scope, these are the numbers you should go for.
9. Nikon P-308 4-12×40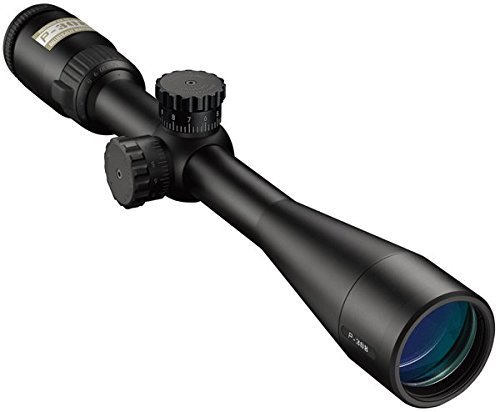 3-14x Magnification
Moving back to some higher end options, we have our first contender from Nikon, in the form of their P-308 rifle scope. As its name implies, it's primarily made for AR rifles that have .308 Win. bullets. That's not to say it won't work on anything else, but that's where it feels at home. It's the smaller, lower magnification brother of the much appraised M-308 4-16×42, with a smaller objective lens and a couple of fewer features. However, overall, it's still an incredible rifle scope, maybe the best possible option if you have the appropriate firearm for it. Read on to see how it fares.
Best Rifle Scope – Buyers' Guide
As we said in the beginning, choosing the best rifle scope can be a bit difficult. Do you get a cheap one, or do you spend a lot of money? Or is the answer in the middle? Do you go for a high magnification one, or is a small factor just enough? What diameter size lens do you get? If you're an experienced shooter, chances are you know the answers to these things, but a small reminder won't hurt. If you're only getting your first scope, though, you'll need this guide.
The tube and objective lens diameter
When discussing rifle scopes, their main tube commonly comes in one of three sizes: 1", 30mm or 34mm. If you need long-distance targeting, a larger diameter will give you more range of adjustment. This may also give you a bit more durability as well. However, this also results in heavier rifle scopes. Another thing is that the rings required to mount them are not only more expensive but much more limited in selection as well. There are plenty of 34mm rings for example, that cost north of $200. For the majority of hunting situations, a good 1" scope should do the job. If you think you need a bit more, don't spend all that money on a ridiculously priced 34mm scope. A 30mm main tube will give you plenty of adjustment, and you can get mounting rings much more easily.
As far as the lens diameter goes, you can get anything from the somewhat minuscule 20mm scopes to a giant 72mm lens. The most common are 40 and 50mm ones and their pricing is the most reasonable as well. A larger objective lens with rifle scopes means that it has better light gathering ability, something that's very important, especially in low light situations.
However, a larger lens isn't always better. For one, it results in a much heavier rifle scope, which can throw things off balance. Second, getting a 50mm or larger rifle scope, you might need to mount the rifle scope higher. This is so there's enough clearance between the rifle barrel and the scope's bell. In turn, this impacts scope-to-eye alignment, and cheek weld consistency, which is both required if you want to be accurate. This is something you will especially see as a problem on an AR rifle. If you want to hit the middle ground, something that's between 40 and 44mm in size is actually great. You might be inclined to get a larger objective lens diameter if you have low-quality optics without enough coatings, to compensate for the quality loss, but that isn't really necessary, and there are plenty of compromises to be made here as well.
One other thing that's worth mentioning while discussing tube and objective lens, is the construction itself. If you want something that'll last, and you can use for a good while, you'll want it built well, both inside and out. On the inside, specifically, you need either argon or nitrogen purged optics – this displaces water vapor, and will eliminate any internal fogging. While we're at it, get something that's shockproof and waterproof, too. You might regret it if you don't. All the best rifle scope options these days have it, so not much to worry about.
Glass and coating is also extremely important
This is commonly where budget brands cut corners, or where high-end brands save some money on their cheaper offerings. This would be a mistake because, with glass, you actually get what you pay for. You can't expect incredible performance from cheap materials that aren't really well made. If you're looking at rifle scopes that are a bit more high end than the basics, you'll want extra-low-dispersion, or ED, glass. If this isn't an option, look for another premium alternative, such as SLD (special low dispersion) or ELD (extraordinary low dispersion) glass, which is also better than the cheap ones you'll run into.
Getting ED glass doesn't mean you're getting the best rifle scope, though – you'll want it to be coated as well. This might range from cheap, non-coated optics, to multi-coated optics and fully multi-coated at the end. The coating will help minimize color fringing and give you a bit more sharpness and color fidelity, as well as contrast. A multi-coated lens also lets in more light and ensures maximum brightness. Add to that a hydrophobic lens coating on the outside, something like Bushnell's RainGuard HD, and you're good to go. The outside coating will ensure that any moisture on the outside surface is easily removed.
Reticles and their positioning in the focal plane
With so many choices of reticles on the market, the important thing to remember is that the ideal reticle depends on your firearm and location. For example, an all round great reticle would be a standard Duplex. Well, that is unless you need something that has trajectory compensating, such as the Leupold Boone & Crocket Big Game. If you think you will be hunting in thickets, get a Heavy Duplex, or a German No. 4. Plus, if you'll be doing any long-range varmint extermination, you might need a finer crosshair. The go-to for the best rifle scope would be mil-dot, even though some might suggest Huskemaw or Horus as well.
Now that you have the choice out of the way, let's see about positioning. When you position the reticle in the first focal plane, the scale is unchanged throughout the whole magnification range. This lets you range accurately, and correct windage at any magnification settings. This is exactly why this is the preferred setting of many marksmen. If the reticle is in the second focal plane, there's an increase and decrease in the image as you change the magnification. The reticle remains the same size, but the sub-tension is changing constantly. Therefore, if you're using a trajectory-compensating reticle, you'll need to use a specific magnification setting if you want to do any sort of accurate ranging, or holdover. Budget oriented rifle scopes tend to have the reticle in the second plane, which is less preferred, but also less costly to implement.
One more thing, do you get an illuminated reticle or not? This is more a question of legality, as this kind of reticle isn't legal everywhere. But if it is where you live, and where you'll be using the rifle scope, by all means, get it. It improves sighting when the light is insufficient, and this isn't just limited to dusk and dawn. In dense vegetation or in inclement weather this can help quite a bit.
Eye relief is key if you wear glasses
The most common eye relief you'll find on rifle scopes tends to be around three to four inches. Some budget scopes tend to have that a bit shorter, which can be bad in two situations. First, if you wear glasses, you need more eye relief to accommodate for them. Second, if you have a higher recoiling rifle, you'll end up with a black eye with insufficient eye relief. With a pair of binoculars or a spotting scope, this isn't that important when you don't have glasses, but the story is a bit different when you have a rifle in your hands.
Magnification matters quite a bit, too
If you were to do a bit of research on the subject, you'll find that proper magnification varies quite a bit. This is a subjective thing, and there are many "rules" you might come across. However, one thing that most people tend to agree with, is that you should aim for more or less 3x increase at 100 yards. Therefore, at 200 yards, you'd be looking at 6x, or 9x at 300 yards. This, as we mentioned, is a personal preference, and you might agree or disagree. You won't know until you try a few different options and see which one suits you best. Though, this might not be an option for people just getting into the rifle scopes game, as they'll want to know what the best rifle scope magnification is before they buy.
Fortunately, this has more or less been taken care of in the past few years. In the beginning, the best all round scope had a 3:1 zoom ratio and the 3-9x magnification range was a staple. This makes perfect sense – you can get both close-ups, as well as extended shots. With most shooters, this is the ideal rifle scope if you were to limit yourself to a single one. 4-12x is another alternative that also has the 3:1 zoom ratio, with some even choosing that over 3-9x. As we said, this is a personal preference.
However, nowadays, we have zoom ratios that go from 5:1 to even 8:1. You won't need to do any compromises here at the near or far end. A scope that has 1-8x or 2-16x can easily handle just about anything. This makes it extremely versatile, and you can easily rely on it as your one single rifle scope to do it all. Now, even though this is excellent, if you know you'll only be hunting at close ranges, or longer ones, get a scope that's specifically made for that. A lot of those versatile rifle scopes that aren't really high end will sacrifice image quality at one end of the range, or both. Therefore, there's no need to get a 4.5-30x scope, where realistically, you only need a 1-4x. Make sure you know your requirements before you go out and order your scope.
And last but not least, if you think you'll be hunting within 200 yards, dot or reflect-style rifle scopes shouldn't be overlooked. True, they don't have magnification, but when you're hunting in dense cover, or you have moving prey, they work wonders. The reticle can be easily seen in any lighting conditions, which is another good bonus. However, make sure you skip any cheap imitations of high-end scopes – they'll end up costing you a lot in the field.
Turrets and adjustments can make a difference in the field
If you're following today's market, you know that tactical-style turrets that are rapid adjusting are all the hype nowadays. Especially with long-range scenarios, they hasten both windage and elevation adjustments. You could always learn to rapidly dial-in dope, but if you want to master it, that'll take time, patience and practice. Once you do, however, there's absolutely no guesswork when you want to do to long-distance shooting. And you'll manage with everything, from the worst to the best rifle scope.
If you do opt for a tactical-style turret, make sure it's a higher end model. On cheaper rifle scopes, you won't get the absolute consistency that's required. One more thing you might not find is the true return-to-zero feature. You'll also need to pay attention to the turrets themselves before you take a shot. You want to make sure the turret wasn't rotated accidentally, especially if you've just taken it out of a case. If you don't notice this, it will result in a miss or a cripple.
On a tactical style scope, you'll find clicks in 0.1-mil. On non-tactical ones, however, the adjustments will be in inches, often ¼" or 1/8". The mil-dot system is often preferred once you learn it, but it will take some dedication to get used to it. If you don't want to do that, just get a standard turret where clicks are valued at a quarter inch.
We saved the best for last – make sure you have your budget in mind
When we're discussing rifle scopes, the unfortunate thing is that fewer results in poor. Poor performance, poor accuracy, poor reliability. Get a cheap rifle scope, and you're either going to be extremely lucky and get the best rifle scope you've ever used or (and this is much more common) it'll ruin your whole experience. With a mid-range scope that's still budget oriented, you can enjoy much more, and have a more reliable scope in your arsenal. Later on, as your skills progress, you can upgrade to a more advanced, and more expensive scope.
We did include a few relatively budget-oriented scopes, yes. However, they all come from manufacturers who have proven to know what they're doing, and we tried and tested them, so they aren't a lucky buy. You can expect the same performance that we got, and you'll be more than happy with it.
Best Rifle Scope – Conclusion
At the end of the day, choosing the best rifle scope for you and your needs can be difficult. There are plenty of rifle scopes on the market, there are plenty of variables to consider, and your needs might not align with someone else's. Therefore, it's a highly individual thing, but you must keep many considerations in mind.
Regardless of whether you're an experienced hunter or someone who's just getting in the game, we hope to have helped you with both the buyers' guide and the range of options above. We have something for everyone, and we did our best to help you make an informed buying decision when you're looking for the best rifle scope.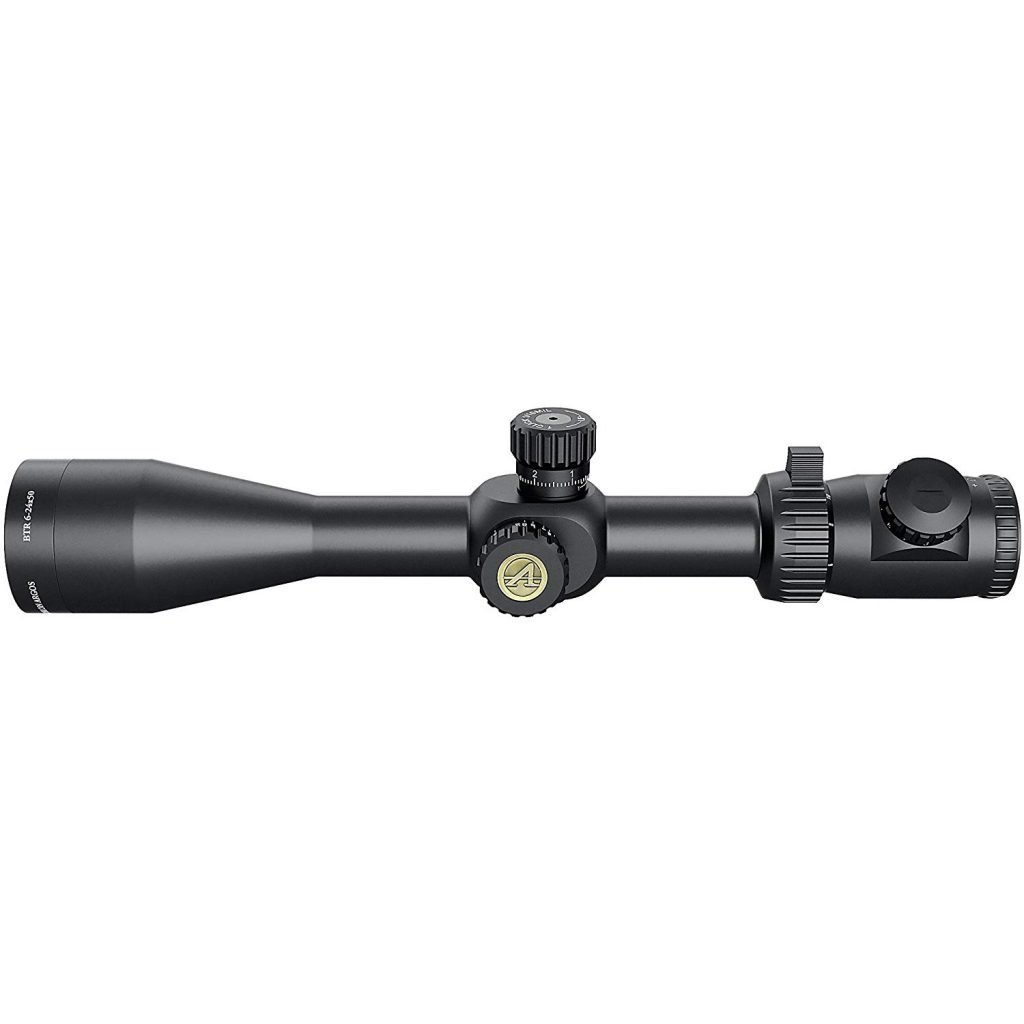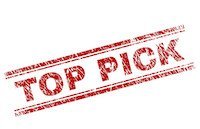 Athlon Argos BTR 6-24x50mm
An affordable scope that covers all the bases. Sleek design, excellent eye relief and up to 24x magnification