PointOptics is reader supported. We earn an affiliate commission if you buy through our links . Learn More.
A good night vision monocular allows you to operate in complete darkness, which is a boon to everyone engaged in nocturnal activities. Still, as with all products, not all are created equally. Therefore, it is important to purchase a monocular that is suitable for whatever you get up to in the dark to avoid disappointment. For example, someone that only requires a monocular to scan their own property for night-time intruders might not need the range and magnification favored by folks who prefer to do their hunting or fishing after dark.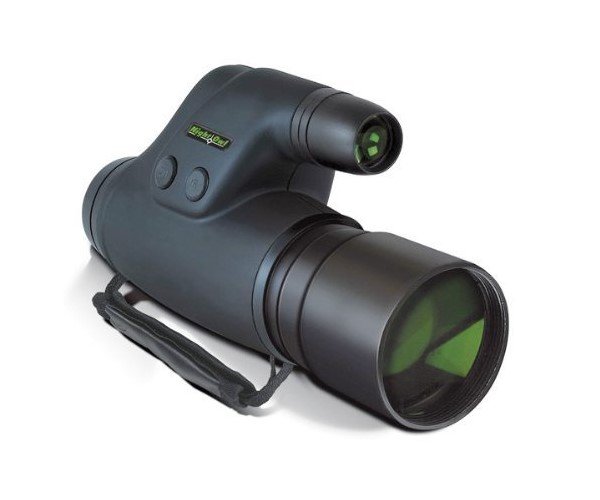 Night Owl Optics 5-Power NOXM50 Night Vision Monocular
A lightweight and well manufactured night vision monocular that covers all the bases, at an affordable price.
Overall Winner
The Night Owl Optics NOXM50 is an affordable night vision monocular with a lifetime warranty and performs above its class, with 5x magnification and ergonomic design.
Best Premium Monocular
The Armasight Vampire sports a rugged build with features to match. It is resistant to most conditions and performs extremely well within the Gen 1 market.
Whether you need to see in the dark for hunting, fishing, boating, hiking, camping, wildlife observation, or security, you will find that a night vision monocular makes the job much easier. Even the worst night vision monocular is probably going to give you better vision in total darkness than your own eyesight. Still, with the wide range of products available on the market, there is no reason to settle for something inferior.
If you have decided that you have had enough of squinting into the dark trying to discern shapes and it is time to invest in a good night vision monocular, there are a few things you need to look into first. Make a list of things that you want to use the monocular for and what features match these. For example, if you are going to be on the move and have other hunting equipment weighing you down, you would ideally want a monocular that is compact and lightweight, but if you want to survey an area from a static viewpoint where you might be spending a while then a monocular with a tripod mount would be a good investment.
Our Selection of the 10 Best Night Vision Monoculars:
There is more to buying a night vision monocular than just comparing prices, as some lack features that might be vital to your requirements while others are filled to the brim with features that could make them hard to master out in the field. It is no use paying extra for features if you are not actually going to use these features, so check out what we think are three of the best all-around night vision monoculars based on their price and performance.
1. Night Owl Optics 5-Power NOXM50 Night Vision Monocular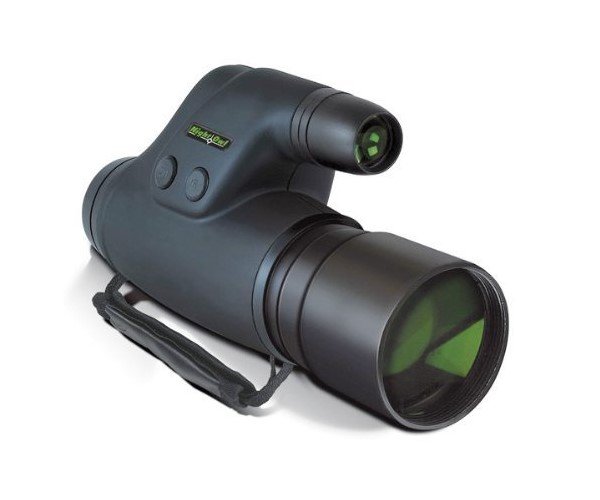 Summer is in full swing, the birds are out, and camping at the lake is high on many people's minds. Taking pleasure in the serenity of the lake or river, a fire burning, and observing nature play in front of you – and what better way to enjoy nature observation than through the Night Owl Optics 5-power Noxm50 Night Vision Monocular.
Many people do not know that affordable, high-quality night vision monoculars are available on the market, and the Night Owl Optics 5-power is the perfect example of this.
This monocular is a great way to observe the world at night, whether you are hunting or simply curious to see what lurks in the shadows. The device comes with a strap and a great lifetime limited guarantee. However, I probably need to point out that you do not get a battery included in the package.
The first time you try out the Night Owl Optics night vision monoculars, you should try to do so on a night that it pitch black – so obviously, try not to do so on a full moon. However, you may be surprised by the clear vision that this device provides, as it allows you to see almost perfectly in areas where you will not be able to see at all without the device.
Gen 1 Technology
The monocular is rugged and provides you with advanced Gen 1 technology, giving you high-quality all-glass optics and not the old plastic optics found in older models – helping with light amplification for clear visibility while magnifying the light up to 500 times.
Another great thing I found is that the eyepiece is adjustable, and you set it according to your eyesight and made of a 50 mm objective lens.
Resolution
Late at night, when looking through your monoculars at the nightlife, you will notice just how different and more alive the outdoors look. One user of the Night Owl Optics has stated that one night while looking through his monocular, he was surprised to see the field mice five times their actual size in the distance, running around the grass and at times standing still looking for seeds. The Night Owl monocular has 35 line pairs per millimeter resolution. So you will definitely be able to get a better view of objects that are either tiny or far – or both.
Image Intensifier Tube
The cool thing about this is that it does not distort the image, and you will be able to see whatever you are looking at clearly and with a surprising amount of detail. According to the manufacturer, the night vision monocular utilizes a high-quality image intensifier tube, where the magic begins. Light energies are formed to help you see images clearly.
IR Illuminator
It also comes with a built-in infrared illuminator. When used in total darkness, it really helps to spot any target while outside at night or even in your home. The device is constructed well and has a soft rubberized finish with a molded thermoplastic lens housing that protects the objective lens.
Ergonomic Design
It does not feel heavy at all while held in your hand, as you can feel the ergonomic design fitting comfortably in your grip.
Design and Features
The Night Owl Optics night vision monocular definitely magnifies an image 5 times with manual focus. It also comes with a generation 1 intensifier tube for high-quality image viewing. In addition, generation 1 comes with a built-in infrared illuminator to use in total darkness and helps to improve the recognition of targets.
The 50mm optical lens is not made of plastic, but all-glass and the outer housings designed with a soft rubberized finish – while the lens housing is made of impact-resistant thermoplastic. The device works with one 3-volt lithium battery that is unfortunately not included, and it can be used with a firearm.
Consumer Reviews
Before buying anything new, it is always best to read some reviews to see what others thought about the product. This is even truer when you are planning on buying something online. Amazon is a perfect place to read some user reviews as there are always a ton of user reviews, and now and then, you will get an expert who decided to give their 2 cents on the product. You will definitely find a bunch of real reviews on the Night Owl Optics 5-power Noxm50 night vision monocular here as well.
By looking at these reviews, you will notice that most reviews are fair with minimal criticism. It would seem that people enjoy this night vision monocular, with many people calling it affordable and durable, with clear enough provided images for general after-hours exploration.
Personal Recommendation
I would highly recommend the Night Owl Optics 5-power Noxm50 Night Vision Monocular if you plan to use it for fun nature observation at night. The device is resilient and lightweight and offers great optics while viewing small critters or even large animals roaming around in the dark.
2. Armasight Vampire 3X Night Vision Rifle Scope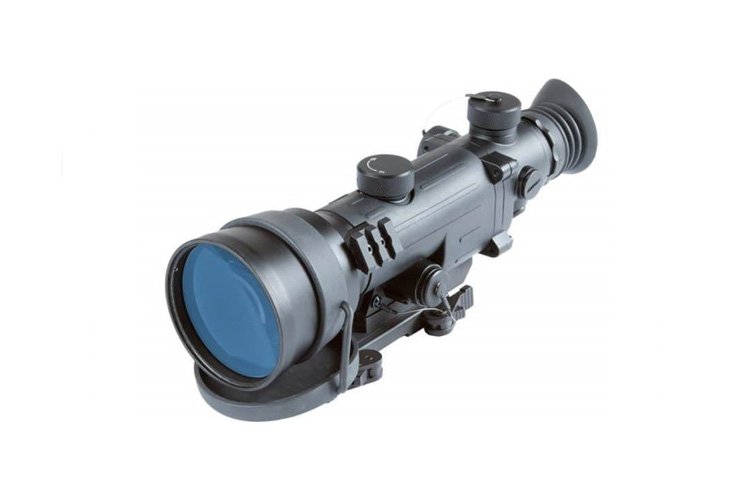 The Armasight Vampire definitely deserves its spot as one of the best night vision monoculars for quite a few reasons. First, the scope is built using a new technology known as a proprietary CORE image tube. The 'CORE' stands for Ceramic Optical Ruggedized Engine, and the reason for using this material is that it doubles the resolution of Generation one devices.
Thus, with this new technology, the scope will produce clearer night vision images that appear flatter and make it easier to see detail even in the darkest night. In addition, tIn addition, the CORE platform offers 'best in class resolution with 60-70 lp/mm. It also offers increased photocathode sensitivity levels of upwards of 400 μA/lm. This results in image quality that rivals high-end Generation two image tubes, even in challenging ambient light conditions.
Design
Let us take a closer look at the outer shell of the Armasight Vampire. The body of the scope is constructed using solid aluminum, while the O-ring is sealed and rubber-coated to provide further protection. Like all Armasight scopes, the Vampire is nitrogen-treated and comes complete with a soft carrying case, batteries, a user manual, and all the hardware that you will need for solid mounting to a typical 7/8" Picatinny or Weaver-style rail. This device is a step ahead of all the other night vision monoculars we have on this list but look at this thing. It is immaculate.
So, I know this is technically a scope, but it can also act as a monocular, and it is just so darn good, we had to add it. As I have already explained, the body of this device is quite sturdy with an intelligent construction that allows the internal components to be protected at all times. It is important to have durability when looking at any outdoor equipment since it can get quite rough out there, and accidents are bound to happen.
Features
The Armasight Vampire has several impressive features beyond the CORE technology, such as its shock protection. When you buy a night vision monocular, you want to be sure that it will survive your outdoor hunting adventures and not break at the slightest bump. While you are out hunting and walking through the forest, you will probably be thankful for another Vampire feature, namely the fact that it is water-resistant, fog-resistant, sand-resistant, and dust-resistant.
If you disagree that those are some awesome features, you aren't getting dirty enough while hunting. The monocular also has multicoated all-glass lenses and a manually adjustable fine reticle that makes precise shot placement very easy and will allow you to be a better hunter.
Overall this is an excellent night vision monocular as well as a hunting scope. The fact that it is Gen 1 is almost hard to believe since it definitely outperforms other Gen 1 night vision monoculars. If the fact that it doubles for a hunting scope bothers you too much, but if you are a hunter, then I honestly cannot think of why you wouldn't choose this device above all the other options available to you.
3. LaserWorks LRNV009 Night Vision Monocular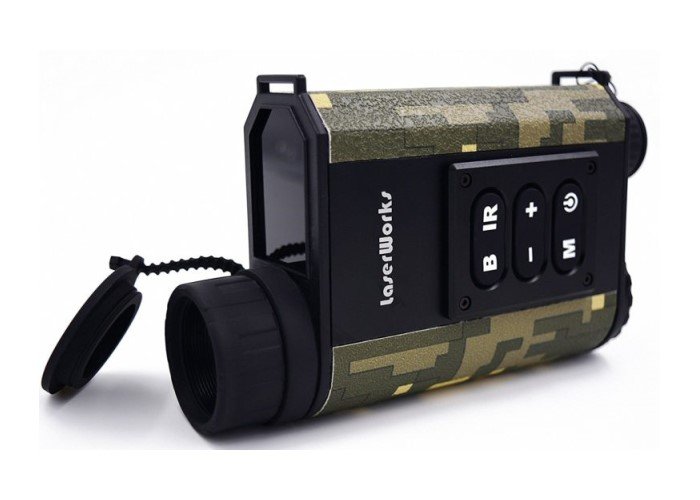 The LaserWorks night vision monocular is an excellent device to use in low light conditions and pitch-black darkness. However, this monocular has a fundamental design when it comes to the overall shape. The skin is black with a sort of pixilated camouflage print on the sides that looks pretty cool since the shape of the device is also rather square, except the actual scope part, which sticks out of the body, is obviously round.
This round part that sticks out has a lens cap attached to the device that will cover the lens to protect it when you are out exploring the great outdoors. Just like you won't leave the lens cap off of your camera, you should never leave the cap off the lens of your monocular when it is not in use as it can easily get damaged especially if you tend to go hunting in the woods or other areas where valuable equipment needs to be protected.
Design
The device also comes with a strap to easily hang it from your neck so that you will have it within reach whenever you need to see what is going on around you after dark. When it is not in use, you can place the night vision monocular in its carrying case, which is also included in your purchase. The case will protect your LaserWorks monocular and ensure that it does not get bumped or scratched.
In addition to the carrying case and the strap, you will also get a helpful user manual and, of course, a lens cloth to help you keep your lens clean to ensure that you get the best images possible. However, that is pretty much the just of the exterior of the LaserWorks LRNV009 night vision monocular so let us take a more thorough look at what is going on underneath the hood.
Features
First of all, let us start with the fact that the monocular has a pretty impressive 200m night vision scope that will, of course, not only give you totally rad night vision but it will also provide you with clear imaging that will allow you to see a truly remarkable amount of detail.
Fog- Resistant
The thing that got me about this night vision monocular is probably the variety of functions it has. Of course, all these functions have some convenient use, but these functions are essential in certain circumstances (especially if you are a hunter). A good example of such a function is the fog mode. If you're in a location where fog is a common occurrence, this could be an essential feature. So whether you are hunting, golfing, or exploring, you will never have to worry about fog again.
Distance Performance
Other than the cool fog feature, the night vision monocular has some other functions that are really great. For one, it has a really great distance performance at 4 meters to 500 meters. So if you have a highly reflective target, you will probably get 1600 yards of distance performance. Another cool thing is the speedometer function which allows you to measure up to 300 kilometers per hour which are really fast. I mean, come on, how often do you see something go faster than 300 kilometers per hour.
4. Night Owl iGEN 20/20 Day/Night Vision Monocular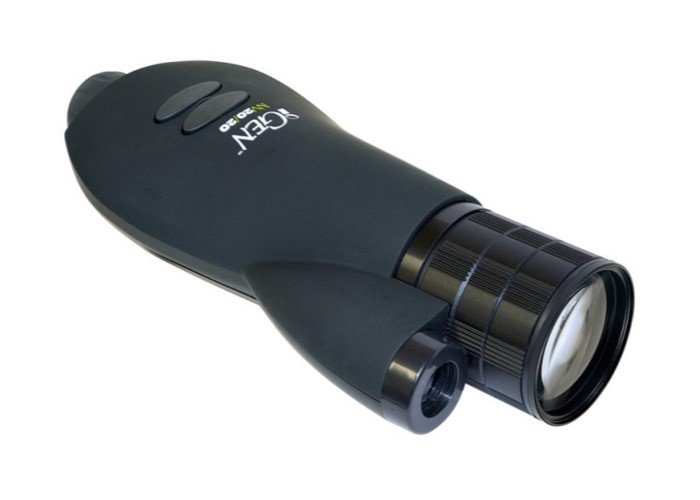 The iGen 20/20 is the future of night vision. Within this advanced tech monocular, you will discover how the world comes to life after nighttime. There so many animals that come out at night and thrive in the darkness while we can barely see our hands in front of our faces. We might be at the top of the food chain, but we were not designed to see at night as many of our four-legged friends were which definitely gives them an advantage whenever human attempts to hunt at night.
Luckily thanks to modern technology, that is no longer the case. Night Owl has designed a night vision monocular that evens the playing field and exposes everything that goes on after sundown to our feeble human eyes.
You have probably already noticed that the iGen night vision monocular does not look like your everyday monocular as its style differs from that of standard NV monoculars. The iGen has a flatter and curvier design, unlike the general cylinder shape design that we are used to seeing when looking at monoculars. I like the design – if you feel like trying something new and step away from the classic monocular design, you should also enjoy this particular device.
Design
The unique design makes it easy to hold the device, and you can reach all the buttons and switches without having to change your grip in any way. This is quite nice since it can be a bit annoying having to fiddle with a device, trying to change settings while hiding in the bushes, trying not to be spotted by your target.
While holding the iGen with one hand, you will be able to use the other hand to hold onto the barrel of the objective lens at the front of the device. You can use this to adjust focus and steady the device. Thanks to the design, you can adjust the focus and change all the settings without moving the device away from your eyes.
Materials
As for the materials used, the main external casing on the chassis is made out of hard plastic, whilst the focusing section near the objective lens is constructed from metal. The body has matte black color with a velvety texture to it. The matte finish helps the device be non-reflective, which is great as a reflection can easily give away your position.
Eyepiece
The eyepiece is located at the rear end of the monocular, and the eyecup has an external diameter of 30mm, which is covered with a thin rubber coat to help with comfort when the device is pressed against your face. As with many monoculars, the eyecup can be rotated to alter the diopter setting and focus it for your personal eyesight onto the display screen. This simple procedure is covered extensively in the user manual that is included with the device. Luckily you will also only have to do this once.
Buttons
There are only three buttons on the iGen, and their functions are simple to understand.
The large button closest to the eyepiece on the top of the iGen is the main power button. This button can also be used to toggle the Infrared settings.
The second large button on the top of the device is used for taking pictures. Simply press and hold the button to activate image capture and then click it again whenever you want to capture an image.
Underneath the eyepiece is a small three-way switch. Pushing this switch to the left or right will adjust the amount of electronic gain of the device. You can also push this switch up to enter the main menu of the iGen. You can view the menu by looking into the eyepiece of the night vision monocular.  To navigate through this menu, you continue using this switch. Next, push it left or right to scroll and press the switch to select an option.
Infrared Illuminator
Located right next to the objective lens is what looks like a second smaller lens, this is the infrared illuminator where a very bright infrared light that is invisible to the human eye is emitted from.
Night Owl claims that the emitter casts the light out at an angle of 12° from the device, which is the same as the viewing angle of the iGen. This is why when you switch the IR on, the whole image you see lights up and not just a small spot in the center of the field of view.
This infrared light is not a laser. It is created using a tiny LED, which is known for its long life and, despite its size, can deliver light at very high power but use a relatively low amount of power to produce it.
Adjusting Intensity
Unlike many other night monoculars on the market that allow you to adjust the intensity manually and occasionally spread the angle of light, the only adjustments that you can make on the iGen is toggling the settings between Auto, Max, or Off. However, in Automatic mode, the night vision monocular will adjust the intensity to reveal the right amount of infrared light for the best possible illumination depending on your circumstances.
Battery
On the underside of the iGen is a cover that can be removed to expose the battery compartment. The iGen 20/20 Night Vision Viewer takes 4 AA alkaline batteries, which are not included in the box.
According to Night Owl Optics, they should last about 4.5 hours when used continuously. This reduces to 2.3 hours with the IR emitter switched on to maximum brightness.
Using the device in image or video capture mode also uses more power and can reduce battery life by about 25% if left on all the time.
5. Bestguarder 6x50mm HD Digital Night Vision Monocular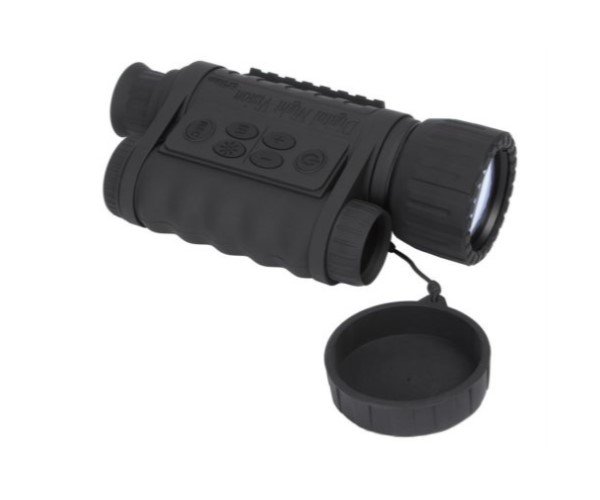 The Bestguarder is a very impressive monocular with its 6x50mm digital night vision technology. The handheld digital night vision device comprises high-quality optics and electronics. The monocular uses an infrared-sensitive CMOS sensor that provides the viewer with an edge-to-edge resolution – not to mention, with this device, you will get outstanding image quality. The night vision monocular also has fully multicoated optics that functions to decrease glare and increase light transmission.
As you know, the Bestguarder allows you to look into the darkness and see what is lurking in the shadows – whether it is a deer, a bunny rabbit, or perhaps another person. However, with the Best guarded, you can also capture images and record video clips that will then be stored on the SD card. This is a really great feature as it allows you to go back and rewatch what you saw or perhaps show somebody else.
The night vision monocular also has a video output port that allows you to connect the device to a computer or some video equipment. You also get the convenience of a built-in accessory mounting rail, enabling you to attach a more powerful IR illuminator or attach other compatible accessories.
Adjustable IR Level
The Bestguarder night vision monocular features an adjustable IR level for both convenience and control of your images. This device is great for seeing in the dark, whether you are indoors or outdoors. It also comes with a powerful infrared spotlight that will really come in handy if you tend to roam areas where it is considered darker than normal.
You can use night vision monoculars for many things. This one, in particular, can serve quite a few purposes, including night hunting and scouting game, security, and surveillance, camping fun, exploring caves, navigation, night fishing, and boating, wildlife observation, search and rescue, nighttime show, bird watching, or simply watching the night time scenery.
Infrared Illuminator
The built-in Infrared Illuminator of the Bestguarder 6x50mm HD Digital Night Vision Monocular offers a viewing range of up to 1150 ft. The 1-5x digital zoom and a 50mm objective lens offer great night vision and remarkable optical clarity. Produced in  Shenzhen, a city located in Guangdong Province in China, this product has been made in accordance with all quality and safety regulations, making it the perfect choice for an avid hunter or explorer.
Accessories
The Bestguarder Night Vision Monocular comes with a variety of accessories, including a cleaning cloth, a pouch, a user manual, both USB cable and TV cable, along with a removable strap. As far as design goes, it has rugged, water-resistant housing that provides comfortable usage over longer time periods.
Picture & Video Capture
One of the features that stands out when this model is concerned is its ability to take great quality photos and record videos. As far as photos go, the user gets to choose between three different quality options, 2592×1944 pixels,1600×1200 pixels, and 640×480 pixels. As for the video quality, this model offers 1280×720 pixels @30 fps and  640×480 pixels @30 fps. Additionally, the date and time can be stamped on photos or video.
Features
The shipping weight of Bestguarder 6x50mm HD Digital Night Vision Monocular is 2 pounds. The Field of View is around 20.5ft, while the monocular also offers a 6x magnification option. Additional features of this model include a built-in 7 languages menu, which is quite easy to use. , It can also be used equally well during daytime activities.
If you're looking for a modern and innovative monocular for satisfactory viewing, consider the Bestguarder HD Digital Night Vision Monocular. This can magnify objects six times closer so you can have a better view of everything, even from a distance. Whether it is day or night, you can get the same high-quality images through the IR illuminator for a better view of up to 1,150-feet distance. By turning off the IR technology, you can achieve a bright daytime quality.
Real-Time Surveillance Camera
If you want to use the Bestguarder HD Digital Night Vision Monocular for security purposes, you can do so. This device can function as a real-time surveillance camera to connect to your computer through the USB cable that comes with it. Truly ideal for outdoor use, this night vision monocular can stand durable outside your house to secure your property as this is weatherproof. Undoubtedly, this security camera-cum-monocular device is worthy of an investment.
6. Solomark Night Vision Monocular
If you are looking for a great night vision monocular that will allow you to see in the pitch-black darkness or if you wish to observe wildlife after the sun has set, then the Solomark night vision monocular is the perfect choice for you. This advanced tech generation 3+ NVD monocular claims to outperform its rivals on many levels.
If you are not quite familiar with GEN 3+ NVD, we will take a little look at what it entails. However, if you already know what it is and know all the basics, then you can move on while the rest of us get up to speed.
The devices classified as GEN 3+ make use of autogating technology, where a gated power supply regulates the photocathode voltage. This will enable the NVD's to be capable of adapting to the different light conditions.
In addition to this, it includes a thin ion barrier which helps reduce the noise levels of the resulting image obtained. Also, it is capable of operating at a luminous sensitivity of 2850k.
So what features does the Solomark night vision monocular have to offer? Let's take a look
LCD Display
The Solomark monocular has a color LCD screen that displays images and videos clearly. The color screen will allow you to spot the object accurately even if you find yourself in a much darker environment. Also, capturing the images with brightness and a clear view becomes easier.
Storage
The captured photos and the videos can be saved into the built-in SD card, which comes with a 1GB memory. Also, the video footage can be copied to an external device such as a Smartphone or a computer. The video feature does, however, tend to work better in dim lighting conditions and suffers in darkness.
Magnification
Regarding the magnification power of the lens, the NVD can view people at over 100m and vehicles at a 300m distance. Furthermore, it offers a 14° field view that allows you to watch objects with clarity. It can also enlarge the size of an image with the 1X, 1.3X, 1.6X, and 2X zoom features.
Batteries
Despite the devices coming with rechargeable batteries, this particular device comes with four AA batteries. This helps in easy operation and providing a longer battery life. With this, even the bright pictures can be shot and viewed for a prolonged period. Also, it avoids the need for finding a plug point to charge often.
IR Illuminator
The night vision monocular also comes with the latest technology of night vision functionality. It makes use of 7 level IR illuminator that allows for a clear scene of objects even at night time. With this, the NVD is capable of delivering clear pictures in dim light.
Extras
The device comes with a tripod base that you can use to conveniently place the device in an unwavering position and get a stabilized image and have a secure view.
This Gen 1 night vision monocular will definitely fascinate you. It has so many extra features it's hard not to love it. The Solomark night vision monocular is very lightweight and compact, making it a versatile option for a range of nighttime activities. The only thing that might bother you is the fact that the battery life is not too long.
7. Firefield 5×50 Nightfall 2 Night Vision Monocular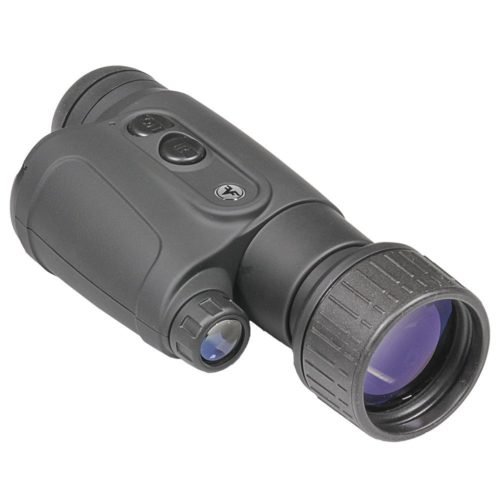 This is a great-looking product right out of the box. You can tell it is made sturdy because there are no cheap plastics or other shabby materials used in its construction. Included right in the package are the two rechargeable AA batteries that it requires. Once you insert the batteries and read the product user guide included, you are ready to start seeing in the dark with this handy night vision device.
Everything you need for this night vision monocular, you will find in the box. That includes the protective case, carry strap, and a lens cleaning cloth. Firefield has been pretty thorough here, to say the least.
It's no secret those night vision products tend to be a little on the expensive side. However, the Firefield 5×50 night vision monocular is an introductory type night vision product that is very affordable. Simply because you are shopping on a budget or unsure of whether night hunting will appeal to you does not mean that you should not be able to get your feet wet doing it at a reasonable price.
That is exactly what you get with this monocular night vision product from the reputable Firefield Company. They are an established leader in products that enable you to see long still after the sun has gone down. This great introductory night vision product does nothing to hurt their excellent reputation.
Infrared Imaging
This powerful night vision device uses infrared light to paint a picture of your surroundings after dark. Some people think that infrared imaging is not the way to go with night vision products, but that is hardly the case. These days the technology is so advanced you can see clear images of heat signatures even if they are very far away from you.
Not only does it feature technology that puts out very high digital image resolution, but it also gives you multi-coating on the lenses to help make the images that it produces even clearer. When you add to all this 12mm eye relief technology, then you have a product that will get really up to your game when you go after your desired prey at night.
Zoom & Magnification Features
The optics on the Firefield 5×50 will enable you to zoom in and out on your potential targets conveniently. This handy night vision monocular offers a full five power magnification. This means that you can zoom in to identify prospective game even when they are several hundred feet from you. Clearly, this feature is not only great for hunting, but it will make it safer if you can positively identify the target you are shooting at.
Lens
The lens on the optics is also a full 50 mm lens. That is a lens that will really give you a vast viewing angle. These monoculars will give you a full 15-degree field of view of the terrain as you scan anywhere from 600 – 3000 feet away from you. It is nice to scan that far from side to side when you are looking for game to shoot at night.
Water Resistant
The device comes with an array of convenient features. One of the best things about it is that it's a very weather-resistant design. That is a great feature because we all know that some of the best hunting is done on days when the weather is a little off. It's nice not to worry about ruining your night vision girl when you are out in adverse weather. But don't mistake this to totally immerse it in water because that will most likely ruin this monocular night vision device.
Rubberized Armor Coating
This monocular night vision instrument is very durable. It has a rubberized armor coating that will go a long way toward keeping the unit in good shape. It is highly resistant to cracking, warping, puncture, etc. This is obviously a great quality to have in a night vision device used in a hostile environment like the woods, foothills, and underbrush.
Ergonomic Design
The device is also pretty great in terms of ergonomic design. It will make your hunting trips so much better than when trying to use just a night vision scope on your rifle. You have all the adjustments for it right at your fingertips, and you get much less eye strain because of the clear nighttime images it produces.
Image Quality
The best thing about the Firefield night vision monocular is probably the image quality you get with this device. It is nice to scan the horizon from where you are sitting or standing without having to strain your eyes while doing so and have a clear image of what it is you are about to shoot.
8. Armasight Spark Multi-Purpose Night Vision Monocular
Night vision is one of those amazing adventures that once again made man better, stronger, and more powerful regardless of our biological weaknesses. It is a common fact that humans are vulnerable at night time due to our inability to see in the dark as many animals can. Since night vision made its appearance, though, this weakness has slowly but surely became a thing of the past – much like our inability to fly or breathe underwater. Truth be told, it is almost cheating. It provides such an advantage to those so equipped, whether defending or hunting.
Any level of night vision capability will give you an immense advantage at night over those who do not possess it.
This particular Armasight device can be had from various outlets for $379 (DVOR) to $525. It purports to be a GEN 3 device using newer CORE technology, giving it an advertised 70 lp/mm resolution, the equivalent of conventional GEN 3 devices. I was excited to give this new tech a try.
Clarity & Brightness
Both the clarity and the brightness of the Armasite is quite impressive. The image is the equivalent of good daylight binoculars, crisp/sharp, whereas the ATN has that lower res TV type image but is almost twice as bright. The ATN amplifies some dark nooks and crannies that the SPARK does not.
Compared against my GEN1+ Adoptics, the SPARK outdoes it in both clarity and brightness. Based on this, the SPARK can be considered an honest GEN 2 device with real 70lp/mm performance. At $4-500, this is an every-man NVD, very good but not great performance at a reasonable price.
Personal Recommendation
Can I recommend this device? That's the $1000 question. Is it a true GEN 3 NVD? No, the brightness and the resolution at the center of the field of view are excellent. It is not quite GEN 3, but at least as good as GEN 2 devices, and they sell for about $1500. So it is a good buy for the money, but the overall quality of the image and the fisheye lens type edge distortion really bother me.
I am hoping that perhaps I just got a bad one. It happens, and I plan to talk with the factory about this. I really want to like this little NVD, as it has a lot going for it, especially the price. As an entry-level NVD, I would recommend it over the GEN 1 $2-400 units available out there.
My call to Armasite was returned. Not the most helpful, but my questions were answered. They affirmed the 70 lp/mm rating but denied Gen 3 performance, stating that it is more of a Gen 1+ or 2 device. As to the hazing and distortion, they suggested I work with the front and eyepiece focus. No luck with that. The fish-eye is still there.
I have since had a bit more time with this NVD and have concluded that it may be the best out there for the price. You will have to decide for yourself if you can live with its' drawbacks to saving yourself a lot of money to possess night vision. Seize the night!
Pros
Small, slightly larger than the PVS14, but seems smaller.
Lightweight, more so than the PVS14
Multiple shoe type mounting points, on three sides
Captive pinhole lens cap and eyecup(to allow daylight testing)
OD zippered MOLLE carry case and CR123 battery provided
Dirt cheap for this technology level
Adaptable to many types of proprietary mounts (weapons, head harness, helmet, scope)
Cons
The mounting points are NOT compatible with all of the standard Mil Surplus mounts available. Armasite offers a variety of pricey mount types for their proprietary shoe. A good screwdriver and a tap and T-handle could remedy this.
The OFF/ON/IR illumination switch does not lock out the IR on position.
With the afterglow, after turning off, it is easy to switch the IR on
Rather than turning the unit off, and end up killing your battery.
(The PVS14 requires the switch to be pulled up and turned to activate the IR)
There are excessive hazing and distortion around the periphery of the image.
Uses the CR123 battery rather than the more common AA used on the PVS14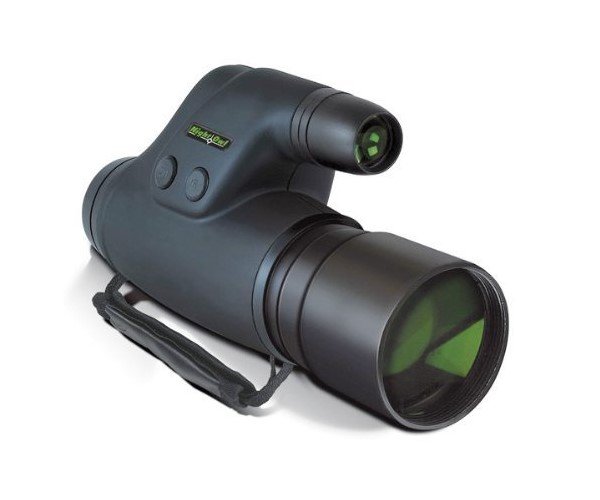 Night Owl Optics 5-Power NOXM50 Night Vision Monocular
A lightweight and well manufactured night vision monocular that covers all the bases, at an affordable price.