PointOptics is reader supported. We earn an affiliate commission if you buy through our links . Learn More.
If you're in the market for a rangefinder binocular, chances are you already know what you want. There are usually a few distinct separations as to what you need. You either need something for wildlife observation, or you need something to use while you're out on the water. There are quite a few options for both, and there's a good list with the crème de la crème over here.
Now, if you're after something for wildlife observation, you're most likely looking for something that doesn't necessarily have waterproofing or a compass. These are things that you can live without. If you need what's known as a marine binocular, which you'll primarily use out on the water, you'll need both and more. If this is you so far, read on for our review on the USCAMEL 10×50.
Specifications
The USCAMEL 10×50 is a pair of army green, military-looking rangefinder binoculars. Note, though, that this look isn't just visual – it transfers to the build quality as well. The construction is waterproof, dustproof, and can be used in any weather. It is sealed very well, which means that severe weather conditions won't be an issue.
This is important if you have any intentions of using it out on the water. At the end of the day, we're only human, and we do make mistakes. That army green body is also rubber-coated. This will make sure that you can hold the binoculars easily, and they won't slip away. If they do, this will also provide a bit of shock resistance as well.
On the inside of the body, you'll find nitrogen gas. This is a must if you'll be using the binoculars in conditions where you have high humidity, as it will prevent the inside of the lens from fogging up – something that can absolutely destroy your experience. The binoculars are also equipped with a compass which is a bonus feature.
The binoculars have a rangefinder as well, and both (along with the compass) have an illumination switch. If you get caught out while things are getting a bit dark, you can still use the binoculars with ease. As far as optic quality goes, you'll find that the BAK4 prism gives you a sharp image that has vivid contrast. This can be key when you want to distinguish specific details of an object, as it provides a good advantage.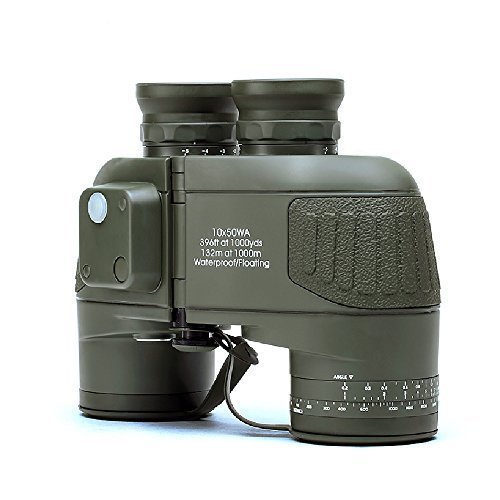 How do they perform?
In short words, admirably, but you aren't here for the short version. If you're interested, you'll notice that their price puts them in a somewhat budget range, whereas other products from competitive brands end up costing much more. This isn't something that should put you off. The USCAMEL 10×50 is a great pair of rangefinder binoculars, which performs and binoculars that often cost more.
They feel excellent in the hands, which is something you'll notice the first time you pick them up. The focus adjustment is precise and easy, but it doesn't feel cheap. You won't be having any issues with that. Next, what you'll see through the lenses is crystal clear. Sure, there are products from Nikon and Bushnell that might have a slight advantage here, but when you factor in the prices, the USCAMEL is a no-brainer.
Yes, they're that good. As far as accuracy and usability go, they're great, especially for the price range. The laser rangefinder is indeed accurate, with only a minor possibility for any error whatsoever. This is actually a positive surprise for a pair of binoculars that cost as much as these do.  
Who are they good for?
As mentioned above, when you're looking for rangefinder binoculars, the most common situations are when you need them for wildlife observation or when you need them for days out on the water. Even though the USCAMEL 10×50 are actually a pair of military binoculars and are made for tough conditions, they'll work for both situations.
They'll be amazing out on the water. They're waterproof, for starters, which means that even if you drop them, they'll still work as they did before. The rubber body and the grip it provides will ensure that you can hold them comfortably, and that won't change in case your hands get wet. Some binoculars are made of materials that get slippery when your hands are wet, which is a problem when you're out on the water, but these don't have those issues. The 10 times magnification should be more than enough, and the fact that you have a compass is an added benefit.
The binoculars will also work great if you need them for wildlife observation. This isn't their primary use, but the optics they use will ensure that even in those conditions, they'll give you a clear image with plenty of contrast. The rangefinder remains accurate, and you'll be able to see the distance of animals with ease. The magnification is more than enough for this as well.
Now, last but not least, if you're looking at a pair of binoculars for something such as a football game, or something similar, these aren't the ones for you. They are absolutely too much for it, and even though they will work, the magnification is too much. Therefore, if this is what you need them for, take a look at some other alternatives.
Wrapping things up
If you're in the market for a new pair of rangefinder binoculars, you should absolutely take a look at the USCAMEL 10×50. They come at a fairly competitive price, especially when compared to some big players, yet manage to deliver plenty of functionality. The rangefinder is accurate, the image is crisp, and the construction is made to last. What else could you need?