PointOptics is reader supported. We earn an affiliate commission if you buy through our links . Learn More.
Additional Specifications
| | |
| --- | --- |
| Magnification | 6x – 24x |
| Objective Lens Diameter | 50 mm |
| Reticle | ATMR FFP IR MOA, Glass Etched |
| Surface Finish | Matte |
| Extra Coating | Xtra Protective Coating |
| Lens Coating | Wide Band Fully Multicoated |
| Exit Pupil | 8.2 – 2.1 mm |
| Eye Relief | 3.3 In. |
| Adjustment Range Per Rotation | 15 MOA |
| Total Elevation Adjustment | 60 MOA |
| Total Windage Adjustment | 60 MOA |
| Tube Material | Aircraft Grade Aluminium |
| Tube Diameter | 30 mm |
| Purging Material | Argon |
| Length | 14.1 In. |
| Weight | 30.3 Oz. |
As hunters, we have many things in common, apart from the love of the outdoors, and one of those is we appreciate a good set of optics without breaking the bank.
For a long time the age-old saying of "You get what you pay for," has been spot on when it comes to optics. Far too many hunters spend a small fortune on their rifle only to go ahead and slap some cheap optics on top, in the hopes it is just good enough to help the rifle do the trick. It isn't without reason, however, as good-quality optics can be expensive.
But all your average hunter asks for in optics is 3 things:
Affordability
Good glass for a clean, crisp image
Durability
The Athlon Argos BTR Gen 2 seems to be the shining light that many hunters and long-distance shooter beginners have been waiting for. Now let's dive a little more in-depth to find out if the Athlon Argos BTR truly fits the bill.
Going by the specs alone, we can see this scope is already packed with quality features and components, there is a couple of negatives in their too but we will touch on those later.
Using the specs as a measuring stick, for now, we can see if they meet the requirements each hunter asks for in optics.
Affordability
Coming in with a retail price of around $404.99 on Amazon already means the Athlon Argos BTR Gen 2 has a big tick next to its name. Is it cheap? No. Is it up there with the most expensive rifle scopes? Not even close, considering there is a number of household brand names that are selling scopes in the $1,800 to $3,105.
What really makes it affordable is not necessarily the price tag itself but rather what you get for each dollar spent. A quick comparison of similar scopes offering Elevation, Range, and Windage Adjustments has them in the $800 price range.
Athlon offers a lifetime warranty on all their products which makes the affordability of the Gen 2 even sweeter.
Good Glass for a Clean, Crisp Image
There is glass and then there is advanced glass. The Athlon Argos BTR Gen 2 has Advanced Fully-Multi Coated Optics which delivers a crystal clear bright image in low-light environments, which is great given that most hunters especially those chasing that dream buck know all too well that they only show face in the early hours of the morning or as the sun begins to set.
Fully Multi-coated optics also effectively reduce reflected light and increase the transmission of light producing a brighter image when compared to single-coated lenses.
Having good glass is one thing but it needs to be protected and the engineers at Athlon have certainly done their best to keep the glass intact and of high quality. The Athlon Argos BTR Gen 2 has an exclusive XPL coating that protects the lenses from dirt, grease, and harsh weather conditions, coupled that with it being waterproof, fog proof, and shockproof really shows how much thought Athlon has put into this scope.
Athlon has taken things one step further with Argon Purging, to really enhance the quality of the glass. Argon Purging uses inertia gas with bigger size molecules to purge any moisture out of the tube, giving better waterproofing and thermal stability.
Durability
Every hunter out there whether they rough it in the backcountry or wait patiently in a blind overlooking a feeding plot, doesn't need the stress of every time their scope is bumped to wonder if it's damaged or put out of zero. Sure, every hunter knows to protect their optics as best they can, but things happen while you hunting and especially in those moments when you spot a big buck and need to move your tail to get into position for a decent shot.
It seems the people at Athlon optics had a similar train of thought when putting together the Athlon Argos BTR Gen 2. And when they wanted the scope to be protected and durable, they didn't hold back, because it has the following impressive features:
6061 T6 Aluminium
The 6061 T6 aircraft grade aluminum tube provides exceptional strength over the scope, and to directly from the Athlon website "will protect these world-class optics no matter what punishment you throw at it." Is a pretty confident statement to make.
Heat Treated One Piece Tube Construction
A single one-piece tube the scope that extra strength, as opposed to multi-piece tubes. This also has the added benefit of keeping moisture out.
Added Features
So in terms of affordability, quality glass, and durability the Gen 2 ticks all the boxes that the average hunter would be looking for in a scope. That's great but what is even cooler is a few extra features that the Athlon Argos BTR Gen 2 has.
First Focal Plane Reticle: This allows the hunter to fully utilize specially designed reticles that shrink or grow with the target as they zoom in or out
Illuminated Reticle: The illuminated reticle makes it easier to see during low light conditions
Precision Zero Stop System: The system means the shooter can lock down the zero position and then dial back to it with a precise stop right on the zero mark.
Ridged Turrets: Large turrets that are ridged with loud audible clicks means the hunter can dial in their scope without having to take their eye off the target
The Negatives
There's no such thing as a perfect product, and highlighting the challenges or downfalls of a scope is vital to making an informed decision.
Weight and Length
The weight and length of the scope are a little high for a hunting rifle. Ok, given the scope has good magnification and clarity of glass, we may be able to excuse the length of 14.1 inches, but the weight of 30.3 ounces coupled with mounting rings does add quite a bit of weight to the rifle.
This might not be a factor for those shooters looking to use the Athlon Argos BTR Gen 2 in a shooting competition, but for the guys lugging equipment out to the backcountry, or to a hunter crawling on the open plains of Wyoming to get within distance to an antelope, weight means a lot.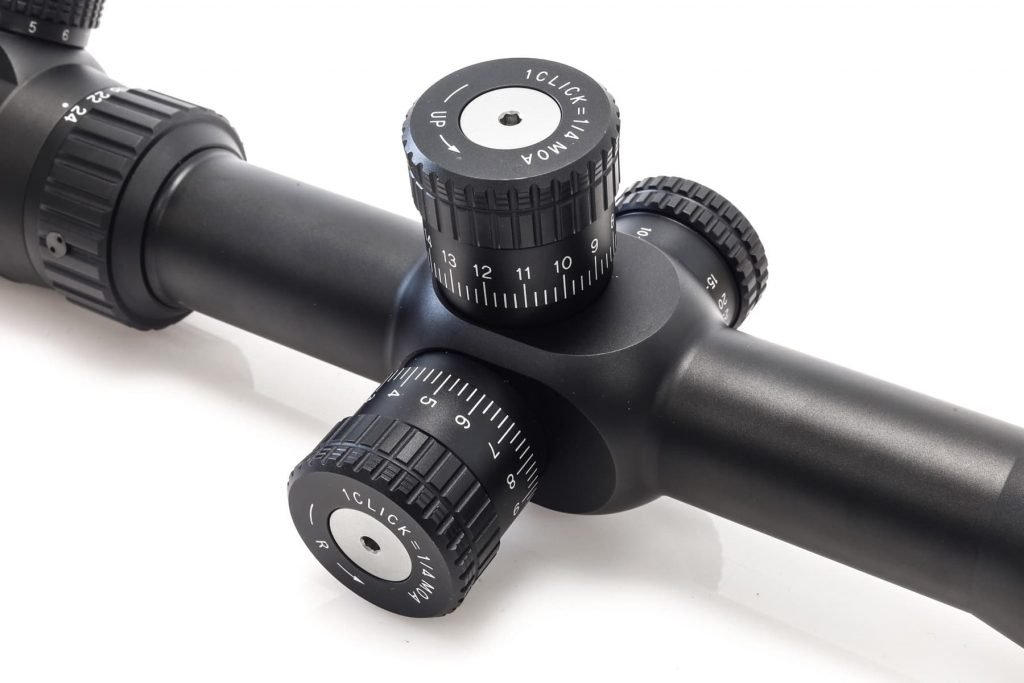 Shape and Style
Yes, we did mention earlier that one of the advantages was the large turrets making them easier to find and dial in, but the look of the Athlon Argos BTR Gen 2 is not exactly streamlined and smooth. Awkward knobs and dials tend to get snagged on things when being pulled out of the truck or moved through the vegetation while hunting.
Clarity
There is a slight drop in clarity as the magnification increases. Not a major issue but for those guys wanting to get every valuable cent from their $400 purchase, it may be an issue.
Who is the Argos BTR Gen 2 Designed for?
One of the real advantages of the Athlon Argos BTR Gen 2 would have to be its versatility. This scope allows the average hunter to go just that little bit further in what they may be used to.
To put it in context, this scope would be ideal for the average hunter who usually spends each season sitting in a blind over a feeder waiting for a nice 8 by 8 to show face at 200 yards, but would ultimately like to spend some of their season chasing Mule deer and Elk in the backcountry and letting one fly out to 500-yards. This scope will give them the confidence to pull it off, while it has the functionality to really do it well.
Better yet, it's for the hunter that needs to reach out and touch a Pronghorn at 350-yards in the flat sagebrush of Arizona but doesn't want to have to fight the crosswinds and try to hold the reticle where they think it should be. Just make the adjustments on the turrets and hold the crosshairs on the target.
Or, it is the ideal scope for a beginner shooter looking to break into the Precision Rifle Series circuit. It is the type of scope that will allow them to hold their own in a competition, without having the shooter empty their wallet.