PointOptics is reader supported. We earn an affiliate commission if you buy through our links . Learn More.
Nowadays, trail cameras are not only used to scout hunting trails but more often also to keep an eye on a property or for other security purposes. Most of these cameras are not only weatherproof, allowing users to leave them out in the elements, but also self-powered so you don't have to worry about power sources. These features are vital out in the woods, where you might have to leave a camera out for days to capture footage. Therefore, finding the best trail camera is not just a case of buying the most expensive model on the market, but finding the camera that is best suited for your needs.
There are a couple of models on the market, so to newcomers, it can be a bit overwhelming to decide what camera to purchase. However, it is a waste to pay extra for a camera with many features that you will never use. Sometimes, a couple of inexpensive cameras can be a lot more useful than just one expensive model.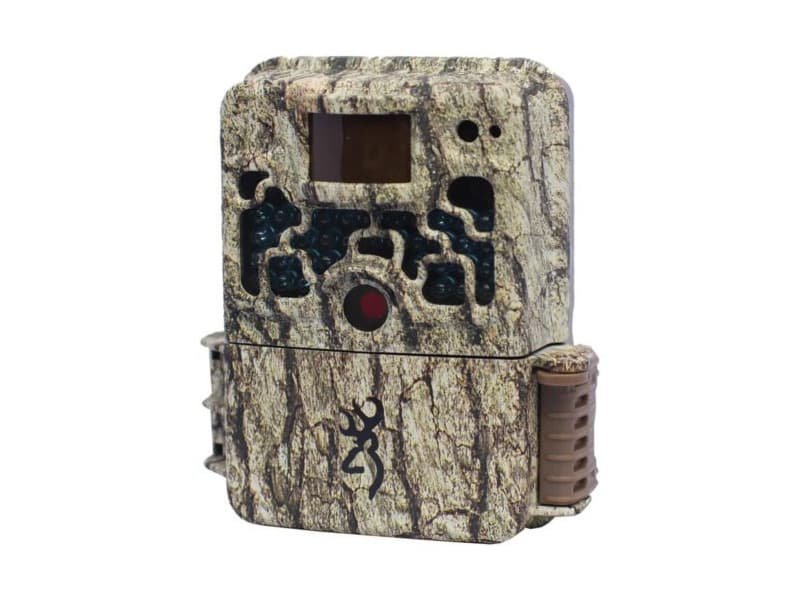 Browning Strike Force HD Camera
The Browning Strike Force combines clear imagery with fast trigger speed to create an overall top choice.
Overall Winner
Not only does the Browning Strike Force win the pick for the top trail camera on this list, but it also comes in at an affordable price. It uses a red glow infrared flash, so it may not be the best option for security. But it will serve great as a game camera.
Budget Choice
The Moultrie A5 Low Glow Game Camera really shines for its price range. While the camera's resolution isn't very high, that doesn't mean it's not capable of taking clear images at full HD resolution. The trigger speed and detection range aren't as impressive as more expensive models, but this remains a great budget choice.
Best High Resolution
The Xikezen 1080P HD Trail & Game trail camera has a 12-megapixel sensor and comes in a compact form. The image quality is impressive, and it's backed up with a quick trigger speed of around 0.2 seconds. It offers video and audio recording functionality as well.
Unless you are very familiar with the brands or can test the equipment, your best option is to check out a few trail camera reviews to help educate yourself about your future purchase. At its most basic, a trail camera is a mobile recording device that you strap to a tree to take photos or videos of the surrounding area. Depending on what you want the camera to capture, you need to look at factors such as image quality, video recording capabilities, and reliability. If your cameras spend a lot of time out in the field, you will want something with good battery life and durability.
Our Selection of the 10 Best Trail Cameras:
The following game camera reviews provide some invaluable information about some available models on the market and guide you towards making a well-informed purchase. Here are the cameras we found to be the most impressive.
1. Browning Strike Force HD Camera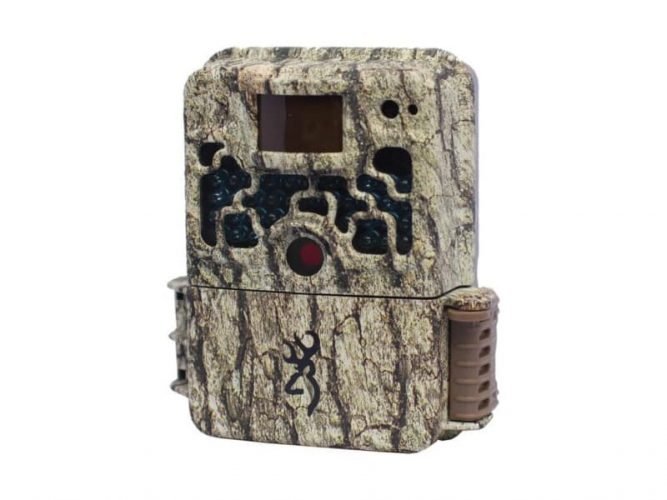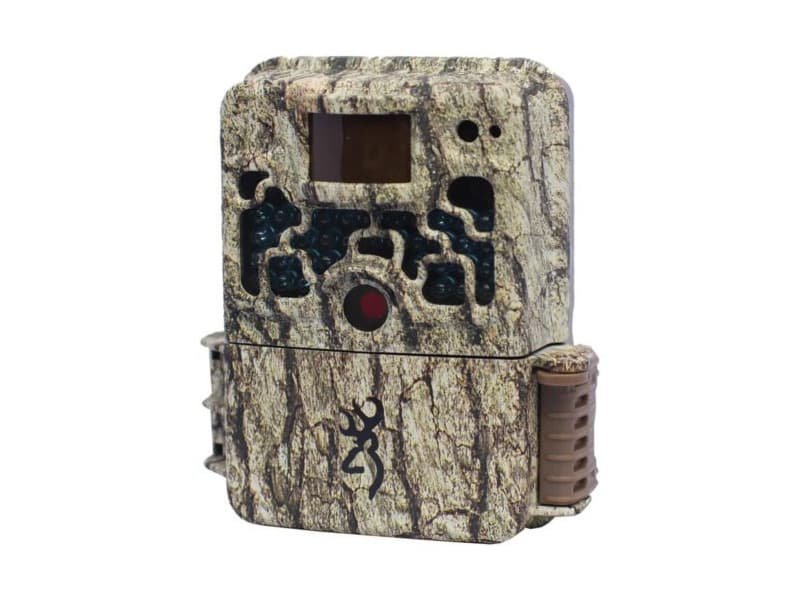 For all that there is, the Browning Strike Force camera is a perfect hunting gadget. It blows your mind with the high-quality images and videos, the long battery life, and wide coverage. Manufactured by a company specializing in hunting equipment, the camera exceeds your expectations with the lightning-fast trigger speed and detection range. Since its first launch, the camera has undergone several improvements to give you ultimate satisfaction. Let's look at these features in detail below.
Arguably, the most important aspect of a camera is its ability to take quality shots. So naturally, these images should be clear and detailed. The Browning Strike Force camera comes with a 10MP resolution for sharp shots without blurs, even under low lighting. It also gives quality videos with a 1280x 720 HD option. In addition, the Zero Blur feature enables clear images under motion. This ability to take clear photos of moving objects is definitely a plus for a hunting camera.
Although the camera uses the Red Glow infrared flash visible to animals, the light is not too bright to cause a disturbance. For night snapshots, the huge flash range gives quality images. However, you might notice some variance in resolution for day photos. To minimize the blur, mount the camera where the tree shade is not too much. Nevertheless, the overall quality of Strike Force images is good.
Quality images are also possible with the 70 feet range detection circuit. You can take photos as far as 100 feet away. Close range photos are also clear as the camera can adjust to remove white-outs. Coupled with the 0.67 trigger speed sensitivity and a 2.3 seconds recovery time, the camera assures you of quick succession pictures. You can take 8 images per trigger. This burst mode gives quality photos by minimizing blur.
If you want to take the pictures at certain intervals, the 5 seconds to 2 minutes delay option allows you to customize shots. Note that the time-lapse mode does not operate at night. The images taken in the time-lapse mode are viewed using the Browning Buck Watch Timelapse Viewer software. The audio option makes the viewing epic as you can tell what is happening. This function also gives you a clue of where the animals are.
For smoother hunting missions, the camera is easy to set up. An internal view allows you to make the right settings for perfect shots. Although the internal viewing is small, the large font instructions on the screen are well visible.
The Browning camera provides you with a stamp for the date, time, moon phase, and temperature for easy sorting. These memories are accommodated with up to a 32 GB SD card, which is purchased separately. The 6 AA batteries and an additional 12-volt external jack enable seamless game surveillance. Here, you can take up to10, 000 shots or about 11 months before changing the batteries. Again, you can choose longer battery life by targeting a shorter range using the selectable Nighttime IR Flash settings.
Typical of trail cameras, the Strike Force camera is built to be left outdoors. To ensure that the camera is free from tampering, the case is designed to camouflage with the environment. This case is also rugged and durable, especially with the outdoor risks. It also has a camo finish for breath-taking beauty. The 4.25" x3.75" x 3.25" compact camera is easy to carry and conceal. It also has a Master Lock Python cable slot for secure mounting. You can easily adjust the gadget up and down with the back metal bracket.
Just like any other camera, the Browning Strike Force camera has its shortcomings. The camera recovery works well except for the 8th shot. This delay is nothing to worry about as the overall speed is ok. There are instances when day pictures might have pixelation when zoomed in. Again, this is a small glitch as the images are of excellent quality overall. In one sentence, we can describe the camera as an affordable high-performance trail camera. Therefore, this competitive gadget is a good choice as far as trail cameras are concerned.
2. The Moultrie A5 Low Glow Game Camera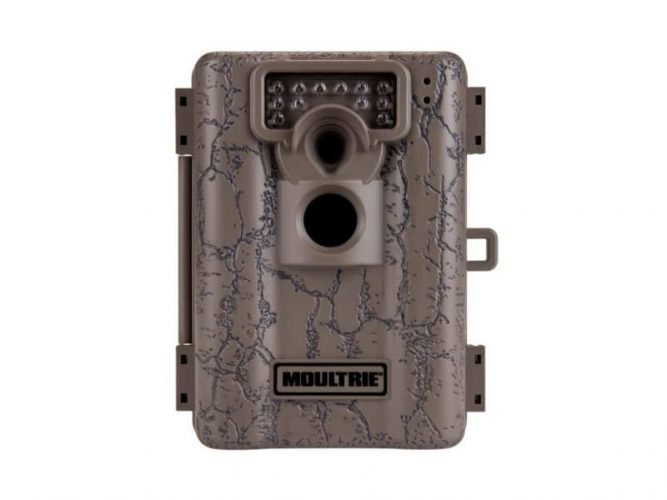 While the media have conditioned us to believe that bigger and more expensive is always better, the Moultrie A5 Low Glow Camera proves that this is not always the case.
Although Moultrie has pricey and more advanced offerings, the A5 impressed us tremendously by what it can offer for its price. It is what you would expect of a company with over 35 years of hunting technologies. The camera gives you excellent battery life, good trigger speed, an easy setup option, and security features for protection. It is a great tool for hunters and people who want to surveil their properties. In detail, below is a comprehensive review of the A5 camera.
The A5 is simply one of the most affordable solutions for putting up multiple game cameras on your property without breaking the bank. It offers you two picture-taking modes to take images and record videos. The 5.0-megapixel camera will provide you with some great full-color day and white and black night photos. The image resolution is adjustable to 2500 x 1920 or 640 x 480 to go with your shooting environment and preferences.
With a fast trigger speed of 1.16 seconds, every movement is captured as it happens—the delay speed is 62 seconds between shots. As a result, you can take images within a range of 30 feet and at an impressive 39 degrees detection angle. You also can use a pre-programmed setup with a 1, 5, 10, or 30 minutes picture delay which determines how many pictures you can take in a day. This delay mode feature makes up for the lack of a time-lapse setting.
The 850nm infrared LEDs provide enough lighting for images but not too sharp to draw attention from wildlife. However, the night photos are not as good as you might expect due to the limited number of only 12 infrared LEDs. It records 10 seconds quality video clips with up to 50 feet flash range. This detection circuit is large enough to capture as many memories. However, there are complaints that the field of view is small compared to the detection range. This disharmony results in 'false' triggers, which disappoint users.
You won't have to worry about the batteries draining too fast out in the field. The camera is designed to save energy and can last you a whole hunting season. Powered by 4AA batteries, the gadget has a reliable power supply. And with one set of batteries, you can take 8,000 images. The camera also comes with a slot to accommodate up to 32 GB SD card.
You can store 24,000 high-quality images or 128 000 low-quality photos. These images are stored in the standard JPEG format while the videos use the AVI format. For easy identification, the camera stamps pictures and videos for the name, camera mode, temperature, time, moon phase, and date.
The straightforward design means that the camera is easy to operate. You can customize the settings to suit your preferences. Once in the woods, you are assured of the camera's security with the Python cable feature. It also features a ¼" x 20 mm insert to mount the camera on a slate securely. The case is made with a rugged design and dull colors that blend well with the environment to make it hard to notice. This camouflage provides an extra security feature against theft and detection.
The A5 has all the basic features you want from a good game camera, and the low price tag really sweetens the deal. Quality or durability is often sacrificed in equipment to hit a lower price point, but this is certainly not the case with the A5. The great customer support offered by Moultrie also pushes this camera to the forefront. What's more, Moultrie has been upgraded to make it the most preferred game camera. For instance, the ground up was updated to Gen 2 to include a multi-shot feature and shorter picture delays.
It's not perfect, and we would have liked to see the ability to record videos that are longer than ten seconds in length. The lag speed between shots of 62 seconds is also a disadvantage to this camera. But when it comes to value for money, the Moultrie A5 Low Glow Camera is hard to pass up. You really wouldn't expect too much for a camera of its price range.
3. The Bushnell 8MP Trophy Cam Standard Edition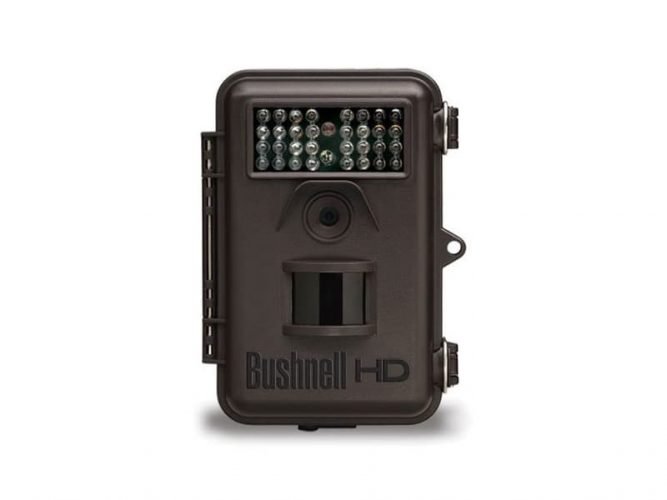 The Bushnell 8MP is a great camera and could have been a runaway winner if it didn't cost nearly twice the price of the Moultrie A5 and Primos Truth Cam 35. Still, if you have the extra cash to invest, you are going to walk away with a very impressive piece of equipment. Not only does it feature an 8-megapixel camera, but it also has a handy field scan time-lapse mode and a breakneck trigger speed—the unique features such as hybrid photo, video recording, and the TV-Out port highlight this camera.
The sharp picture quality of the Bushnell 8MP is a huge advantage. The camera gives bright color day pictures which get better with sufficient amount of sunlight. This quality is attributed to the good focus of the camera. The 8MP is a perfect resolution for detailed images.
The photos are nearly as good as the day ones during the night, especially when the shots are close. The 45 feet flash range does not disappoint. Night support also has 32 infrared LEDs for quality black and white images round the clock. The low glow lighting enables you to capture images without distracting the wild.
The video quality is good, with the ability to record full HD videos. The unique hybrid mode enables image and video capture at an eye-blinking speed of 2 seconds. This short time delay allows you to capture the wonders of the wild crisply. The programmable video length is 1-60 seconds and can record sound. However, night videos are only run for a maximum of 15 seconds.
The camera boasts a wide detection circuit. With the 110 feet detection distance, you are sure to capture as many memories from one standpoint. It has three picture-taking modes. It also features an adjustable PIR sensor for better sensitivity. Depending on the weather condition, you can set the sensitivity at auto, high, normal, or low.
At a super-fast trigger speed of o.6 seconds and a 2.9 second lag time, the gadget shoots well without missing a moment. The Multi-shot feature allows for 1-3 images per trigger. So if you wish to monitor how objects move, you can set the time-lapse between 1 to 60 minutes. And with every picture, you get a Geotag, temperature, date, time, and moon phase stamp. These stamps allow you to sort out the files.
Quality in its design makes the camera an all-time darling. The Bushnell 8MP sports outputs like the TV-Out Port, which you don't normally find on game cameras, and a crisp text LCD display for easy setup. The TV-Out Port is an excellent way to view your files on a bigger screen straight from the camera. The Aggressor case design is strong and sturdy, making it durable, consistent with the brand's tradition. In addition, it features a Python cable lock for extra protection while in the wild.
The compact 3.5 by 5.5-inch camera is user-friendly. It comes with a clear manual to guide you on the use. The several buttons on the camera are also self-explanatory and easy to follow. When mounting, the ¼ 20 tripod socket with an adjustable web belt comes in handy. The battery tray is easy to install with 8 AA batteries that can last 8-12 months in standby mode. An external power supply is possible through the DC port plug.
The efficient energy consumption plus a 32 GB SD card support go a long way in giving you a seamless hunting experience. You can store 1,711 images or 571 10-second videos on an 8 GB SD card.
If you are looking for a durable and reliable game camera that won't let you down in the field, then the Bushnell 8MP should be high on your wish list. A minor letdown is a fact that the user cannot set video lengths. In addition, you can only run it on the default video mode. Occasionally, you may find white-outs with some daytime pictures. However, the camera passed all of our tests with flying colors, so if you only need a single game camera and have the extra cash, it comes highly recommended.
4. Stealth Cam G42 No-Glo Trail Game Camera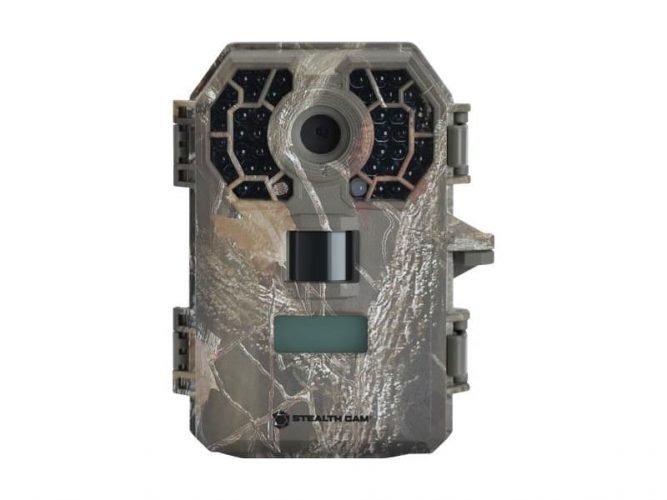 Launched by GSM outdoors in 2000, the G42 camera is designed to give you high-quality images even in low light. It is packed with essential features that make it a great pick for trail cameras. It comes with a no glow technology, an advanced matrix blur reduction, a wide detection capability, a 12-volt battery box power backup, and excellent daytime/nighttime support.
One of the best features of the G42NG camera is its ability to take photos at 100 feet range. This is due to the 60 feet deep detection area. The multi-zone detection feature also allows motion capture from different angles. Usually, bigger images trigger the camera at further distances. Thanks to the fast reflex trigger technology, the G42NG takes lightning-fast shots in 0.5 seconds with a 5 second recovery time. You can take 1-9 images per trigger activation and allow 5-59 seconds to 1-59 min trigger intervals.
Trail cameras need to take pictures without being detected. Some wild species can sense a 900+ light. Therefore, unfiltered infrared light limits discreet shots. The No glow black IR flash of the G42NG camera illuminates objects without being detected. This trail feature is also important for security reasons. In addition, G42NG makes no sound when capturing, allowing you to take game photos without spooking the game. You can capture still images, time-lapse photos, and HD videos using the 3 in 1 TRIAD technology. It also has a manual shot capability to allow you plenty of surveillance options.
Depending on the details you need to be captured, there are four options for resolution settings to choose from; 2, 4, 8, and 10 MP. Naturally, picture with a high resolution takes up more space than the low-resolution images. To get the most from a 10 MP resolution option, choose a high-capacity SD. However, the light might be too sharp for close-range photos giving white-out images. Audio-video clips of 5-180 seconds are possible with a 1280×720 or 720×480 resolution. And with every image and video, you can stamp the time, date, name, location, and moon phase.
Designed to give take epic shots anytime, the camera has excellent day and night support. Daytime photos are outstanding and full color, while night images are black and white. When taking shots of moving animals, the camera gives you a blur reduction feature for clear images. In addition, the low-light technology adjusts the gadget to give you quality shots in the dark. However, night videos are shorter, ranging from 10 to 30 seconds.
As you can imagine, taking images out there comes with its challenges. One of these problems is camera tampering. The GSM Outdoors enabled a secure lock password setting and a python cable port to minimize the risk. As earlier mentioned, the No Glo feature is a security feature as well. The case design is both beautiful and durable.
.With the weatherproof housing feature, your camera is safe from the elements out there in the woods. Furthermore, the G42NG boasts an external power jack for a 12-volt battery box in addition to the removable 8 AA batteries. This extra power allows sufficient time to take images and videos before recharging. Most importantly, you can increase the memory since the camera supports up to 32 GB SD card capacity.
The G42NG camera is easy to set up. Its New Intuitive backlit menu programming gets your camera running in a matter of minutes. With the Quick Set Mode, you easily customize your camera with the three preprogrammed modes. The flick of a switch feature allows you to select from one mode to another. For your preferred images, the Test Mode setting helps you experiment with the different options. With the quarter-inch – 20 socket, you can securely mount the gadget outdoors using a strap or an external mount.
Although the camera has enough features for your trail missions, the white-outs can put you off. Luckily, this problem only occurs with a few close-range photos. The second shortcoming is the average recovery time which limits the number of continuous shots you can take. However, the G42NG is generally good to go for a budget trail camera.
5. Stealth Cam 8MP 30IR Game Camera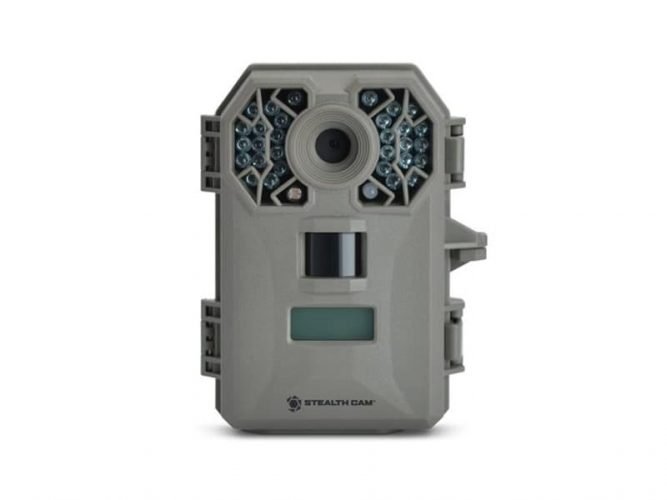 The GSM Outdoors is known for great value cameras. One of its gifts to hunters is the Stealth Camera G30 IR. This model was launched alongside the G42NG camera and quickly became a leader in the industry. It compares well in the market for its quality photos, trigger speed, flash range, ease of use, and battery life. In addition, it features the latest technology to bring you epic experiences. Here are some of the most important features of Stealth Cam G30.
A great trail camera should give you clear photos for both day and night shots. The Stealth Cam G30 has an 8MP resolution for perfect rich color daytime images. Depending on your preference, you can choose from 2MP, 4MP, and 8MP options. The nighttime support has a Retina technology of 30 IR emitters to allow low light images. Motion blur is also taken care of with the Matrix Blur Reduction technology. With these features, you get an impressive 16:9 wide image ratio.
The Stealth camera allows high-quality videos with HD video recording output. Here, you can capture 5-180 seconds of video with audio. This allows you not to just view but also to listen to those magical moments.
In the wild, every movement is crucial. You never know when action might take place. To help you capture as much as you can, the camera features a lightning-fast trigger speed. The recovery speed of 0.5 seconds is just great to help you make as many shots as possible. In addition, you can capture 1-9 images per trigger with the excellent fire burst mode.
At as far as 80 feet away, the camera gives you crisp, clear shots with 70 feet flash range. Another crucial feature for the Stealth Cam G30 is the time-lapse mode with PIR override. The manual shooting capability comes in handy when you need to do specific snaps. With this camera, you will never miss those movements as they happen. These images and videos are easy to sort with the Geo-tag, date, time, moon phase, and temperature stamps.
The scouting camera is easy to set up. It comes with a multi-lingual capability, which features the French, English, Spanish, and German languages. It also offers you pre-programmed options for quick settings by simply adjusting the slider. If you already understand the camera jargon, choose to enter your custom settings. In addition, you can alter the internal setting easily through the 2 Line Backlit LCD Menuprogramming. Lastly, the Test Mode allows you to make the right choice for perfect shots without a hassle.
At the top of their minds, hunters want to know how long a good camera will survive in the wild. The GSM Outdoors has done a good job in ensuring your camera remains secure. The camera features a secure lock and password protection. To ensure safe mounting, there is a slip-through buckle strap. Although some camera owners find this strapping unsatisfactory, it is nothing to worry about. After all, the camera is lightweight and compact enough, measuring a mere 4 x 5.5 x 2.5". This also makes it easy to carry in the woods.
For uninterrupted surveillance sessions, the camera is powered by 8 AA batteries which are purchased separately. The eject button gives you an easy way to remove the battery tray. There is a 12-volt external power jack in case you need some extra power. When coupled with the energy efficiency of the Stealth Cam G30, the battery life lasts for more than 6 months. The up can accommodate all your photos and videos to a 32 GB SD card slot. Note that the SD card is bought separately. Transferring these memories is easy with the USB feature.
The Stealth Camera G30 IR meets the basic requirement of a great trail camera. However, you might find the recovery speed average. Other than the recovery speed issue, the STC-G30 model makes a good pick for a game camera.
6. XIKEZAN 1080P HD Trail & Game
Getting a mini camera with a wide detection range and high resolution is rare. The
Xikezan 1080P HD Trail & Game camera offers you an irresistible gift. Since the first release, the product has undergone an upgrade to enhance the scouting features, making it perfect too for game surveillance. Being one of the smallest gadgets in the market, let us see what makes it worth your dime.
Crystal clear photos are central to any trail camera. With up to 12MP resolution power, Xikezan 1080P HD Trail & Game camera gives you unrivaled picture quality. The infrared technology perfects night black and white photos. Night support also includes 42 pieces of covert infrared LEDs. They provide enough light for quality shots but not too sharp to disturb the animals in their natural habitat. You can also adjust the resolution to fit your shooting environment.
The 1080 HD video gives clear recordings. It can also take audio which helps you hear animal noises. The video length ranges from 5 seconds to 10 minutes. For still photos, you can adjust the resolution to suit your preferences.
An eye-blinking trigger speed of 0.2 to 1 second gives you the ability to record every movement as it happens. It also has a wide detection angle of 120 degrees, which allows you to cover a large area using a single camera. The 65 feet detection range further spices up this. The multi-shot feature allows you to program the camera to shoot at specific intervals. Every trigger takes up to 5 images. In standby mode, your camera can go for 12 months without a battery change.
The Xikezan 1080P HD Trail & Game camera setup is super easy and can be done within few minutes. The 2.4" LCD screen makes it easy to view the display and make the preferred settings. The gadget also comes with a strap to allow easy mounting on trees or walls.
It also offers a date, time, camera mode, moon phase, and temperature stamps for each image. It is easy to sort out the pictures with the stamp imprints. These images are stored in the standard JPEG format while the videos use the AVI format. All these memories are stored in up to 32 GB SD cards. Later, you can view your files comfortably either from the 2" LCD screen or transfer them to another screen using a USB cable.
Designed for the wild, the Xikezan 1080P HD Trail & Game is weatherproof. The case design is strong and camouflages well with the environment. You never have to worry about water, dust, or other particles with this solid design. It is super small at 5.2 x 3.5 x 2.9 inches. Its compact nature allows you to carry it comfortably in your pocket and mount it discreetly. To protect your camera from theft and interference, the gadget comes with an anti-theft lock. The game camera consumes power effectively, which means it will easily last you for a whole hunting season. 4 AA batteries power it. For more power, an external 12 volt supply is available.
The Xikezan Company offers a 1-year warranty for this camera. Therefore, you are covered in the case something goes wrong within the first year. However, the camera package does not come with an SD card, and you have to buy it separately. Overall, the Xikezan 1080P HD Trail & Game camera offers exceptional hunting and surveillance experiences.
7. XIKEZAN Trail & Game Low Glow Camera
The Xikexan Trail & Game camera HD Low Glow is made with attention to detail. It incorporates all the essential features for trail cameras. The high-resolution, multi-shot features, long battery life, and easy mounting are mind-blowing. In addition, it ensures that every moment is captured with clarity. Below are the specific features that make the camera fit for game scouting and surveillance.
The day and night shots are clear and detailed. This quality is credited to the high 8 MP image resolution. You also have a unique opportunity to adjust this resolution for still images. The megapixels give rich color and sharp daytime photos. The 24 pcs low glow infrared LEDs allow for clear nighttime images. However, the images are black and white, unlike the colorful day images. This infrared light is important in giving enough light to the target object without disturbing the wildlife.
With a wide detection range of 50 feet distance and 50 degrees angle, you are sure to capture so much from one place. The super-fast 0.8 to 1.2 seconds trigger speed is what you need to capture movements in real-time. Alternatively, you can set the camera to take up to 5 images with the Multi-Shot feature. The 720p HD videos are equally good with an audio feature. You can capture as many as 12,000 images with long-lasting AA batteries. An option to use 4 or 12 batteries is available. For an additional power supply, the camera features a 12V external supply. The 0.2 mA energy-saving technology helps the camera run up to 12 months in standby mode.
All the captured files are easy to identify with the moon phase, date, time, camera mode, name, and temperature stamp. You can store the images and the videos in an up to 32 GB SD card. Please note that the camera package does not include the SD card.
The sleek camera is designed to blend with the environment, making it secure to leave in the wild. The hard and sturdy case lasts you long and protects the camera from elements. At the back of the case, the mount features allow easy mounting on trees or walls. So whether there is rain, shine, dust, or corrosive materials, the Xikexan Trail & Game camera HD Low Glow captures impressive images without the risk of damage.
As with many cameras, the package for this gadget does not include an SD card and batteries. However, this is not really a shortcoming as these items are readily available in the market. The video length is also short at 20 seconds. However, you can overcome this challenge by taking many videos. For its price, the game camera gives you what you need for wildlife monitoring, scouting game, and house security.
Buyer's Guide
Just like their name, trail cameras are used to mark how objects move. There are three instances where you might need a trail camera;
For security purposes
To monitor wildlife
There are hundreds of companies manufacturing trail cameras. Each year, these companies release different models in the market. Choosing the best trail camera can be challenging if you do not know what to look for. Some manufacturers capitalize on price to woo customers. However, there are basic specifications that you should be concerned about. Look for the resolution power, battery life, trigger speed, detection range, infrared technology, picture-taking modes, LCD screen, setup ease, external connections, and security features.
Resolution
A camera's resolution determines image and video quality. Therefore, the higher the megapixels of a camera, the better the image quality it will produce. As a caution, some companies interpolate the images and project higher megapixels than the real pictures. Also, there is no big quality difference between 4 MP and 8MP. Usually, a 2MP is sufficient.
Battery life
Trail cameras take multiple images or videos to accomplish their purpose. For instance, animals might enter the surveillance area multiple times a night. To capture all these moments, your camera should stay active for several hours. Ensure that your camera is energy-saving and that it has an external power supply. Additionally, the ability to select power-saving options such as short-range and few LEDs is a plus. Although most cameras use AA batteries, others use the D type. The AA lasts longer and is preferred. D batteries also cost more than the AA ones.
Detection and flash range
Detection range is the area where your camera can sense an object and take images. The flash range indicates how far away an object will be captured. A larger detection range helps record images triggered even by animals that are a bit far from the camera. You can take images above and below the camera. On the other hand, a wider flash range takes night photos of far-off objects clearly.
Trigger and recovery speed
Also known as shutter speed, the trigger speed determines how fast the camera takes images after detecting a motion. For you to record moments in real-time, a trail camera must capture photos as soon as it detects motion. Animals move fast, and so should your camera. Therefore, a quick trigger speed never misses a moment. A good trigger speed should be at 1 second or less. However, this might not be important if you plan to use a feeder.
Equally important is the recovery time, which is the interval between shots. The recovery speeds of most trail cameras vary from less than a second to 60 seconds. If a camera has a long recovery time, you cannot take every photo once a camera detects a movement. But, again, for feeder cameras, the recovery speed is of less importance.
Infrared
At night, images are illuminated with infrared light. This light allows you to take clear photos without a flashlight. An infrared emitter might be no glow or low glow. With the low glow infrared, some beam is visible during shooting. This light might be a bother to some species. But most animals do not detect this light. It gives sharp and clear night images. On the other hand, the no-glow infrared is not visible to people or wildlife. It works great with security and game cameras. Cameras with invisible light are called covert.
Picture-taking modes
Taking good images requires multiple picture-taking modes. The most basic ones are the video and photo functions. Some cameras have the burst mode at an advanced level, which allows you to take several images per trigger. As a result, you capture a series of actions as they happen. Again, some video features are advanced. For instance, recording full HD video is becoming popular. Also, some cameras can take photos and a short video almost at the same time. This allows you to get more elaborate actions. Another factor to consider is the length of videos a camera can support. Anything above 10 seconds works fine. So you basically want a camera that can do long videos.
LCD screen
After taking your photos, you definitely want to see them. Some cameras allow you to view the images right after taking them. This feature allows you to take better photos by understanding the right settings. Other cameras do not have a viewer, and you have to use a computer to access the files. Here, you take all the pictures you need and leave the scene. All in all, it really depends on your preference.
Setup
Buying a good camera is one thing and setting it up is another task altogether. You do not want to keep guessing how your gadget works. Some great features for easy setup include an elaborate menu, camera switches, and pre-programmed modes. Equally important is the Test Mode. It allows you to stop guesswork when getting the right settings. With these features, you can save time and maximize the camera's benefits.
Security and durability features
Often, trail cameras are left to do their work in the wild or outdoors. Protecting them from theft and interference is paramount. Some features are found in the case design. A solid and sturdy case gives your camera durability. A color that blends with the surrounding is ideal for concealing your camera. Some cameras have water-resistant features at an advanced level, which prevent moisture, dust, and other particles from messing with your gadget. You also want a camera that has a password lock and a python cable hole.
External connections
The ability to connect your camera to other gadgets helps you access your files better. Some cameras have TV-Out Port where you connect them to a TV. This allows you to view your files directly from the camera. A USB connection enables file transfer directly to other gadgets such as your smartphone or computer. An SD card support is also important for your pictures' storage. While SD card support is basic, cameras support different gigabytes. Ensure that your storage can have as many photos in one hunting session. As technology advances, most trail cameras are capable of sending images remotely to your phone.
It is hard to get all the advanced features in a trail camera without emptying your bank account. Depending on your needs, look for the most important features. Remember to research well before committing to buy any camera. Customer reviews give you first-hand information. Some advanced technologies can be ignored without compromising the photo or video quality.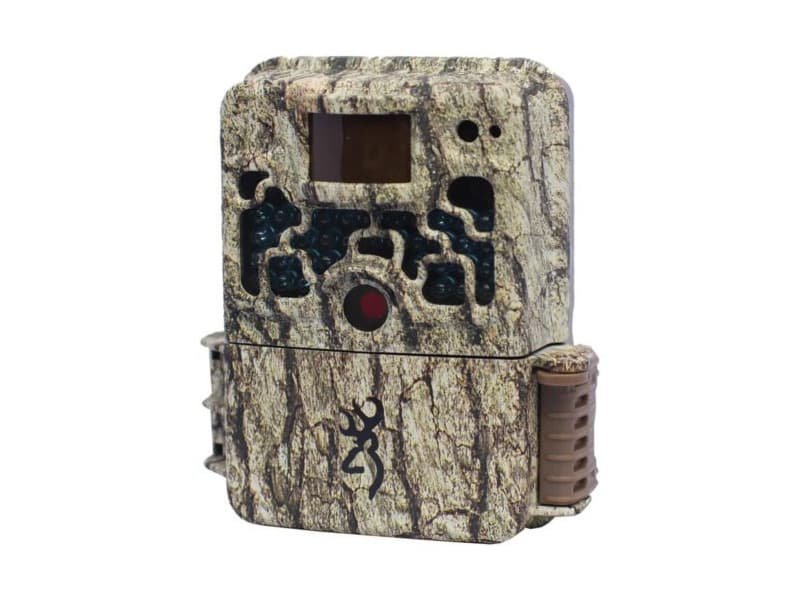 Browning Strike Force HD Camera
The Browning Strike Force combines clear imagery with fast trigger speed to create an overall top choice.