PointOptics is reader supported. We earn an affiliate commission if you buy through our links . Learn More.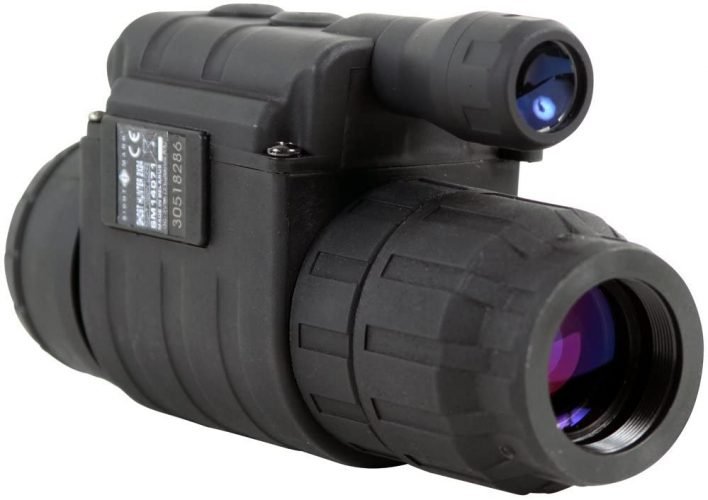 The Sightmark Ghost Hunter 2x24mm night vision monocular is an entry-level night vision monocular that offers generation 1 functionality at a relatively affordable price point. It comes in both 1x and 2x magnification, but we've decided to review the 2x version.
Our initial impression of the device is that it aligns with a lot of other night vision monoculars in this price range. It does the job, but it fails to offer the "wow factor" that some other models on the market do.
Design
The Ghost Hunter has got a nice low-profile design that makes it compact and easy to operate out in the field. Because of the smaller lens, the Ghost Hunter is a bit lighter than some of the competition, weighing in at around 8.8oz. I also like the fact that the lens is positioned well inside of the tubing, protecting it from damage.
As far as weatherproofing is concerned, the Ghost Hunter is IPX3 rated so you can expect it to be water-resistant, but not something that can handle being fully submerged. We would have liked to have seen a higher IPX rating, but it will still suffice for most practical uses. The case is made from durable plastic which should keep the device safe from knocks and minor falls, but it is still a good idea to be cautious when handling it.
When in hand, one is able to feel a lack of quality in the construction of the device, at least when compared to more expensive options that offer a hardier design.
One design feature of note is the automatic shut-off which kicks in when the monocular is exposed to bright light sources. Anyone that has ever had the night vision tube on their monocular break because of sudden bright light can attest to how handy this feature is.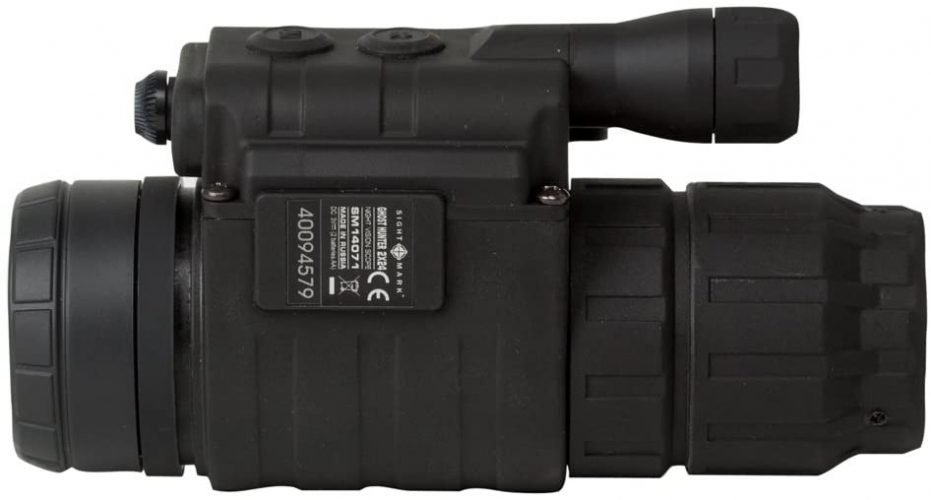 The buttons are located on the top of the Ghost Hunter and are easy to reach and operate in the dark. The design incorporates a 1/4″ socket which can be used to mount the Ghost Hunter night vision monocular on a tripod or weapon if you wish. It is powered by two AA batteries, which provide about 20 hours of use with the IR illuminator active and up to 72 without it.
These are actually pretty decent figures and the best part is that the batteries are cheap enough to keep a few spares around and easy to find unlike some of the batteries required by other night vision monoculars. Included in the package are a handy nylon carrying case and lens cloth, but no batteries or other extras.
Feautures
The Sightmark Ghost Hunter is easy to use and powers up very quickly which is an advantage if you spot something in the spur of the moment and have to get your monocular ready. The 24mm objective lens size is pretty standard for most night vision monoculars, not straying from what I'd consider industry standard.
This model has 2x magnification but still has a very impressive maximum detection range. The fact that it has a minimum focusing distance of only one meter is also a bonus, especially for those using it for tactical use. On the technical side of things, you are looking at a resolution of about 36 lines per mm and a 25-degree field of view which are all very respectable numbers.
Performance
When it comes to performance, the Sightmark Ghost Hunter offers generation 1 night vision with an overall result that aligns with a lot of other night vision monoculars in this price range. Given that it's a gen 1 unit, you can expect the visual quality to be grainy, however, I did find that the Ghost Hunter was good at illumination.
I also saw that some other customers had encountered issues with the focus of their devices. Whether this was perhaps calibration problems or manufacturing errors, I can't be sure. But there are certainly some customers who received devices that weren't able to perform to their expectations.
Overall, I can't say that I'd opt for this night vision monocular as a first choice. As there are other options for a bit more money that offer a clearer visual experience and perhaps more reliability.
Sightmark Ghost Hunter 2X24 Night Vision Monocular Pros & Cons
There isn't a whole lot to complain about when it comes to the Sightmark Ghost Hunter 2X24 apart from the fact that for about the same price or maybe slightly more you can get a monocular that has a few more features. It is not a bad piece of equipment by any stretch of the imagination, but if I had the cash and the option to choose I would opt for the Firefield 5X50 Nightfall or Night Owl Optics 5-Power NOXM50, both of which pack much larger lenses and higher magnification. Depending on the price you are able to get it at, you won't be sorry if you purchase a Sightmark Ghost Hunter at a good bargain.
Take a look at the list of pros and cons below to see what I mean when I say that this is a well-rounded device.
Pros
Built in IR illuminator
Lightweight and comfortable design
Quick power-up
Close observational range of focus
Supports mount for tripod or weapon
Uses AA batteries and has a decent battery life with and without the IR illuminator active
Automatic shut-off safety feature to protect night vision tube
Cons
Only 2x magnification
Build quality could be better
Conclusion
I really like the versatility of the Sightmark Ghost Hunter as you can use it as a standalone device or as a sighting accessory for your rifle or helmet. It might not quite have the specifications to go toe to toe with the high-priced devices, but for basic needs, you won't be disappointed on a budget.
It also doesn't require much knowledge to operate which you will appreciate if you have had to fumble through obtuse instruction manuals in the past just to get a device operational. Although the Sightmark Ghost Hunter probably wouldn't make it into one of my top picks when it comes to night vision monoculars it is still worth checking out if you don't have other options available.