PointOptics is reader supported. We earn an affiliate commission if you buy through our links . Learn More.
Every great golfer knows that investing in a quality rangefinder is a great way of shaving off a few strokes off your game and earning some bragging rights over your golfing peers. After all, to hit your target you have to know exactly how far it is from you, right? Not only do rangefinders offer the distance to the flag with detailed accuracy, they are also able to pick the flag from any trees and bushes on the course, helping you take out the guessing from your shots.
There is a wide range of choice when it comes to choosing rangefinders. They come at different prices and offer varying features. It is therefore important to do a bit of research before settling on a particular rangefinder.
Bushnell Tour V4 Laser Rangefinder
With a new ergonomic design which packs a great set of features into a compact form factor. This is a great choice for any golfer.
Overall Top Choice
The Bushnell Tour V4 comes with all the bells and whistles, offering a superb product that is suitable for all levels of experience and will impress even the most highly demanding golfer. It's not the cheapest device on the market, but you certainly get what you pay for.
Budget Winner
The Tectectec VPRO500 is our go-to device for golfers on a budget. While it may lack a few of the toys that are included with some of the more premium models, this rangefinder offers superb quality for its price range.
High End Choice
The Bushnell Tour X is an absolute beast. This device has a range of up to 1300 yards with 0.5-yard accuracy, as well as 6x magnification. It's is truly a stand-out device that comes with all the features you could wish for.
How Golf Rangefinders Work
Firstly, the purpose of a golf rangefinder is to provide the user with an accurate distance between themselves and the target of the device. The way in which they work is pretty simple, a laser is sent from the device and to the target. A calculation is then made within the rangefinder which will measure the amount of time it takes for the laser to reflect back to the rangefinder emitter. Because the speed of the laser remains constant, the device is then able to perform the measurement with accuracy.
The use of a unique wavelength that differs from traditional wavelengths ensures that the device isn't confused by incoming wavelengths that stem from outside of the device's use.
While this is all 'simple', on the other hand, there are a number of nuances to take into account when looking at the algorithms used in rangefinders and the way they are programmed to accurately handle things like beam divergence.
Hunting Rangefinders vs Golf Rangefinders
A common question is whether a golf rangefinder can be used for hunting and visa-versa. While you can in theory use them interchangeably, the reality is that each device is built with a specific purpose, and the way it is designed and the software that comes bundled with it may be more specific to a certain activity. For example, golf rangefinders will sometimes come bundled with software containing the data of the golf courses that you're likely to be playing at.
In addition to this, golf rangefinders can sometimes lack the accuracy of a hunting rangefinder. With our list below, we've chosen quality laser rangefinders that were made for golf in mind, but if you're considering a multi-purpose rangefinder, we recommend doing thorough research into the products that catch your eye to ensure they are able to do as required.
The biggest difference between the devices is the type of mode used to provide you with the data of the distance between you and your target. Golf rangefinders will often use what is referred to as first target mode, where the device will focus on a close object (the flag/hole etc). Hunting rangefinders differ in this regard in that they will typically use distant target mode. Distant target mode is where the rangefinder will ignore close objects in order to better allow for the tracking of distance to animals which may be behind bushes, trees, or foliage.
Our Selection of the 10 Best Golf Rangefinders:
To help you make the best choice based on your needs, we did the research on your behalf and came up with a list of the 10 best golf rangefinders available on the market.
1. Bushnell Tour V4 Laser Rangefinder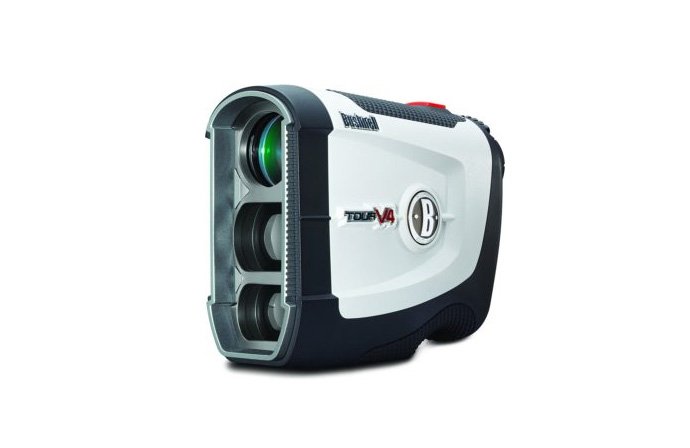 Made by Bushnell, an established name in the rangefinder industry, the V4 is an improvement of the older Bushnell Tour V3 laser rangefinder, with a new ergonomic design that packs a great set of features into a compact form factor. Like most rangefinders on the market, it is optimized for single-hand operation, with HD optics featuring 5x magnification and a 24mm objective lens. One of the key features of the V4 is the award-winning Pinseeker, which incorporates JOLT technology. With the JOLT technology, the V4 delivers a short burst of vibration when it locks onto the flag. This gets rid of any doubt and ensures you get the exact measurement you want.
Reasons to buy
2. Nikon Coolshot 40 Golf Laser Rangefinder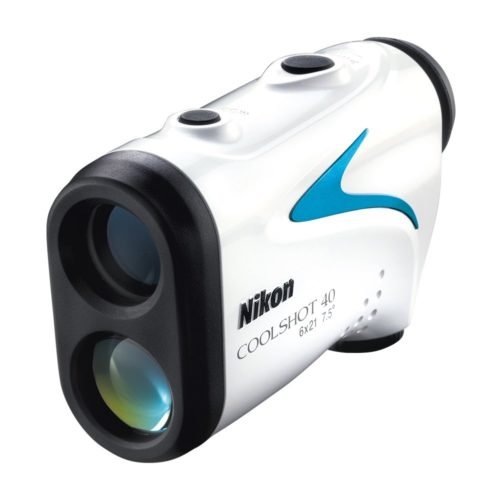 Nikon is a company that has built a name for itself as an industry leader when it comes to the manufacture of various optical and imaging products. With this in mind, you can expect that high quality and precision from any of their offerings. The Nikon Coolshot 40 is the most powerful rangefinder in Nikon's range of USGA-approved measuring devices. It came as an upgrade to the wildly successful Nikon Coolshot 20.
3. TecTecTec VPRO DLX Golf Laser Rangefinder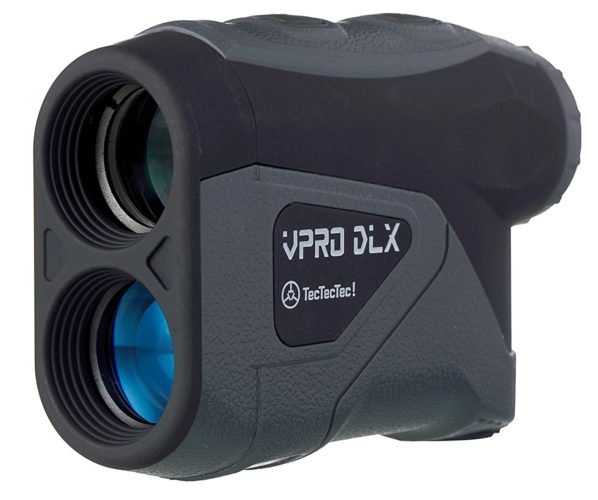 The VPRO DLX is the latest premium rangefinder from TecTecTec. It has a long measurement range of up to 600 yards and an accuracy of +/-1 yard, with an ultra-accurate Pinsensor technology that allows it to measure distances to overlapping objects. The Pinseeker on the VPRO DLX is more sensitive than you will find in other rangefinders. It has a multilayer coating and 6x magnification monocular lens which provides bright, vivid images. The VPRO DLX is encased in a waterproof body, allowing it to be used even on rainy days. It has a long-lasting CR2 battery and uses an eye-safe rangefinder Class 1 laser, which has an average power output of less than 0.5mW. It comes with a premium carrying bag, a microfiber cleaning cloth, and a 1-year TecTecTec warranty.
4. Bushnell Pro X2 Rangefinder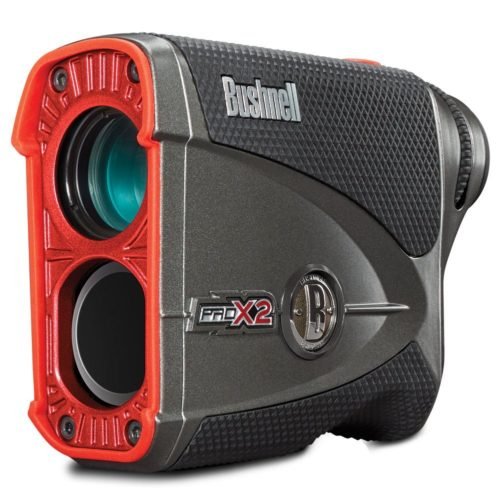 The Pro X2 is the ultimate rangefinder from Bushnell, packing all of Bushnell's industry-leading innovations. It has slope compensation which allows it to calculate and adjust measurements depending on the degree of incline or decline. It also has slope-switch technology, which makes it possible to disable the slope function to make the device tournament legal. To toggle between standard and sloped modes, Bushnell uses an innovative technology where you simply need to move the Pro X2 logo up or down. The Pro X2 features Bushnell's patented Pinseeker with JOLT technology, giving you tactile feedback when you lock onto the flag. It uses 2nd gen E.S.P (Extreme Speed Precision) and fast focus for superfast measurements and comes with 6x magnification.
5. TecTecTec VPRO500 Golf Rangefinder
The TecTecTec VPRO500 is a budget laser rangefinder that is capable of measuring distances of up to 540 yards with, with 6x magnification and 1-yard accuracy. It uses eye-safe rangefinder Class 1 laser, which has an average power output of 0.5mW. A recent entry into the scene, it comes with the latest technology, making it one of the most accurate and flexible golf measuring devices. The VPRO500 features Pinsensor technology, which allows it to isolate different targets. For instance, with Pinsensor technology, it can isolate the flag from any trees that might be behind it. It comes with a high-quality through-the-lens display which provides ultra-clear and multi-layered optics that make it very easy to read the distance measurements and battery information.
6. Bushnell Tour X Laser Golf Rangefinder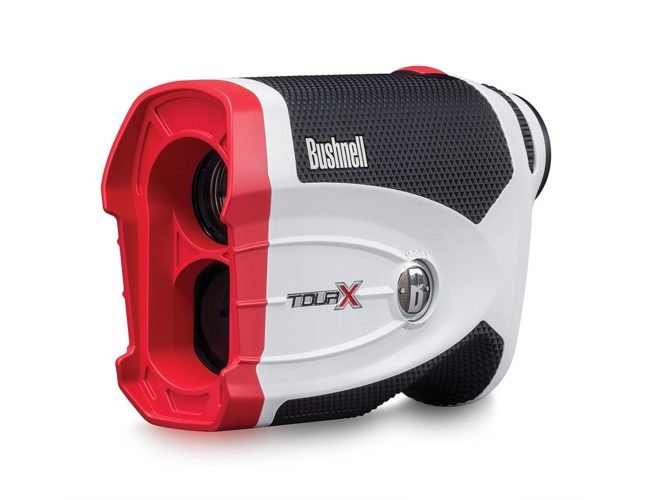 Bushnell is a popular brand that is known for quality and performance when it comes to rangefinders and other optical devices. Bushnell continues to maintain their reputation with the Tour X model. It has many impressive features that you can expect from any offering from Bushnell. However, one of the unique features of the Tour X is the ability to interchange the faceplates.
7. SereneLife Premium Golf Laser Rangefinder with Pinsensor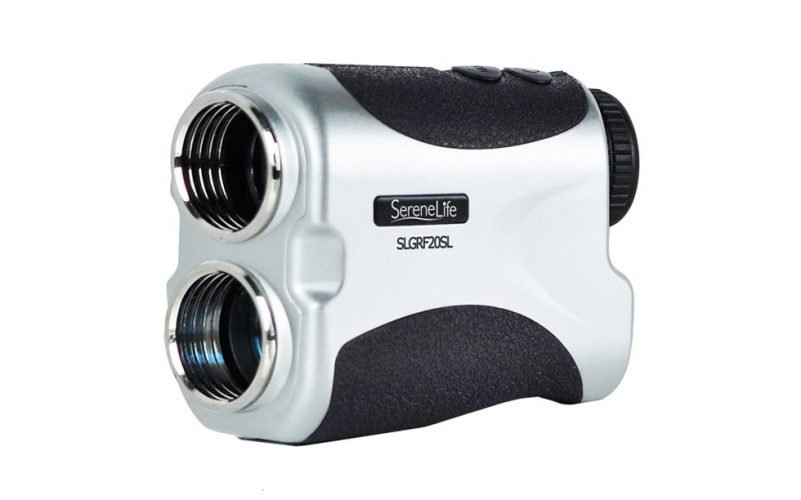 SereneLife is a relatively new name in the rangefinder market. It does not have many products as other rangefinder manufacturers currently in the market. However, they still have a quality product known as Premium Slope rangefinder. It is a stylish rangefinder that comes bundled with all the features a golfer would need to get actionable and reliable data. The inclusion of slope and pinseeker technologies ensure a golfer has the best experience as they are playing. Being a newcomer to the golf rangefinder market, we decided to take it for a test and see for ourselves what the device has to offer.
8. Nikon COOLSHOT 20 Golf Laser Rangefinder
The COOLSHOT 20 is a powerful USGA approved rangefinder. It has the speed, precision and optical quality of Nikon rangefinders, all of this fitted inside a compact and lightweight 4.4-ounce body. This allows it to easily fit into a golf bag or even a pocket. Its 6x magnification monocular uses Nikon's legendary optical technology to deliver bright, crisp images. It has a range capability of up to 550 yards, with an accuracy of less than one yard. First Target Priority allows it to quickly and accurately isolate the flag from any background objects, while the 8-second continuous scan mode allows you to quickly measure the distance to multiple objects.
9. Breaking 80 IS500 Golf Laser Rangefinder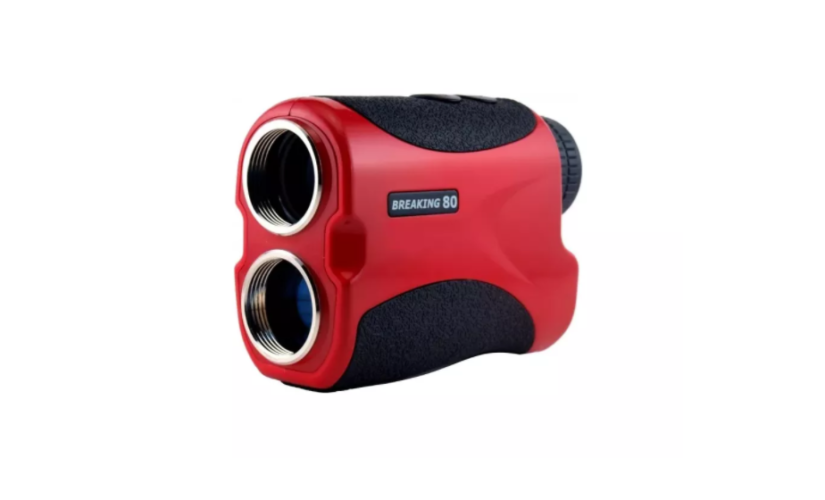 The IS500 is a high-quality golf laser rangefinder that comes at a very pocket-friendly price. It comes with a multilayer-coated monocular lens that provides up to 6x magnification, allowing you to get precise measurements in a range of between 5 and 550 yards, with +/-1 yard accuracy. The IS500 has a dual mode, giving you the choice between flag seeking technology and the 8-second continuous scan mode. The device is equipped with IntelliScan technology, which can be used in continuous scan mode to easily give distances to the bunkers, trees, the fairway edge or even the back of the green. The flag seeking mode is built with first target priority, which allows the device to quickly and automatically detect the flag while ignoring background targets. This can help you locate the flag even when you cannot see it with your naked eye.
10. Precision Pro Golf NX7 Laser Rangefinder
Precision Pro is another newcomer when it comes to the manufacture of golf measuring devices. After the success of their first rangefinder, the Nexus, they have followed up with two new rangefinders to replace the Nexus – the NX7 and the NX7 Pro. The NX7 Pro is the superior of the two. The difference between the two is the availability of slope functionality on the NX7 Pro. It can simply be described as a first tier rangefinder that comes at the price of a third tier rangefinder. The Precision Pro Golf NX7 Laser Rangefinder is among the cheapest you will find that offers such an advanced set of features.
Golf Rangefinders Buyer's Guide
Before making the choice on the best rangefinder for your needs, you should make a point of checking the features on your preferred models. These include things like range and accuracy, shape, size and weight, magnification, brand, and technology. Ideally, you want a rangefinder with a long range, a high accuracy level, and high magnification. The shape, size, and weight will affect how you use the device, so it is important to find one that feels comfortable to you. You should go for rangefinders with all the whistles and bells, such as pin seeker technology and multilayered, high-quality optics.
Accuracy
It is almost impossible to find a rangefinder that is fully accurate. Level of accuracy is determined by the error margin in a rangefinder. Accuracy ranges from half a yard to a couple of yards. If you find a rangefinder with more than 3 yards of accuracy, you should avoid purchasing it.
Slope
You will need to decide whether or not you need the slope function in a rangefinder. The slope function is used to measure any elevation change between you and your target. Slope also estimates actual distance to a target and the distance a shot will play. The feature is quite useful when you are training or practicing to play. Remember the feature is not allowed in competitions such as golf tournaments. If you plan on using a rangefinder during a tournament, make sure the slope function can be disabled or is not present in your rangefinder.
Ease of use
Golfers who have been using rangefinders are likely to use any current model available in the market. If you are an amateur or you have never used such a device you should strive to find one with the highest rating in ease of use. The most important factor when using a rangefinder is getting an accurate distance of the right target. A complicated to use rangefinder is not helpful as it will not help you find the right distance effectively every time you use it. Usually, devices with a single button and small size are considered to be easier to use.
First target priority, Pinhunter, and Pinseeker
Majority of rangefinder models today have the ability to separate background objects from forefront objects. It means the device will show you the closets object should you be aiming for a flag located behind trees in the course. The technology is designed to enable the device to effectively differentiate flags and pins from other objects on the green. Different manufacturers will have different names for this technology including first target priority, pinhunter, and pinseeker. When the closest target has been locked on the display, some models will give a visual cue, vibration or sound.
Magnification
Golf rangefinders will vary in magnification. Generally, the range is between zero magnification and 7X magnification. This feature is important as it will determine how easily you will be able to hit any target. Devices with high magnifications are easier to use as they are able to hit a target faster and more effectively. Choose a rangefinder with the highest magnification to ensure you can use the device easily and effectively.
Size
A rangefinder's size determines the handling. You may find you need two hands to keep the device steady. If this is the case then you need to get a rangefinder that is not too small. As a general rule, two hands will always make ranging easier. There are a number of models available that are wide enough to fit two hands. Take note that a large rangefinder is likely to be heavier. Make sure you balance the size with weight to get the best fit for your needs.
Scan mode
Scan mode is available in most models. It allows you to get the distance of targets you are ranging. To activate the mode, you'll usually press a button and wait for a few seconds or hold down a button for a few seconds. It is a feature that is important in finding the right target among a number of targets. For example, if you want to get a flag next to trees, scan mode will make it easier to get the range.
Readability
This refers to the ability to get readings clearly on your screen irrespective of the weather conditions. The best rangefinder would be one with units in red numbers. This will allow you to see the numbers in glaring sun or rainy weather. Usually, the cost of such gadgets are marginally higher.
Cost
The price of the rangefinder is a major decision point for most people. After all, all buyers want to get value for their money. The variations in the cost of golf rangefinders are great. One of the reasons includes lack of trusted brands that sell rangefinders and their expert design. You can find a rangefinder with a low budget. The problem will be once you improve your game it may limit your chances of continually improving. If you are willing to buy a better one in the near future, you can get one at a low budget. If you have some skills in golf, you should invest in a high-quality brand as it will serve you for many years to come.
A low-priced rangefinder will lack in quality and other very crucial features. This doesn't mean you can't find good quality rangefinders at cheaper prices. It only means that you are likely to find a great rangefinder if you do not mind spending a little more.
Finally, you should consider whether it has slope compensation. In addition to distance, slope edition rangefinders allow you to measure altitude and climatic conditions. However, it's important to note that slope mode is not allowed in tournaments, so if you are a professional player, you should find a tournament edition or one that has the slope-switch technology.
Bushnell Tour V4 Laser Rangefinder
With a new ergonomic design which packs a great set of features into a compact form factor. This is a great choice for any golfer.