PointOptics is reader supported. We earn an affiliate commission if you buy through our links . Learn More.
When it comes to golf rangefinders, you will see two distinct types available on the market; GPS and laser rangefinders. As for which is best, it's a bit of a subjective topic, and there is more to consider than just the distance or the type of rangefinding used. You want to be sure that you will utilize as much functionality as possible in your device. When in the beginning stages of research, the plethora of options available can be overwhelming. We have worked hard to assemble the best golf rangefinders on the market for different needs, so you can focus on doing what matters; getting back onto the fairway.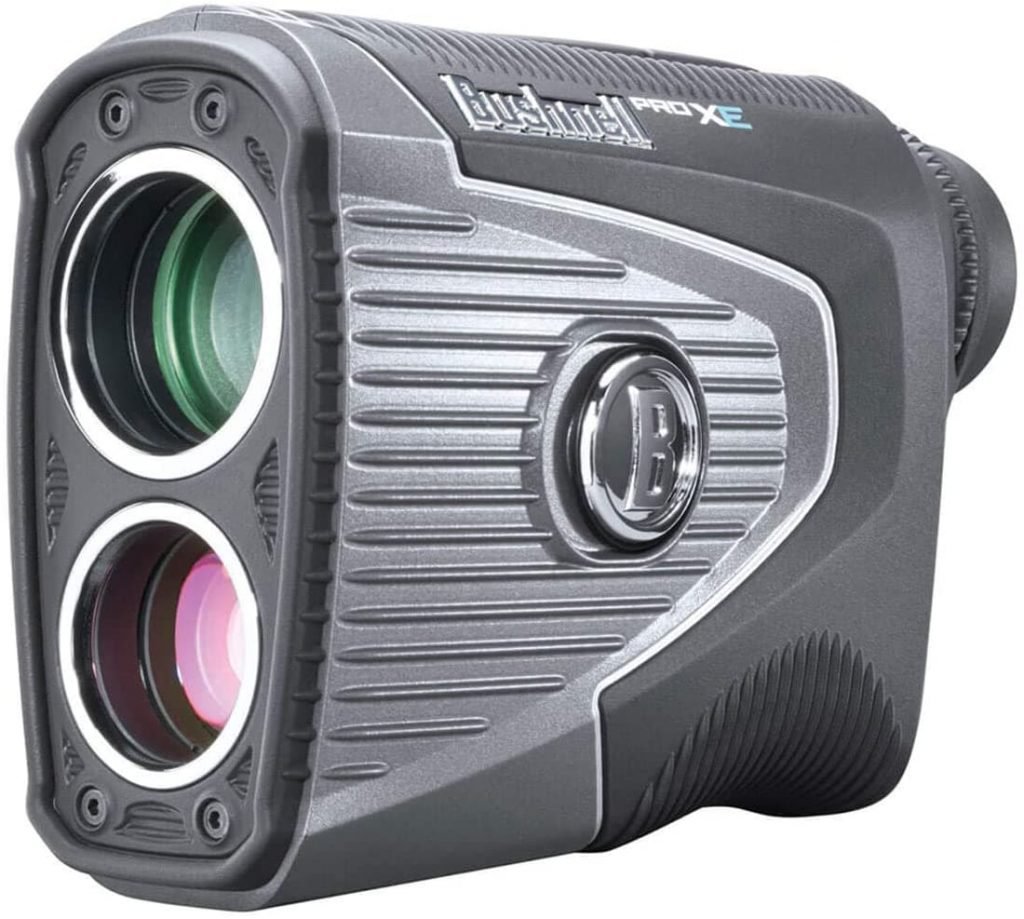 Bushnell Pro XE Golf Laser Rangefinder
The exceptional build quality, powerful magnification, long-distance range, and advanced slope compensation functionality lead towards a second-to-none device for the serious golfer.
Best Overall Golf Rangefinder
If you are on the hunt for the best golf rangefinder you could purchase, then the Bushnell Pro XE should be your first and only choice. The build quality is excellent, the water-proofing has no equal, and the slope compensation considers both the atmospheric conditions and the topographical layout of the area. So look no further than the Pro XE for what we consider the best rangefinder on the market today.
Best Budget Golf Rangefinder With Slope Compensation
Anyork has brought to market an incredibly budget-friendly rangefinder without sacrificing features like slope compensation. Many budget manufacturers achieve lower prices by dropping functionality, but not Anyork. A tournament-ready design with waterproofing and a 1500 yard max range are sure to impress without even considering the friendly price.
Best Value for Money Golf Rangefinder
The Callaway 300 Pro will give you the best combination of monetary value and functionality. Between the long maximum range, water resistance, and aesthetically pleasing design, you are sure to be satisfied with your purchase.
Best Golf Rangefinder Without Slope Compensation
Bushell has produced a professional quality rangefinder for the consumer market. No slope compensation is offered. However, given that the target audience rarely uses this feature, it is unlikely to be of much concern. The Tour V5 doesn't do a lot, but the functionality that it does have works exceptionally well.
Best Golf Rangefinder Under $100
Don't let the word "budget" give the false impression of an inferior product. The Gogogo Sport Vpro is a fantastic rangefinder that will run you less than $100 without skimping on functionality. The design of the rangefinder is lightweight, ergonomic, and comfortable for long periods of use. In addition, more modes of functionality are present than you would expect at such a modest price point.
GPS Rangefinders
As evident by the name, these rangefinders use GPS technology to provide you with a calculated distance between you and the target. The primary advantage of GPS units over laser rangefinders is that you do not need a direct line of sight to calculate distance. For example, if you have a line of trees obstructing your view of the target, a laser rangefinder isn't going to allow you to view the target and gather an accurate range. With GPS rangefinders, you won't need to worry about obstructions in your view to the target. The distance will come back immediately and take into account slope and other topographical conditions.
On the flip side, GPS units tend to be more expensive than the simpler laser setups. Some manufacturers even require a subscription to continue accessing their course database. Thankfully some modern devices have software that will allow you to update your rangefinder with new course information. So while you usually can connect to a computer and download more courses, it is not guaranteed that every course you will want to play is available. And, if you forget to load it before you get on the course, you are out of luck.
Laser Rangefinders
A more traditional rangefinder style uses line-of-sight, lasers, and some simple math, to figure out how far a target is. For example, when you look through a viewing port and point at a target, an invisible laser is sent out of the device and reflects straight back into the receiving end of the rangefinder. Then, based on how long it took for the laser to come back, the device can calculate how far away the target is. Some high-end units can even consider slope by measuring the angle at which the laser re-enters the device.
The advantage to golf laser rangefinders (besides price) over GPS units is their general flexibility. Meaning you don't have to worry about preloading courses, subscription services, or any of the other technical issues that can pop up when connecting to satellites. On the other hand, you need a direct line of sight to find a distance. Additionally, it can be hard to lock onto a small pin or flag, and you have the potential to get something in the background as opposed to your intended target, which brings us to our next section.

Laser rangefinders intended for golf are regularly used in other activities, and while there are hunting-specific rangefinders on the market, some hunters do opt to go for a laser golf rangefinder.
What Makes a Golf Rangefinder Different From Other Rangefinders?
One significant difference between golf rangefinders and rangefinders meant for hunting is the target priority of the internal software.
Golf rangefinders have near target priority, while most others will have a distant target priority. This slight difference in software is significant. In golfing applications, your target (usually the flag) will almost always be the nearest object in the field of view you are targeting. With this target priority, the software knows to ignore background targets to get an easier lock onto what you are trying to range.
With distant target priority, it works just the opposite. The unit knows to ignore the near and focus on the distant. Think of situations where you are trying to range a deer through brush and vegetation. Some units can switch between these two modes, although they tend to be more expensive than a unit that just does one or the other.
The 10 Best Golf Rangefinders
1. Bushnell Pro XE Golf Laser Rangefinder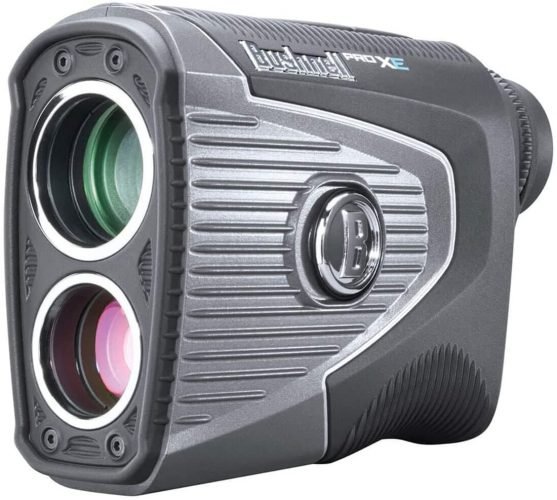 1300 YARDS
Additional Specifications
| | |
| --- | --- |
| Magnification | 7 X |
| Weight | 1.28 lbs |
| Power Source | X1 CR2 Batteries |
| Waterproof | Yes |
| Pin Sensor | Yes |
| Slope Switch | Yes |
Simply put, the Bushnell Pro XE is one of the best golf rangefinders on the market today. Utilizing their patented "Elements" Slope compensation technology, they can provide the most accurate compensated distance measurements you can find. Bushnell can achieve this remarkable feat by incorporating barometric pressure, temperature, and humidity measurements on top of the traditional Slope calculations.
A device as serious as this is intended for serious users, and as such, they should be prepared to invest accordingly. At a price point of around $550, this is recommended for the golfer committed to their craft.
Durability & Build
The housing is constructed out of metal, ensuring the device is sturdy and can stand up to use and abuse. Being fully waterproof, you will be able to take to the ranges in all weather conditions without fear or worry. In addition, Bushell has included a BITE magnetic mount for easy storage on golf cart bars and quick access, adding to the list of proprietary technology.
Magnification & Range
A powerful 7x magnification allows for ranging targets out to a purported 1300 yards. Though, with distances that great, you must identify the target to ensure you are not accidentally getting readings for other objects in the fore or background.
Slope Compensation
As discussed in the Pro XE's introduction, the Slope compensation technology incorporated into the device is awe-inspiring. The topographical Slope is not the only factor at play when planning the trajectory of an object through the air (ask any long-distance shooter).
The slope is simply the easiest one to recognize from a visual perspective. Other factors at play (in the distances relevant for golfing) are humidity, temperature, and atmospheric pressure, also known as barometric pressure. This device considers all of these factors, providing a compensated distance that is more accurate than almost anything else on the market today. This feature is easily turned off to enable legal play in tournament situations.
Overall
If you are prepared to invest, you simply cannot go wrong with the Bushnell Pro XE golf rangefinder. The exceptional build quality, powerful magnification, long-distance range, and advanced slope compensation functionality lead towards a second-to-none device for the serious golfer.
2. Anyork Vpro-X7 Golf Rangefinder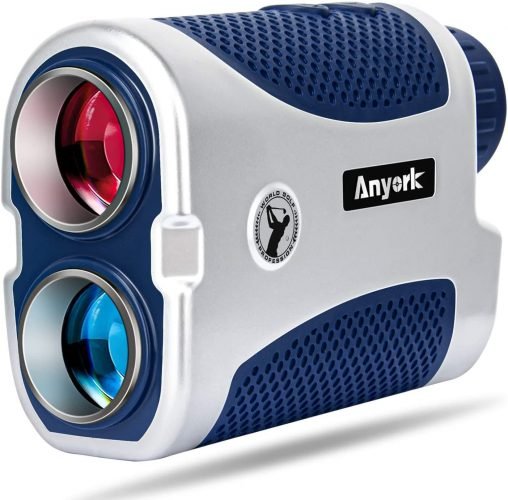 1500 YARDS
Additional Specifications
| | |
| --- | --- |
| Magnification | 6 X |
| Weight | 12.8 Oz. |
| Power Source | X2 CR2 Batteries |
| Waterproof | Yes |
| Pin Sensor | Yes |
| Slope Switch | Yes |
The impressive list of product features and a price of under $100 seems to be a mismatch at first glance. There's just no way that a device with as many features and such an impressive array of specifications could sit at this price! You'd be wrong, however. Slope compensation, flag locking, and 1500+ yard ranging capabilities in a waterproof design equate to a more than capable device for any situation you may want to throw at it!
Durability & Build
With a 5.6 x 4.25 x 2.8-inch profile, weighing in at just under a pound, this falls right into the middle of the pack when it comes to size and portability. Not overly cumbersome, yet not the most compact rangefinder we've seen on the market. The Anyork Golf Rangefinder is, however, fully waterproof.
Magnification & Range
An awe-inspiring maximum range of 1500 yards is nothing to turn your nose up at. However, flag locking is effective at ranges up to 350 yards with a +/- 1-yard accuracy. Unfortunately, we could not find the objective lens diameter information, but we know that the unit has a native 6x magnification when using the viewfinder. This means that while technically you could range out to 1500 yards, it might be challenging to identify a target at those distances.
Slope Compensation
Right out of the box, this rangefinder is tournament-ready! An external slope compensation switch allows for competitive legal play should the situation arise. A host of additional modes are available as well, including flag-locking, continuous scan, and of course, slope compensation.
Overall
Simply put, for the price, there is no better. So, if you need a golf-centric rangefinder with all the bigger players' tricks, then look no further. Fully waterproof and ready for competitive play, be prepared to leave your friends speechless when they hear what you paid for it!
3. Callaway 300 Pro Slope Laser Golf Rangefinder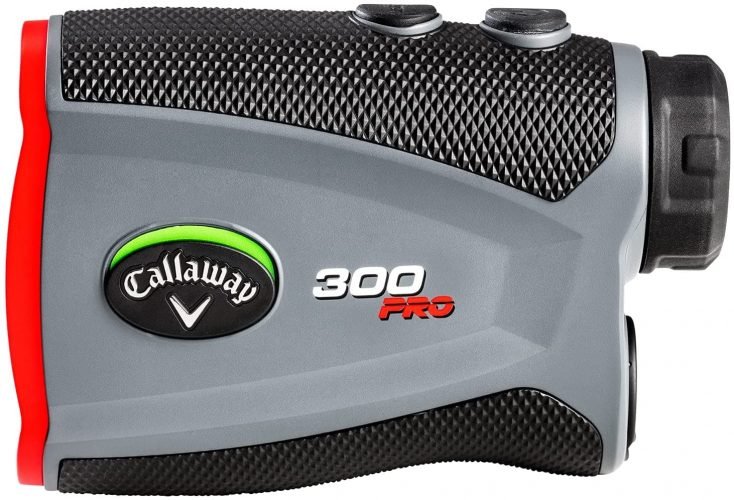 800 YARDS
Additional Specifications
| | |
| --- | --- |
| Magnification | 5 X |
| Weight | Unspecified |
| Power Source | X1 CR2 Batteries |
| Waterproof | Water-Resistant |
| Pin Sensor | Yes |
| Slope Switch | Yes |
Callaway is a brand that usually needs no introduction in the world of golf. A manufacturer of everything from clubs, balls, clothing, and in this case, optics. The Callaway 300 Pro Slope Laser Golf Rangefinder is a device that golfers build for golfers. An exquisite design, high level of functionality, and overall brand reliability make this an excellent choice for those looking to up their game. With a price of roughly $180, it won't break the bank either!
Durability & Build
Construction of the Callaway 300 Pro seems pretty solid with all-plastic housing. Included with your purchase is a molded hard carry case for storage and transportation. The case adds a lot of value when it comes to protecting your device from the elements, but beyond this, the unit is water-resistant as well—ensuring that it will stand up to even the harshest of conditions! Additionally, a Magna-hold strip on the side of the unit allows for easy attachment to golf cart bars quick access during play.
Magnification & Range
The 5x magnification allows for viewing of up to 800 yards. However, the P.A.T. (pin acquisition technology) is only effective out to 275 yards. This is important to keep in mind when planning your plays and routes down the course. Most pin target units have similar limitations, but Callaway is one of the few manufacturers to be upfront with, which is admirable.
Slope Compensation
Slope compensation, along with an external on/off switch for tournament use, is present with a host of additional modes and settings. These include pin-locking with pulse confirmation, an EZ mode for quick play, and continuous scan to keep track of multiple targets. In addition, an external LCD screen is a convenient feature that allows for quick viewing of your pin-locked target distance without having to pull the device back up to your face.
Overall
It's hard not to like Callaways 300 Pro series. Long-range viewing, tournament-ready external switch, multiple modes, and external LCD screen all add to the equation that equals a device capable of bringing tremendous value for the money to those who decide to make the purchase.
4. Bushnell Tour V5 Golf Laser Rangefinder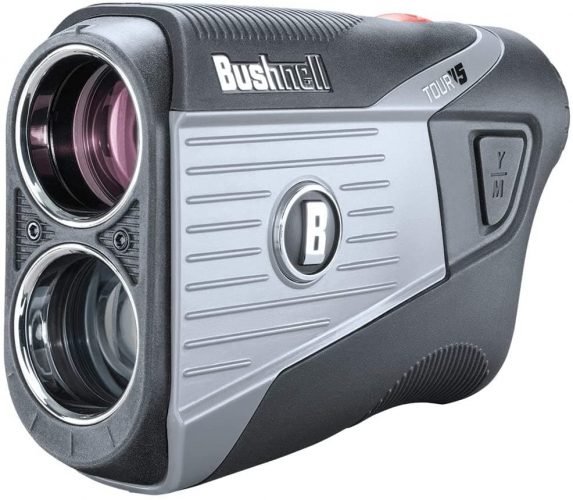 1300 YARDS
Additional Specifications
| | |
| --- | --- |
| Magnification | 6 X |
| Weight | 8 Oz. |
| Power Source | X1 CR2 Lithium-Ion |
| Waterproof | Water-Resistant |
| Pin Sensor | Yes |
| Slope Switch | No Slope Compensation |
Bushnell makes another appearance on the list with their tournament-ready Tour V5 Golf Rangefinder. A rangefinder that is intended for use by competitive players and is built to competitive standards. The maximum distances are impressive, and the accuracy is claimed to be +/- 1 yard. However, no slope compensation mode is available.
This makes sense when reminded that this is intended for competitive players; they will not use slope in tournament play and want to practice without it. One of the most incredible features is the companion app for your phone. For optimal play and performance, information for thousands of courses can be found and cross-referenced with your distance readings.
Durability & Build
Incredible built quality is a hallmark of Bushnell optic products. The Tour V5 follows the trend with a rugged, water-resistant design made to stand up to pretty much anything you can throw at it. Only weighing 8 ounces, this compact unit is built like a rock! An included hard case ensures protection from the elements between rounds or when stored at home.
Magnification & Range
Get the lay of the land out to 1,300 yards, and pin-lock your flags out to 400 yards for ultimate accuracy. In addition, the 21mm lens diameter provides a 6x magnification and enhanced color profile for optimal clarity when using the device's total draw distance.
Slope Compensation
No Slope compensation function is built into the Tour V5. That may come as a surprise for some, considering the relatively high price point. However, Bushnell is a premium product, and the money is worth every penny. Furthermore, the market here is for competitive players (or those who aspire to be competitive). Since slope compensation is not allowed in tournament play, why include the feature at all?
Overall
The Bushnell Tour V5 is a wonderful option for those interested in upping their game or with eyes set on the big leagues. Durable build quality, impressive optics, and the companion app set the user up for playing a game they can be proud of. The lack of slope compensation may be a turn-off for some, but the market is for those who would not use it in the first place.
5. Gogogo Sport Vpro Laser Rangefinder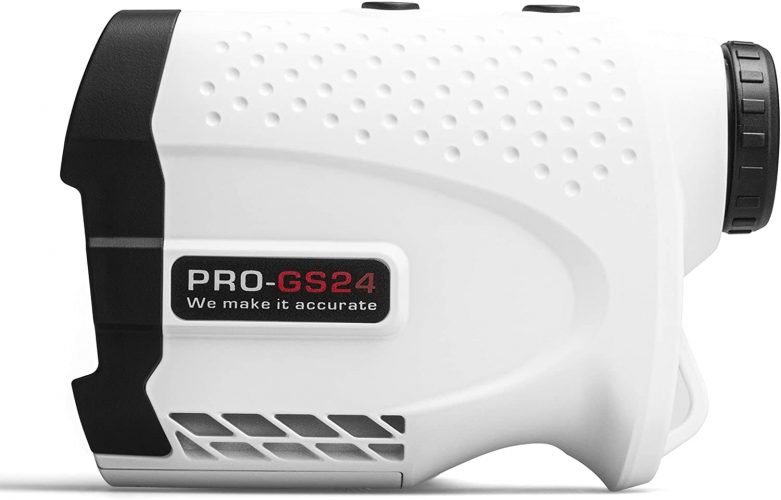 650 YARDS
Additional Specifications
| | |
| --- | --- |
| Magnification | 6 X |
| Weight | 2.9 Oz. |
| Power Source | AAA Batteries |
| Waterproof | Yes |
| Pin Sensor | Yes |
| Slope Switch | No (Always On) |
The Gogogo Sport Vpro laser rangefinder is one of the best budget rangefinders on the market at just under $100. The impressive list of features, modes, and overall build quality makes it stand with the proverbial big dogs in the industry that charge much more for the same level of function.
Durability & Build
With an ergonomic design and rubberized outer coating, this is one of the most comfortable golf rangefinders out there for extended use. Helping work towards this overall ease of use is the lightweight body at only 2.9 ounces, along with its small and compact footprint. Gogogo Sport advertises water resistance on their website, but without providing any specific ratings. With this device, you are most likely safe to golf in the rain, but try not to submerge it in any ponds!
Magnification & Range
Utilizing a Fully Multi-Coated (FMC) series of 25mm lenses with a 6x magnification, users can effectively range out to 650 yards with accurate target acquisition. In addition, several functions and modes such as continuous range readings, ARC (angle range compensation), Pin-Seeking, Flagpole-Locking Vibration, and Speed Measuring are all present here. The fact that the Vpro happens to fall into the budget category while still hosting such a suite of features is quite impressive.
Slope Compensation
Slope compensation is built into the device for pinpoint accuracy on the fairway. The arc angle information is even provided on the screen should you decide to use the device for bow or rifle hunting applications. There is one crucial point to mention here; however, in the model we are reviewing in this article, Slope compensation cannot be turned off.
This means that the Gogogo Sport Vpro is not legal for tournament use. If you are playing for fun, this is no issue. However, if you plan to compete, you will need to upgrade to the more expensive option with a slope switch to comply with tournament regulations.
Overall
You can't go wrong with the Gogogo Sport Vpro if you are looking for a budget rangefinder. But, heck, even if budget isn't as much of a concern, you should probably at least consider the Vpro! Its ergonomic design, a suite of features, applicability in other sports, and modest price point make this a worthy competitor across the board. The only major drawback is that it is not legal for tournaments.
6. Nikon Coolshot Pro Stabilized Golf Rangefinder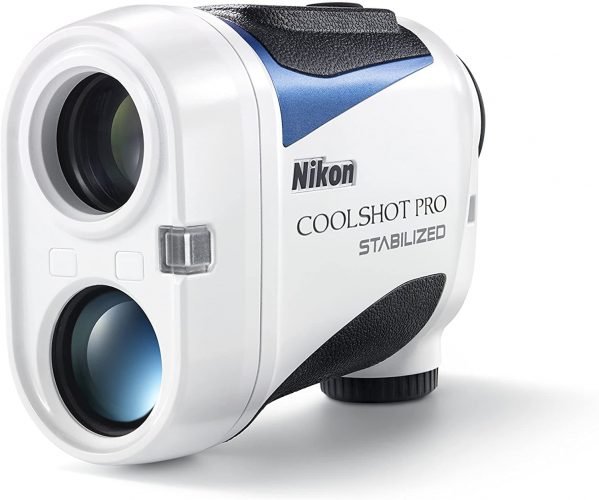 1200 YARDS
Additional Specifications
| | |
| --- | --- |
| Magnification | 6 X |
| Weight | 6 Oz. |
| Power Source | x1 CR2 Lithium-Ion |
| Waterproof | Yes |
| Pin Sensor | Yes |
| Slope Switch | Yes |
Nikon may not be the first thought that comes to mind when one thinks of golf. However, the camera company is well known in the industry, and their award-winning rangefinders receive the highest accolades from those in the know!
A slew of ultra-premium features, high-end optics, and excellent design standards more than explain why the Nikon Coolshot Pro receives praising headlines from across the industry; "Best rangefinder of 2018, Rangefinder of the Year, and Editor's Choice Award (MyGolfSpy). 2019: "Best Rangefinder under $500″," etc. However, high-end features come with a high-end cost, as the Coolshot Pro will run you somewhere around $450. But, for those for whom the features make a game-winning difference, this may be exactly what you are looking for.
Durability & Build
Is it any wonder that a camera company knows how to design a piece of handheld optics? The device's ergonomics are second to none, and the weight specs are astounding because not only does this device have features that one would expect, but there is a slew of axillary functions that most wouldn't even consider an option!
One of the most remarkable features of the Coolshot Pro is the built-in image stabilization through a combination of software and hardware gimbal components. The tech is adapted from Nikons extensive research into image stabilization for photography applications.
Magnification & Range
I feel like this section is almost redundant to write. Of course, Nikon makes glass that is high quality and effective; everyone could have guessed that. But the extent of just how well this device operates is impressive, even to someone familiar with cameras and the industry. One thousand two hundred yards of the maximum range come through the viewfinder with absolute crystal clarity.
Slope Compensation
Slope compensation is, of course, included here. On top of the compensation, flag locking with notifications lets you know when exactly you've locked onto. An external switch for the slope adjustments allows for legal tournament play under all rules and regulations.
Overall
Sometimes awards are meaningless, but other times, there is a reason behind them. In this case, the Nikon Coolshot Pro falls into the latter. Picture perfect image quality, impressive range, image stabilization, and a tournament legal design all more than justify the premium price point this unit commands.
7. Raythor Pro GEN S2 Golf Rangefinder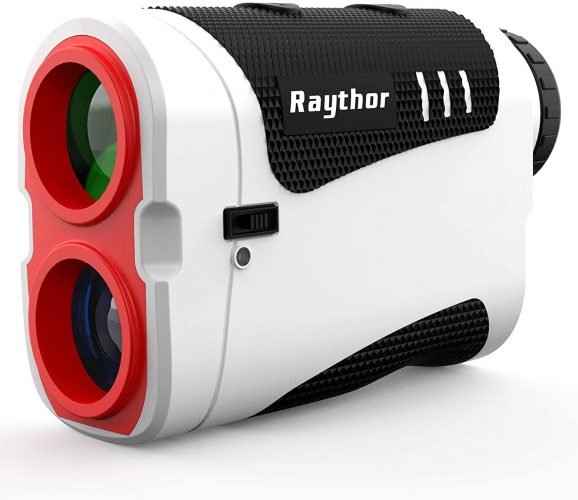 1000 YARDS
Additional Specifications
| | |
| --- | --- |
| Magnification | 6 X |
| Weight | 0.38 lbs |
| Power Source | Fixed Rechargeable Battery |
| Waterproof | No |
| Pin Sensor | Yes |
| Slope Switch | Yes |
The Raythor Pro GEN S2 is a solid entry into the world of modestly priced golf rangefinders. At around $140, it has all of the features you would expect, including slope compensation, an external switch, and continuous scan mode, among others. But the rechargeable battery may not be to everyone's taste, and a lack of waterproofing may make this an unviable rangefinder for those who find themselves frequently playing in areas with rain and humidity.
Durability & Build
The Raythor Pro GEN S2 features plastic construction with molded rubber handgrips ensuring ease of use and durability in the field. At just under half a pound and a dimensionality of 4.3*1.5*2.8 inches, the Pro GEN S2 is a relatively compact and low-profile device compared to some of the older rangefinder models out there.
One aspect of the design worth mentioning is that the unit utilizes a built-in rechargeable battery. This would mean no swapping for a fresh set if you forgot to charge it the day before play. However, most golf carts these days have USB ports built-in, so bring the charging cable, and you should be fine. Unfortunately, no waterproofing specifications could be found. For this reason, it is best to be cautious and avoid overly humid and wet conditions.
Magnification & Range
An impressive 1000 yards of range is available to the user with the 25mm multi-coated lens and 7 degrees field of view. Pin seeking is functional out to 180 yards, and flack locking can be achieved at a maximum of 300 yards. While the 1000 yards is nice to have with the 6x magnification, the overall usability of the unit takes a bit of a hit when you take into account the fairly limited ranges of both the pin-seeking and flag-lock functions.
Slope Compensation
Slope arc angle compensation is easily utilized via the external switch, making the Raythor Pro GEN S2 Golf Rangefinder legal for tournament use. Continuos scan, flag-lock with a pulse vibration notification, and a speed measurement mode are all available for use as well.
Overall
At the end of the day, whether or not you decide to go with the Pro GEN S2 comes down to personal preference more than anything else. It has all of the bells, whistles, and features most golfers would ever need. On the other hand, the rechargeable battery comes with positives and negatives depending upon your opinion on cost savings vs. convenience. We have no significant complaints about the device, except for maybe the lack of water resistance; besides that point, however, just go with your gut.
8. JZBRAIN Golf Rangefinder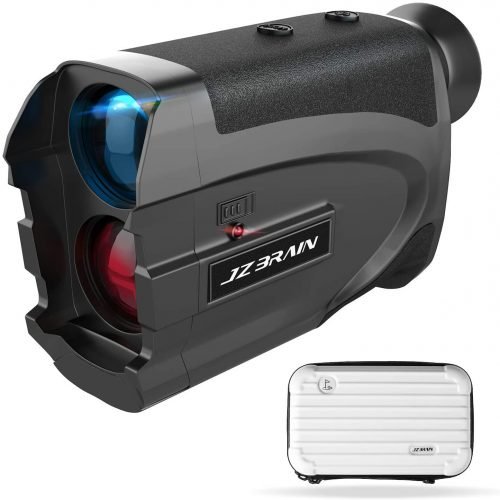 1100 YARDS
Additional Specifications
| | |
| --- | --- |
| Magnification | 7 X |
| Weight | 0.41 lbs |
| Power Source | x2 AAA Batteries |
| Waterproof | No |
| Pin Sensor | Yes |
| Slope Switch | Yes |
The JZBRAIN is a relatively standard modern golf rangefinder when it comes to features. It does, however, have a slightly higher maximum range and magnification than many of its competitors, particularly at a price of around $130.
Durability & Build
Plastic build construction and textured grip plates make up the bulk of the housing itself. The design itself does not appear to be very ergonomic for use. Still, user reviews do not mention any issues with comfort, so perhaps it is merely an aesthetic quality that makes it look uncomfortable to use.
Beyond this, the unit appears to be solidly built with an included hard case for transport and storage between games. The JZBRAIN Golf Rangefinder is unfortunately not sealed against moisture or other weather factors. So be sure to keep this in mind when out in the elements. This is a smaller rangefinder, weighing around half a pound with a compact outline of 4.1 x 1.6 x 2.9 inches.
Magnification & Range
An above-average magnification of 7x enables viable ranging out to 1100 yards, with flag-locking out to 300 yards and flag pole ranging at 180 yards at an accuracy of +/- 1 yard. Continuous scan, flag-locking, and speed measurement seem to be a standard issue these days with modern golf rangefinders, and the JZBRAIN follows suit. All of the modes mentioned above are available for use and can switch between yards and meters.
Slope Compensation
Arc angle compensation for slope adjustments is present as the primary function of this particular rangefinder. An external switch for enabling/disabling the slope function allows for legal tournament play as well. A slight vibration notifies the user for confidence in the provided compensated range when locked onto their chosen target.
Overall
While there are no complaints about the JZBRAIN Golf Rangefinder, there isn't much to get excited about either. Except, perhaps, for the slightly above average viewing range and magnification. When all other features are equal, pick the most visually appealing option when it comes to products like this. Then, make the choice that will get you excited to pull this out and get back on the fairway.
9. TecTecTec VPRO500 Golf Rangefinder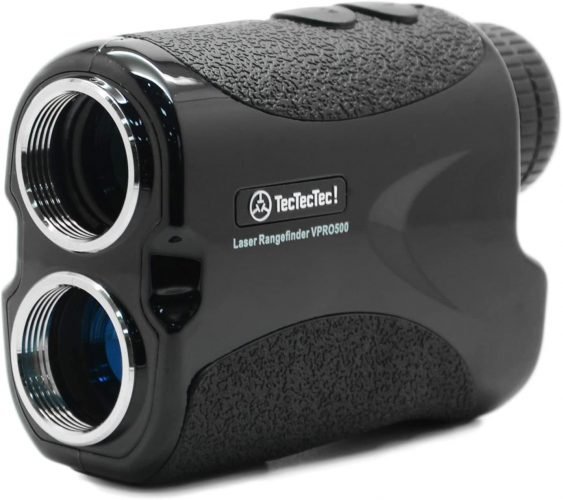 540 YARDS
Additional Specifications
| | |
| --- | --- |
| Magnification | 6 X |
| Weight | 6.53 Oz. |
| Power Source | Fixed Rechargeable Battery |
| Waterproof | Water-Resistant |
| Pin Sensor | Yes |
| Slope Switch | No |
TecTecTec is a manufacturer based in France who is known for its high-quality optics at reasonable price points. The VPRO500 is no exception and holds true to their reputation. A compact design, rugged build quality, and clear image quality are all available in this device for around $200. We would have liked to have seen some basic slope compensation and mounting options for this price point. But, the device works well for what it does, and the various target modes should fill your needs in almost any scenario you happen to run into.
Durability & Build
This compact, shock-resistant, and water-resistant unit is sure to stand up to most conditions encountered on the fairway. Built with durability and longevity in mind, the rugged construction and included carrying case will aid in protecting your investment long-term for hundreds of hours of future use.
Magnification & Range
A 540-yard maximum range is applicable for most users, and the innate 6x magnification will ensure easy target identification within those ranges so you can have confidence in your shot placement. In addition, the VPRO500 features several modes like Advanced Pin Seeker, and Continous Scan, for optical target identification dependent upon the specific situation. Pin seeker will lock onto the flag while filtering out background objects, while continuous scan will provide real-time distance data on whatever object you point at.
Slope Compensation
No slope compensation is present in the TecTecTec VPRO500.
Overall
This is a solid golf rangefinder that does what it says it does very well. There could be more features and basic slope compensation considering the price is nearly $200. However, the solid construction and compact design make this a great lightweight option for those who don't need many features and want something that won't be overly burdensome to carry around.
10. Precision Pro Golf NX9 Golf Laser Rangefinder
400 YARDS
Additional Specifications
| | |
| --- | --- |
| Magnification | 6 X |
| Weight | 12.8 Oz. |
| Power Source | CR2 3V (Free Lifetime Supply) |
| Waterproof | Water-Resistant |
| Pin Sensor | Yes |
| Slope Switch | Yes |
The NX9 Pro Slope rangefinder by Precision optics is a quality device that you can expect will serve all of your needs on the fairway. The design is solid and ergonomic, the body is water-resistant, slope compensation can be toggled for tournament play, and the magnification/ranging distance is respectable. But, what is unique from Precision isn't so much the function of the device itself (though you will not find any complaints from us there), but the Precision Care Package that comes with a purchase.
The highlights include a two-year warranty, a 90-day money-back guarantee, and free batteries for life. It may not be much, but gestures like these show that the company cares about its customers. At just under $300, this is a fantastic deal, even without the added consideration of the free batteries.
Durability & Build
Rubberized hand grips, a water-resistant plastic body, magnetic cart mount strips, and an included carrying case should satiate even the pickiest of consumers regarding design and durability standards. A 4 x 1 x 3-inch profile makes this one of the smaller units on the list, but interestingly enough, not one of the lighter ones.
Magnification & Range
Effectively range targets out to 400 yards with a +/- 1-yard accuracy using the target acquisition technology and Slope compensation mechanisms. The objective lens diameter of the unit is 22mm with a 6x magnification rating. An enhanced internal LCD screen makes viewing in low light conditions more than possible, thanks in part to the impressive optical quality of the lenses.
Slope Compensation
Adaptive slope compensation is a feature that is easily utilized with the NX9—feeling in the mood to compete? Well, the Precision Pro NX9 Slope is perfectly legal for use with the ability to turn slope compensation off via a single button press.
Overall
From a pure functionality standpoint, there is not much that sets the Precision Pro NX9 apart from much of the competition. This is not meant to downplay the NX9, however. This rangefinder is solid, water-resistant, accurate, tournament-legal, and has enough range to suit most golfers.
What sets the company apart is the care and consideration for its customers. A multi-year warranty along with a 90-day money-back guarantee and free batteries for life instills confidence from the manufacturer that is quite reassuring if you are looking for a high-quality product that will last you a long time.
Understanding Slope for Golf Rangefinders:
What Is It?
In the context within this article, slope refers to the amount of elevation increase or decrease between two given points.
Why is it Important?
The slope is essential when figuring out your shot placement. For example, let's say you are 100 yards away from the flag. But you sit on a shelf that places you 10 yards above the elevation of the green. Clearly, you are not just 100 yards away, but you are also not simply 110 yards away either; it is more complicated than that.
How is it Calculated?
Rangefinders can provide a slope-adjusted range by running a series of calculations and measurements captured by the laser. The computer inside your rangefinder takes the distance from you to the pin, measures the angle at which the laser reenters the device, runs it through a series of formulas, and provides the exact distance you need to aim for to be accurate. Most range finders that are slope compensation enabled will show two values on the screen. An "as the crow flies" distance and a slope compensated distance that you should aim for in order to have a more accurate shot placement.
Using Pin Sensor & Locking
What Is It?
Pin sensing and locking is a nifty set of features that allows some rangefinders to lock on and notify the user that the device has ranged the flag specifically, instead of, say, the bush behind it. By utilizing intelligent software and a set of algorithms I will not fully understand, the units can differentiate between the background, foreground, and intended flag target. Using it is very straightforward; with the feature enabled, simply point at the flag, and when the device locks, you will receive a notification in the form of a vibration, sound, or even light. It's that easy!
For How Long Does it Stay Locked?
The pin should stay locked indefinitely as long as you maintain sight of the target. Then, once you have figured out the correct range, you can lower the device and take your shot.
Can I Move While it's Locked to the Flag?
To lock the pin, to begin with, you should slowly scan the horizon along the x-axis until you reach your target and are notified of a successful lock. However, moving locations while trying to get a lock is not recommended. There are too many variables for the device to handle, and you will unlikely get an accurate reading.
The 5 Most Common Mistakes People Make:
Not Reading the Instructions
This is more common than you may think. Before taking your device onto the course, make sure you've at least given the instructions a once over, powered it on, and perhaps watched a video or two to be sure you're efficient with your time once on location.
Having the Rangefinder in the Wrong Mode
Remember our earlier discussion regarding the various target priorities, pin sensing, and locking? It is essential to be aware of these multiple modes and settings and to figure out what setting your device is in and how to change it to the most appropriate for your situation.
Not Practicing Ahead of Time
Be sure to take some time to practice ahead of time on actually using the rangefinder. Head out into the neighborhood and practice ranging mailboxes or other appropriately sized targets. Even better, head down to the driving range, where you will probably have several flags at premarked distances. This allows you to practice is close to real-world scenarios and see the rangefinder's accuracy compared to what the flag distances claim to be.
Not Using a Golf-Specific Rangefinder
While on the surface, they may appear to be the same, and it is tempting to try and save money if you already have a rangefinder for hunting trips, it is highly recommended you use a rangefinder specifically designed for golfers.
We have already discussed many of the features that set golf-specific devices apart from their hunting counterparts, but it is worth reiterating that slope compensation, pin tracking and locking, GPS course diagrams, and in some cases, even image stabilization, all contribute towards making a device that performs perfectly for the particular applications it was designed for. You are indeed setting yourself up for frustration if you decide to make something else fill the niche.
Using Their Rangefinder Too Much
It may sound counterintuitive, but you want to avoid using your rangefinder too much! At least in the long-term. Rangefinders are tools that should aid you in improving your distance estimating abilities. They should not be something you solely rely on for accurate shot placement. Instead, make it a habit to guess what a distance is before you range it; see how close you are. Over time your innate ability to judge distance will improve, and you will rely less and less on technological crutches for your game. Having said that, rangefinders sure are fun to use!
Buyers Guide
Design, Ergonomics, & Ease of Use
How a device looks and feels is more important than most people realized. I would argue in some cases; it can even be more important than what the rangefinder can do from a total functionality standpoint. If a tool is not comfortable to use, if you are not excited to pull it out of your bag, you are less likely to use it in the first place, let alone take advantage of the full suite of fancy modes that may or may not be available.
Maximum Range & Magnification
The maximum range seems relatively straightforward. More is better right? Not necessarily. Many rangefinders tout impressive 1000+ yard ranging capabilities. While they are capable of this from a technical perspective, many of these same units lack the magnification to identify a target at those ranges. So, while you may be getting an accurate range to something at 1000 yards, you often cannot be exactly sure what the unit has locked onto. The same considerations hold true for the quality of the glass and optics. It is much better to have a clear picture of something near than a blurry outline of something far.
Slope Switch
An external slope switch is an essential consideration for anyone even slightly interested in competitive play. Slope compensation is a nice feature for casual play, but it is not allowed in ranked tournaments. However, you are allowed to use rangefinders that have slope functionality built-in, as long as there is an external switch identifying that the feature is disabled.
Pin Sensor & Locking
Pin sensors and flag locking are features unique to golf rangefinders, as opposed to the kind used for hunting. Pin sensing is a feature that enables the device not just to identify flags from background objects but also lock onto them, usually with notification of some kind, for confidence in the provided range and choice of club.
Stabilization
Some of the higher-end units on the market have a built-in suite of image stabilization features through a combination of software and internal gimbal systems.
Units and Measurements
Depending on your locality, you will be used to either meters or yards for measurements. Most of the units out there will allow you to switch between metric and imperial units for your personal preference.
Waterproof / Water-Resistant
If you often find yourself playing in areas with lots of humidity, rain, dust, or other dramatic weather, consider purchasing a rangefinder that has at least some level of water resistance and weather sealing.
Power source
There are two options when it comes to a power source; disposable and rechargeable. Both have their relative advantages and disadvantages, primarily when it comes to the ability to quickly have a full-powered device (changing out a set of new batteries) vs. long-term cost savings associated with rechargeable units.
Cart attachments or Storage
The most common form of cart attachment for golf rangefinders is a magnetic strip that allows easy attachment to golf cart bars. Many manufacturers also included hard cases with purchase for safe transportation and storage.
Brand
Some of the more prominent brands on the market will be easily recognizable to most people, even without a background in golf (Nikon). However, while these easily recognizable brands are usually exceptional for product quality, that does not diminish some lesser-known manufacturers' quality.
Price
Prices of these devices range widely from under $100 up to $500+. Most casual players will be more than content with the mid-range devices. Still, those with competitive aspirations may want to consider the higher-end units for the added confidence and reliability.
Warranty
Many manufacturers include warranties ranging from 30 days up to many years after purchase. Warranties may be significant to some; others may not care as much. Be sure to check the manufacturer's website for specific details if you are interested.
App
Higher-end units utilize a combination of the unit's laser rangefinding abilities and GPS integration with a companion app for the ultimate golfing experience. Unfortunately, this is not incredibly common yet, except for some higher-end devices from the more prominent manufacturers.
Frequently Asked Questions
What Influences the Effective Range of My Rangefinder?
Many rangefinders claim to have a range out to 1000 yards. However, while the laser on the device may technically be able to reach that far, it is functionally useless if the magnification on the device is not enough for you to see the target! 
What Influences the Accuracy of My Rangefinder?
The most considerable influence on rangefinder accuracy is the user. Laser rangefinding technology is excellent these days, and you will not often find the device providing incorrect measurements. However, it is not uncommon for users to unknowingly target the wrong thing (a bush, rock, etc.) and mistakenly get a reading for those objects instead.
Do Rangefinders Work for Both Left and Right-Handed People?
Yes. There is no difference between left and right-handed users.
Can I Use My Golf Rangefinder for Hunting as well?
Sometimes. If you happen to have a device that has the appropriate settings (near vs. far targeting), then it is more than viable to use a golf rangefinder for hunting applications. Just be sure that you can set up your particular unit for both!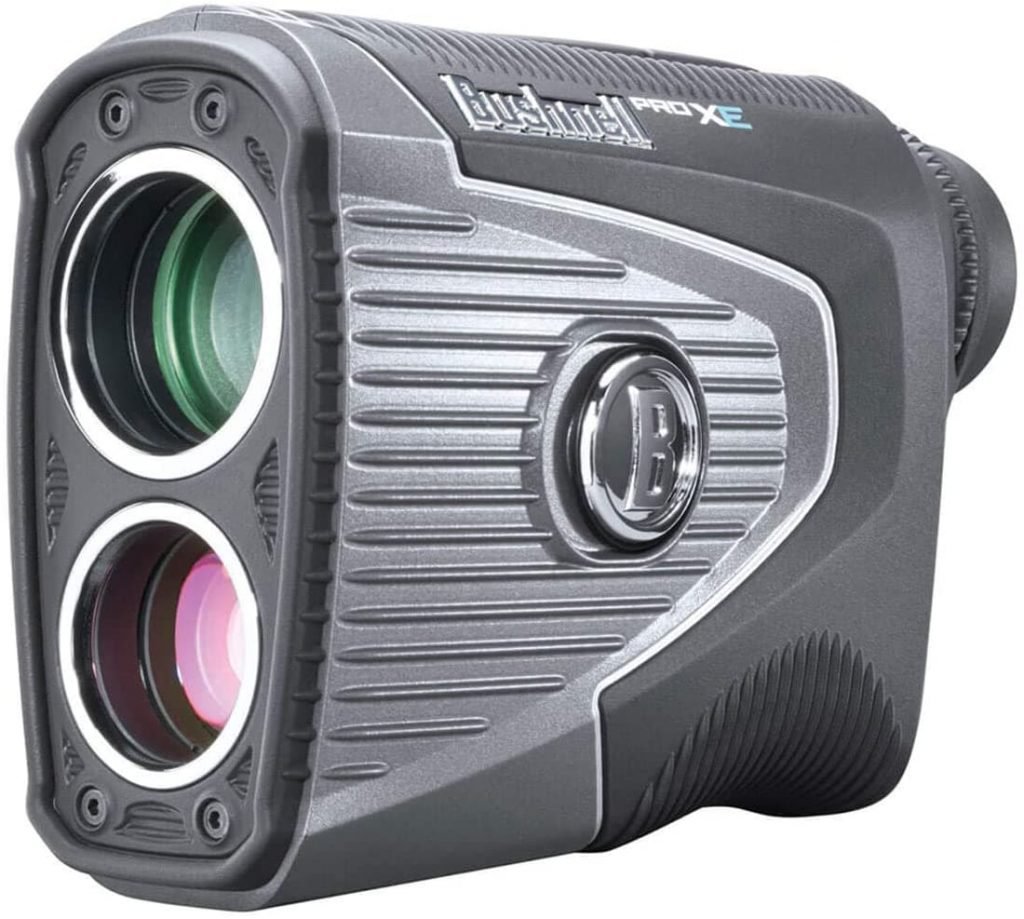 Bushnell Pro XE Golf Laser Rangefinder
The exceptional build quality, powerful magnification, long-distance range, and advanced slope compensation functionality lead towards a second-to-none device for the serious golfer.