PointOptics is reader supported. We earn an affiliate commission if you buy through our links . Learn More.
If you're on the market for a night vision device, you're likely to come across night vision goggles (NVG), night vision binoculars, and night vision monoculars. Monoculars are of course easy to distinguish from both binoculars and goggles. But when we look at night vision goggles and binoculars, it may be hard to tell the difference, and in figuring out which is best for you.
In reality, the difference between night vision goggles and night vision binoculars could be watered down to one point – and that's magnification. Night vision goggles are not magnified, since they are intended to provide more mobility than their binocular counterparts. This is most evident by the fact that night vision goggles will strap to the head and provide a hands-free experience.
Night vision binoculars on the other hand are defined by their ability to offer a magnified view to the user. These magnifications are not typically as extreme as regular binoculars, however. While common magnification ranges for regular binoculars are around 8x to 12x, night vision binoculars will typically range between 2x and 7x magnification.
Because there is less hardware required for the 1x magnification of NVG, they also tend to be a bit lighter than night vision binoculars.
Which to Purchase
If you're on the market for a night vision device, but you're not entirely sure what is best for you, our recommendation is to first establish the type of functionality you're going to require.
There are of course times when you need the best field of view possible and other times when magnification is most important. The most common situations are in tactical situations, or in night hunting. Night vision goggles are preferred for close-range hunting, while the combination of a night vision scope along with NV binoculars can still be viable for those hunting targets at further distances.
Something to also consider is whether or not you wear prescription glasses. While of course, this can't replace the intent of the product – there are sometimes challenges for glasses wearers with both these products, some night vision goggles will require you to wear contact lenses, and binoculars with night vision may offer sub-par eye-relief, so make sure you pick the right pair of NV binoculars if you do opt for that route.
If you're looking for a device for home security, such as on a farm or large area of land the best option, in this case, will typically be a pair of night vision binoculars (or even a night vision monocular), as they will allow you to cover a larger area of your property and assist in keeping your homestead safe.
Side By Side Comparison
Take a look at the images below and you will be able to see what we've discussed. There are distinct design differences between the two devices. We've also listed out some of the features and functions, to further illustrate the difference between night vision goggles and night vision binoculars
Night Vision Binocular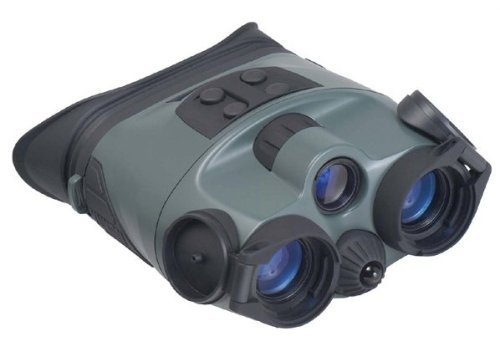 Useful for long-range target scouting, can also be used for nighttime bird watching (Owls, Nightjars, etc).
Night Vision Goggles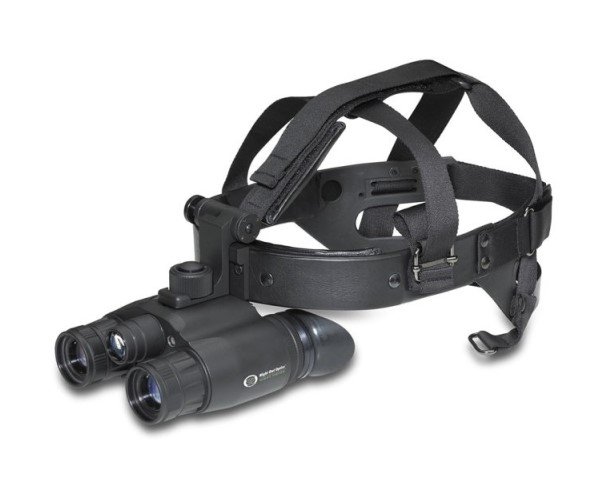 Great for tactical and other mobile situations where a good field of view and handsfree capabilities are needed.