PointOptics is reader supported. We earn an affiliate commission if you buy through our links . Learn More.
Whether you're a hunter or a competition shooter, you might need a long-range scope at some point. That kind of rifle scope will let you "stretch the legs" of your hunting rifle quite a bit. In this kind of situation, you can seldom go cheap, as a cheap scope can do more harm than good.
However, buying a long-range scope is very confusing. Just like with a lot of other products, there are plenty of choices on the market. To add to that, there's a lot of misleading advertising as well. Manufacturers seem to want you to focus on features that will differentiate them from other competitors, even if those features aren't really important or necessary.

Burris Fullfield E1 4.5-14x42mm
Designed for enthusiasts who want a simple, yet sophisticated, reticle for supreme accuracy.
Overall Winner
The Burris Fullfield E1 is a brilliant enthusiast scope that offers an excellent reticle and high-quality glass.
Strongest Magnification
The Barska 10-40x50mm offers a whopping 40x magnification. This isn't the most versatile scope, but it has a whole lot of range.
Best Budget Choice
The Monstrum Tactical 2-7x32mm AO is a versatile and cheap option; this barely borders on a long-range scope. But the lower magnification means you will have an easier time using it.
When you combine all of the above, you're left in a huge market with no way of knowing what products, or even what features, are worth your money. Well, we're here to help. What we have for you is, first, a list of products. These are some of the best long-range scope options on the market nowadays, and they're all excellent in their own regard. Choosing any of them won't be a mistake, but not each one is suited for all kinds of uses. Therefore, right after the list, we have a buyers' guide that will help you understand all the features of said scopes and give you a good idea of which ones are actually worth your money.
Once you're done with reading, you'll be well-versed in all the terminology related to long-range rifle scopes, and you can easily choose what works best for your specific situation. So, without wasting any more time, let's dive into some of the best long-range scope options on the market today!
1. Burris Fullfield E1 4.5-14x42mm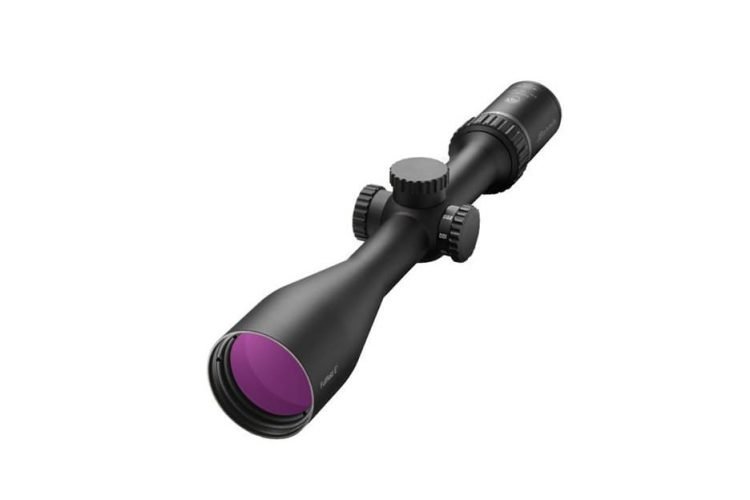 When they initially hit the market, the original Burris Fullfield scopes were excellent options. When put next to their competition, they had a wider field of view, and they came with impressive features. For example, the steel-on-steel knob construction lasted forever, and they had reticles that compensate for bullet drop – something you couldn't find on many scopes at that price point. The E1 comes with a few notable improvements, such as an updated power ring zoom and better-tuned reticles. It is absolutely a contender for the best long-range scope on our list, so let's look at some of the details.
The first thing you'll notice with this long-range scope is the build quality. It has been made for enthusiasts who want something that's simple yet works admirably. The tube is made of one piece and is durable and stress-free. It can withstand the shock and vibrations of your rifle, regardless of the caliber.
The tube is 1" in diameter; you might want to note that for your mounts. While we're at the build quality, it's good to note that the rifle scope is waterproof, and the tubes have been filled with nitrogen. This means you won't notice any internal fogging, regardless of the weather. All the adjustments are steel-on-steel, just like on the initial Fullfield, to ensure repeatable accuracy. Finally, if you don't trust any advertising terms, there's the Burris Forever Warranty to back everything up.
While we're discussing the outside, we should mention the low-profile, finger-adjustable turrets. They give the scope a sleek profile. The indications on the turrets are made to reflect any changes in the point of impact, which helps you with accuracy. The turrets are also capped, which helps you avoid any accidental bumps. The caps are easy to remove, though. You could use flip-up lens covers, thanks to the separated eyepiece and power ring.
On the inside, there's a double internal spring-tension mechanism. This will allow the scope to hold zero, regardless of shock, vibrations, and recoil, so you don't have to readjust it before every shot. This is something you won't find with many rifle scopes at this price point. The glass used for the lenses is high-grade optical glass.
With it, you'll find plenty of brightness and clarity. It's not just the lenses that ensure this, though, as the Hi-Lume index-matched multicoating will help with both low-light performance and glare elimination. The 42m lens also helps a bit with light transmission.
You'll get an excellent field of view, thanks to the 4.5-14x magnification. At 4.5x, you can still get a good, wide view, and 14x is close enough for you to get near your target and get an accurate shot. The option we're discussing is the one with the Long Range MOA reticle, which gives you plenty of detail, as well as precision. If you want to do long-range competitions, the Burris Fullfield E1 might be the right rifle scope for you.
When you consider everything, what you're left with is one of the best long-range rifle scope options on the market today. The last ace up its sleeve is that it comes in at a fraction of the price of many popular rifle scopes. This gives it a huge advantage, as you're getting a lot for your money. So if you want something a bit higher up, compared to the basic long-range scopes, and don't mind spending a bit more money, you won't be making a mistake with the Burris Fullfield E1.
2. Primary Arms 4-14x44mm FFP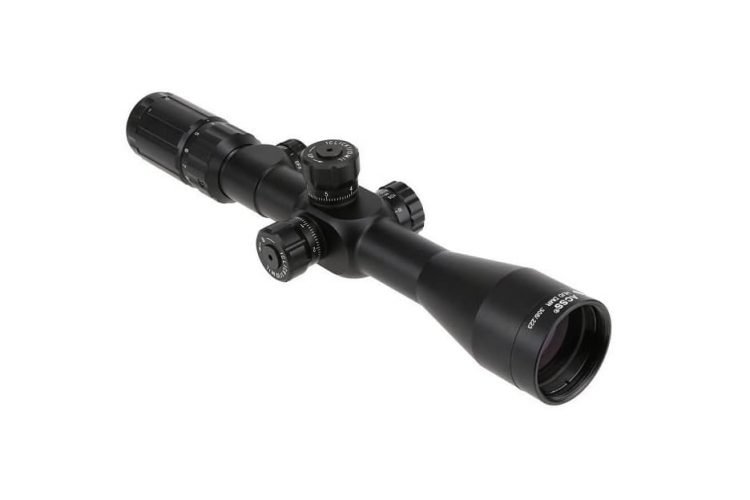 Another midrange offering, this long-range scope by Primary Arms, is somewhat of a "bigger brother" to the Monstrum Tactical we just spoke about. It is similar in a few ways, with a better zoom and a larger body and lens. It does differ in price, though. It is much closer to a midrange scope than to the Monstrum. The performance we've found it to be somewhat mediocre, but let's discuss this in detail, as it may not be such a big deal as you might think.
As soon as you get it out of the box, you'll notice that the scope is heavy. It comes in at around 24 oz, which isn't light considering the magnification. The number isn't the issue. It's the fact that it feels a lot heavier. It has a good finish, one which should last a good while.
There's a magnification adjustment that works very well. It's one large knob with a good grip area. It moves easily and smoothly. You can undoubtedly adjust it with one hand, but once you do, it stays in place. We've found that many high-end scopes do a worse job here. The turrets are also excellent. With well-defined clicks, you won't get the mushy feel typical of a cheap long-range scope. Regardless of whether you're adjusting windage or elevation, there's a notable click.
There is one problem we must mention. If you want the scope to hold zero well, you'll want a good cantilever mount. Using cheap, weaker mounts means you'll need to readjust after every shot, even with something such as a lightweight AR. As far as weather resistance goes, the scope is completely waterproof, and it has been nitrogen purged. Being made of aluminum, you don't have to worry about durability. Overall, the scope is very well-built. Even when compared to high-end ones, it does hold its ground well.
Moving on to the inside, this is where things are somewhat of a mixed bag. The 4-14x magnification, according to some, isn't really long-range. We've found that it works best at distances of up to 500 yards. Anything more, and image quality takes a hit. The field of view is 27.2 feet at 4x, 100 yards, and 7.85 feet at 14x. It's a good range, but it won't work for everyone.
The reticle is, honestly, very impressive. It's an ACSS H.U.D reticle, and it's very advanced. It's a front focal plane reticle, so it stays the same throughout the whole range. It lets you range quickly and hold for wind and elevation without any math whatsoever. For an advanced hunter, this is one less thing to think about. For a beginner, this makes things very easy to learn. The reticle is illuminated and has 6 brightness settings for you to choose from.
As we mentioned, not everything is perfect with the Primary Arms' long-range scope. Most notably, the glass is very mediocre, and it does have quite an impact on performance. That's not to say it's bad, but it absolutely could've been better at this price.
Corners had to be cut somewhere to include the excellent reticle and good build quality, after all, so it's somewhat justified. At the end of the day, it does work very well if you stay under 500 yards. For many, this isn't an issue. If you're one of those many, this could be an excellent contender for the best long-range scope on a budget. You aren't spending too much, yet you get a good scope and plenty of features.
3. Maven RS.1 2.5-15x44mm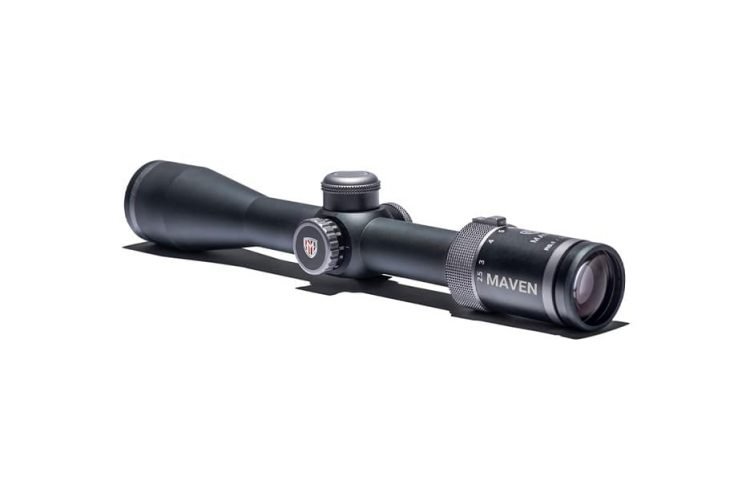 As we come closer to the end of our list, it's time to address the most expensive scope we have today. The Maven RS.1 is Maven's first venture into the rifle scope market. However, it hits absolutely every nail on the head. Performance is excellent, build quality is impeccable, and it manages to look stunning as well. Even at this price, it still manages to cost a fraction of the price of some of its competitors in terms of performance. Should you get one, if you don't mind spending a small fortune? We think you should, but read on and decide for yourself.
The first thing we'd like to discuss here is the optics. Kamakura makes the glass of the RS.1 in Japan. Kamakura also manufactures optics for some of the biggest, highest-end brands in the industry. It is certainly in the top 10 manufacturers of optics globally, and it's in the top 5 in terms of quality. Even though binoculars and spotting scopes are assembled and tested in Kamakura's facility in San Diego, the RS.1 is finished in Japan.
The glass you'll find inside is ED glass (Extra-Low Dispersion). That, and Zeiss' fluoride glass are the crème de la crème in the optics world. Light transmission is 89%, thanks to the fully multi-coated optics inside the RS.1. This combination of glass and coatings results in an excellent image, both in brightness and resolution. Clarity and sharpness are incredible as well.
While we're discussing the internals, let's mention the reticle. It's a glass-etched reticle, and it's in the first focal plane. The MOA adjustment holds its value, regardless of whether you're looking at 2.5x or 15x. You get plenty of adjustment from the 30mm tube – 110 MOA vertically and 70 MOA horizontally, more than most of the competition. The only potential issue is that the turrets are a touch easier than they should be. In some situations, you might find yourself dialing two or three clicks, where you only need one.
Moving on to the outside, the scope is built like a tank. It is completely waterproof, and it has been purged with nitrogen and sealed with O-rings. Regardless of the weather conditions, you won't have to worry about your pricey investment getting damaged.
Even if it does manage to get damaged, Maven gives you an excellent warranty, and you'll most likely get a new one. The magnification goes from 2.5x to 15x, which is very versatile for a scope. There isn't much you can't do with it. The field of view goes from 41.7 feet at 2.5x to 7 feet at 15x. Zoom adjustment is smooth and fast, thanks to the precision-machined knob. The grip on that knob is excellent, and it feels great overall.
When you consider everything, the Maven RS.1 is easily one of the best long-range scopes on our list. Sure, it's the most expensive as well, but the price is very well justified. Except for the turrets (and that's nitpicking on our end), there isn't anything that it doesn't do extremely well.
The glass is miles ahead of anything else on the list, the build quality is stellar, and the zoom adjustment makes it very versatile. It's not for everyone, though. To begin with, someone who isn't an experienced hunter will have a hard time justifying spending that much, and we couldn't blame them. On the other hand, if you can afford to spend this much on a scope, you'll have difficulty finding one that deserves your money more than the RS.1.
4. Monstrum Tactical 2-7x32mm AO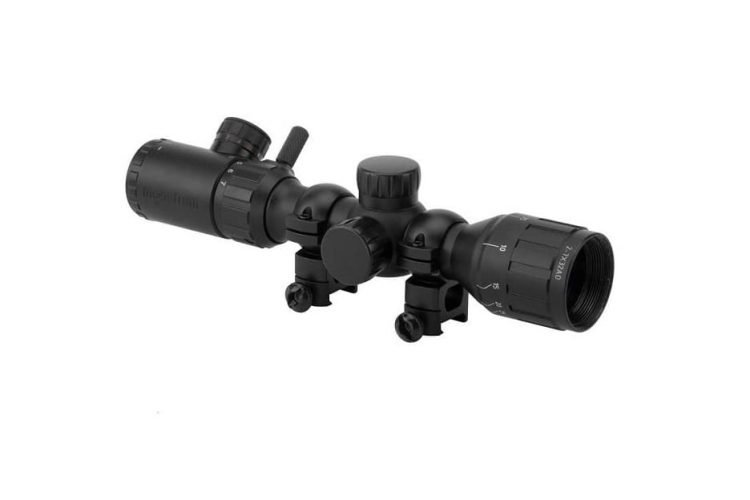 Even though it does get close, the Monstrum Tactical long range scope isn't the cheapest rifle scope on our list. It is, however, an excellent budget option for people who don't really want to go too far. Let's be honest from the get-go – this isn't the scope you want when you're hunting with your large-caliber rifle at over 1,000 yards. Neither the build quality nor the magnification is made for this. On the other hand, it's a versatile beginner's long-range scope. It comes with a good magnification range and plenty of features. Oh, and it includes the mounting rings. You won't have to spend any extra money there.
Let's start on the outside. Monstrum Tactical mentions that the scope is made of 6061 Aircraft Grade Aluminum. This is a great choice, especially at this price range. It is lightweight, but the one-piece tube design makes it accurate and durable. The tube has a 1" diameter to ensure ring compatibility. Not that you'll need that – rings are included. You can get it out of the box and mount it on a Picatinny rail, no extra accessories needed. The length is 9.5", and it weighs a mere 12 oz.
While we're discussing the outside, we should mention that the turrets are where corners were cut. They're flimsy and move easily. If you aren't careful, you'll need to zero the scope very often. The zoom ring isn't something to get excited about, either. It could've been done better. The scope is weather-resistant, as compared to weatherproof.
If you get caught out in the rain, you will have enough time to throw it in a backpack. Using it in the rain isn't advised. It's also not completely fog proof either. If you suddenly change from warm to cold, you might notice some condensation and fog on the inside. You don't have much of a choice here – you'll have to wait until it disappears.
Moving on to the inside, the glass is decent. However, there's no mention of anti-reflective coatings. At this price, though, we couldn't blame Monstrum Tactical for that. The glass performs as you'd expect from a scope at this price range. As the name suggests, you get a variable 2-7x magnification. When compared to the "big boys," this isn't really long-term territory. Most other scopes start at 10x, higher than this scope's maximum range.
The thing is, at this price point, if you were to get 10x magnification with this glass, there would be a pronounced loss of image quality. Budget-oriented glass can only do so much, and we believe the decision to stay with 7x at most is justified.
You also get a 32mm objective lens diameter, which does let in plenty of light. The image is bright, clear, and with plenty of contrast—definitely more than we'd expect, considering the price. The reticle is an illuminated rangefinder reticle, and it performs admirably. You can switch between a green or red light, depending on the situation. The black etched reticle is always visible, though.
What is the Monstrum Tactical 2-7x32mm for? It is certainly not for everyone and most definitely not for experienced hunters. On the other hand, if you're getting into the hunting game and want something more than the short-range scopes that max out at 4x, this might be for you. The price is very budget-friendly, and the specs and build quality aren't all that bad. If you don't use it out in the rain and watch out not to bump it against trees or rocks, it should even last a good while.
5. Barska 10-40x50mm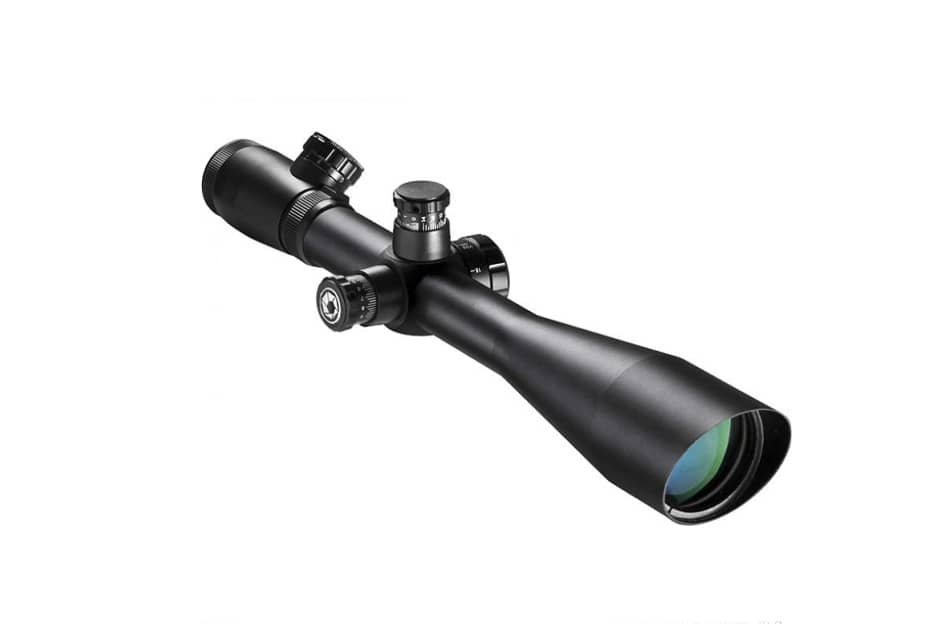 If you'd rather save some money and get something that's a touch cheaper, this might be a better option for a long-range scope. Barska is a well-known budget-oriented brand. They have everything from binoculars, to night vision devices, to rifle scopes, in a fairly extensive lineup.
The 10-40x50mm long-range scope is one of their better products, with build quality that matches higher-end scopes and optical performance that will satisfy everyone with realistic expectations provided the price. It is the second generation of their Sniper Series rifle scopes, and it comes bearing plenty of improvements.
First things first, let's discuss the outside of the scope. You get a one-piece tube with a width of 30mm. This is the other standard that's commonly found, together with a 1" tube, and which one you prefer is a matter of taste. The construction is made to be impact-resistant, and you won't have the lenses get loosened from firing repeatedly. Even if you bump or drop the scope, it won't lose its zero.
The matte black finish looks excellent, and the whole rifle scope comes in at 17.5" long. In terms of weather resistance, you're covered. The rifle scope is completely waterproof, and it's also purged with dry nitrogen and sealed with O-rings. This will ensure there is absolutely no internal fogging. To protect it, you'll get a scope cap, as well as a set of rings. Everything is backed up by the Barska Limited Lifetime Warranty.
Moving on to the inside, it's obvious that Barska paid attention everywhere they needed to. The reticle is an illuminated Mil-Dot one, and you can choose between a red and green one. This gives you a bit of versatility in certain situations. You'll find that the green reticle works better during the day, and the red one gives you an edge in low-light situations.
Both reticles have five brightness settings so that you can adjust them depending on the environment. The reticle is on the second focal plane, something that's fairly important, but we'll discuss it below in the guide. The optics are multi-coated for optimal light transmission. To further reduce glare, there is an angled sunshade.
The scope has a magnification of 10x to 40x. At 100 yards, this gives you a 9.94 feet field of view at 10x or 2.4 feet at 40x. Some might suggest that this is a fairly limited zoom range, but we've found that this is what works best if you're limiting yourself to long-range hunting. The 50mm lens diameter lets in plenty of light, so there's no image quality loss as you go to either end of the range.
The Barska 10-40x50mm isn't for everyone. One major downside is that you have MOA adjustments, whereas the reticle is a Mil-Dot one. This requires some getting used to and is an inconvenience, to say the least. However, the build quality is great, the optical performance is excellent, and you'll be hard-pressed to find a better alternative at this price point. If you don't mind the adjustments, go ahead and order it, it's a great long-range scope.
6. Solomone Cavalli 6-24x50mm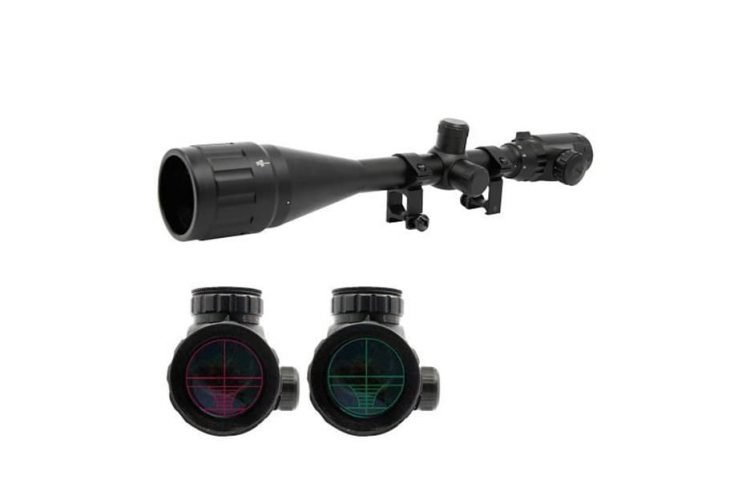 We're wrapping up the list with the cheapest rifle scope we have for you. Don't make the mistake of thinking that cheap implies bad because that's certainly not the case. The Solomone Cavalli is a great little budget scope, and it will more than do the job for anyone looking to get into hunting. It also has everything you need to get started included in the box, so you won't need to spend any extra money on mounts, for example.
To begin with, the scope is fairly well made. It's far from something like the Suphunter, for example, but it's still built well. There's no guarantee of waterproofing or fog proofing, so we didn't push it in order not to damage it. We would suggest that you keep it dry as well. The control turrets are smooth and accurate, which is welcome at this price range. Both the zoom and the focus knobs work well, too.
You can make quick yet precise adjustments without worrying too much. Focus goes from 15 yards to infinity. The scope comes with mounts in the box. This is welcome, especially for beginners who don't know the various tube sizes. Those included mounts will let you put it on 20-22mm Picatinny or Weaver rails, depending on what you have.
Moving on to the inside, the manufacturer claims multi-coated optics. We can't vouch for that at this price range, but the optical performance is satisfactory. It is a budget scope, after all. The zoom ranges from 6x to 24x, as the name suggests, making it fairly versatile. It's not the best, but it'll do for mid-range shooting. We noticed that as you get closer to 24x, there's a noticeable drop in image quality.
This is what we spoke about with the Monstrum Tactical – there's only so much you can do when you're limited by price. Plenty of light gets in thanks to the 50mm objective lens, but the low-quality glass somewhat negates that benefit.
The reticle, on the other hand, is excellent. It's an illuminated reticle that comes in both green and red. To add to that, both colors have five brightness settings. The reticle is etched in the glass, which is seldom found on budget scopes. Beginners will appreciate the built-in rangefinder – you can range your target without needing any extra equipment.
There's a reason why we left this as the last option on our list. As its price suggests, it performs worse than any of the other options above. We did include it anyways, and that's because of the price. Not everyone who gets new optics is looking for the best long range scope – some want something that fits their budget. If you're one of those people and your budget is somewhat tight, you won't be making a mistake by going with the Solomone Cavalli scope. It is, after all, a good performer and has a versatile zoom range, ideal for mid-range hunting.
Buyer's guide
Now that we have the products out of the way, let's take a look at choosing one. As we mentioned at the beginning, there's a lot of misleading advertising, so make sure you read this carefully to avoid making a (very costly) mistake. We'll start things off with the most important thing – glass and lenses, before moving on to others such as a reticle, magnification, focal planes, etc.
However, one thing to note is that you should set a budget first and stick to it. There are always "a bit more features for only $50 more", but you'll need to stop somewhere. Also, unless your budget is unlimited, you'll need to make a compromise here or there. Make sure you keep in mind what you're getting the long-range scope for, and don't compromise on features you really need.
The lenses, or 'glass', are the most important feature of a rifle scope
Yes, this applies to just about anything optics-related, but it is essential in a long-range rifle scope. When you're hunting at a long distance, even the tiniest of issues are extremely emphasized, and you can't afford to have them. At over a thousand yards, you'll need to be able to read the wind, and it will be much different than where you are. You won't always have flags or trees blowing. Sometimes all you're left with is to see how the dust or the grass moves, and that's hard to notice with subpar optics.
This is the first place where you'll notice "false" advertising, as manufacturers will tout light transmission as the deciding factor for glass quality. Unfortunately, there isn't a standardized test methodology for this, and the only way to see the difference is to compare two scopes side by side.
Regardless of whether you're shopping online or buying at a physical store, that's not always possible – what if the store you're at doesn't have both models you're comparing? You'll either have to risk it or the better option – play it safe. By "playing it safe," we mean going with reputable manufacturers such as Zeiss, Leupold, Swarovski, or Nikon.
However, lately, there's been an influx of great solutions that aren't by those manufacturers, so you might want to take a look at those alternatives as well. There are a few in the list above; you should give them a chance.
While we're discussing the glass, we should also mention coating. Many long-range scope manufacturers coat their lenses to reduce the amount of light being lost. These coatings mainly reduce the reflection and scattering of light, ensuring that as much of it as possible actually gets through to your eye. What this results in, is a sharper image with more contrast. You'll also find some special coatings, such as water-repellent coatings, which won't blur the lens in case there's a moisture accumulation on your scope due to fog or water. A good example is Bushnell's Rainguard HD.
With coatings, there are a few terms you'll want to know. The most basic ones have coated optics, which only means one or more surfaces are coated. Next, we have fully coated optics, which lets us know that there's a single coating layer on all air-to-glass surfaces. This is better than the basic but still not great for a long-range scope. Multi-coating means that one, or multiple lenses, have multiple layers of coating.
The common way is having the exterior lens surfaces coated with multiple layers, while the interior ones only have a single layer. Last but not least, we have fully multi-coated optics, which is the best option possible. All air-to-glass surfaces are coated with multiple layers of anti-reflective coating. This is what you'll find on most high-end scopes and what you should aim for if you can afford it.
A milling reticle is also extremely important on a long-range scope
On a regular rifle scope, evenly spaced out dots in MOA or mils is good, even if it's only along the vertical axis. However, with a long-range scope, you'll want them on the horizontal axis as well. This is because when you're hunting on a long-range, you aren't just dialing for elevation; you're also holding for wind as well.
Dialing for elevation estimates (or measuring) how far you are from your target and then rotating and adjusting the turrets to account for the bullet's drop. Then, you put the crosshairs on the target, just like you would if it was at 100 yards.
Holding for wind is a bit trickier, though. Wind changes very fast, so you can't really adjust the turrets and get back on aiming quickly enough. This is especially true in windier areas, such as West Texas, for one. Therefore, you adjust the scope for the vertical drop, but when aiming, you hold a bit to the left or right to account for the wind. So, for example, you might hold 5 mils for a wind that's blowing from right to left.
However, right before you pull the trigger, you feel the wind calming down a bit, so you readjust to holding 3 mils at the last moment and hit dead center. If you were still holding 5 mils, you would've missed your target – and that's what would happen if you don't have dots on the horizontal axis. That's why when shopping for a long-range scope; you should avoid a standard target or a bullet drop compensation reticle.
You should be aware that the reticle will take some getting used to if you want to become well-versed in using it. In addition, you might find some optics that are a bit more complicated, but essentially, they all do the same thing – let you dial elevation and hold for wind.
One small note here. With the turret adjustments, you'll want the adjustments to be in the same measurement system. So you'll come across mil adjustments on an MOA scope, or MOA adjustments on a mil-dot scope, as that's not that uncommon. At close ranges, this might not have such an effect, but as we mentioned, a tiny mistake can lead to a clear miss at long ranges.
We should also mention illuminated reticles. If you're going to be hinting in low light conditions, an illuminated reticle is much easier to see when there isn't a lot of light. If you're getting one, look for adjustable brightness – the wrong brightness setting will actually get in the way of you seeing the target clearly, instead of making things better.
Magnification and objective lens size depends on your specific situation
One common misconception with both magnification and objective lens diameter is that bigger equals better. Yes, a higher magnification factor gets you closer, but it limits you a lot in terms of versatility. On the other hand, a larger objective lens diameter does let in more light. However, after 50mm, the differences are actually negligible, and two, a large objective lens diameter results in a larger scope.
With magnification, you'll want something that gives you plenty of versatility, such as a zoom long-range scope. Your intended use should determine the exact numbers, but on the list above, you'll find plenty of options, from 6-24x to 10-40x. If you're bench shooting or intending to use it in a long-range competition, feel free to go with a higher magnification. If you're using it for hunting, get something that's a bit more versatile.
As far as objective lens diameter goes, there's one more thing to note. A larger objective diameter also requires a larger scope, and consequently, a higher scope mount. The solution is to use a high ring or a high single-piece mount, but this mounts the rifle scope much higher than the barrel, thus reducing your rifle's precision. The optimum size would be between 42mm and 50mm, which is a great middle-ground between mount height and light transmission.
Focal plane is a personal preference but makes a big difference
With focal planes, there are generally two possible options. You either have the reticle on the front focal plane, or the second focal plane, behind the scope's zoom. Both options have their pros and cons, and which one you go for is mostly a personal preference.
When you have the reticle on the front focal plane, the reticle appears to change size. As you zoom in, it becomes bigger, and as you zoom out, it becomes smaller. When you're zooming all the way in, the reticle might be too thick, and therefore might get in the way of you seeing the target. Conversely, it might be too thin when zoomed out completely, making it somewhat hard to see, which can be a dealbreaker for quick, reflex shots.
The advantage, however, is that the lines and dots are always the same distance apart from one another. With a mildot scope, the dots will stay 1 mil apart, regardless of the zoom setting. One less thing to think about before you take a shot, right?
The other option puts the reticle behind the zoom, and regardless of the zoom setting, the reticle stays the same size. This means you'll always see the reticle easily, and it won't obscure the target. However, the mil-dot markings are accurate only at one specific zoom setting. So that's still something you'll need to think about before you take the shot. Some people actually prefer this option to avoid the reticle being too thick or too thin.
Note the adjustment range on the turrets
Once you start using your long-range scope, you'll find how invaluable the on-the-fly turrets adjustment is. As mentioned above, you'll use this more often with elevation adjustments. However, long-range shooting does demand serious adjustments. For example, shooting with a heavy round such as the .308, you'll find that it drops over 50 inches at 500 yards. Make that distance 1000 yards, which is considered long-range shooting, and you get the idea.
The point we're trying to make is that the best long-range scope won't limit you to 50 MOA or mil adjustments. That might do in a pinch, but with long distances, you'll often want to go for 100 MOA or mil. That's what will undoubtedly cover distances of 1000 yards or more.
Last but certainly not least, consider build quality
Just like with any outdoors-oriented product, build quality is an essential aspect. With a long-range scope, it's not just about durability but precision as well. A high-quality scope is often made from a very durable material. Aircraft-grade aluminum is the material of choice more often than not.
You should also consider the design itself. For the best possible accuracy, you'll want a single-piece design. So the actual tube of the scope is made of one single piece of aluminum. This will help with overall precision and add plenty of durabilities as well. Fortunately, this is what comes standard on most quality scopes, especially the high-end ones.
The other aspect of build quality is weather and water resistance. Since you'll be using the rifle scope outdoors, chances are you'll need to deal with foul weather once in a while. Having a water-resistant scope means you won't have to remove it and put it into your backpack not to damage it when you get caught out in the rain. It also means you can continue hunting if you don't mind the rain.
Weather resistance, especially argon or nitrogen purging, also helps a lot here. This will ensure that the lenses of the binoculars won't fog up from the inside during a significant temperature and humidity change – something that you can't just wipe away if it happens. Nitrogen costs a bit less but still gives you good fog proofing. Argon is more expensive and has larger molecules. This makes it much less likely to leak through the O-ring seals, even if you drop the binoculars. Argon purging is among the highest-quality weatherproofing methods available today.
Wrapping things up
At the end of the day, what you're noticing is that many of the "features" and "specifications" above are a matter of personal choice. Sure, some of them are better than others, but most of them are something you need to choose according to your specific situation and budget.
If you already have a budget in mind, you can go back and look at our list again. Again, we have options at various price points, and now that you know what the terms and numbers mean, you can make an informed buying decision.
We hope to have answered any questions you might've had and to have provided a few noteworthy options for anyone looking for the best long-range scope on the market. So, whether you're an experienced hunter looking for a new purchase or someone looking to get into the long-range hunting game, all that's left to do is order what's the most suitable option for you!

Burris Fullfield E1 4.5-14x42mm
Designed for enthusiasts who want a simple, yet sophisticated, reticle for supreme accuracy.