PointOptics is reader supported. We earn an affiliate commission if you buy through our links . Learn More.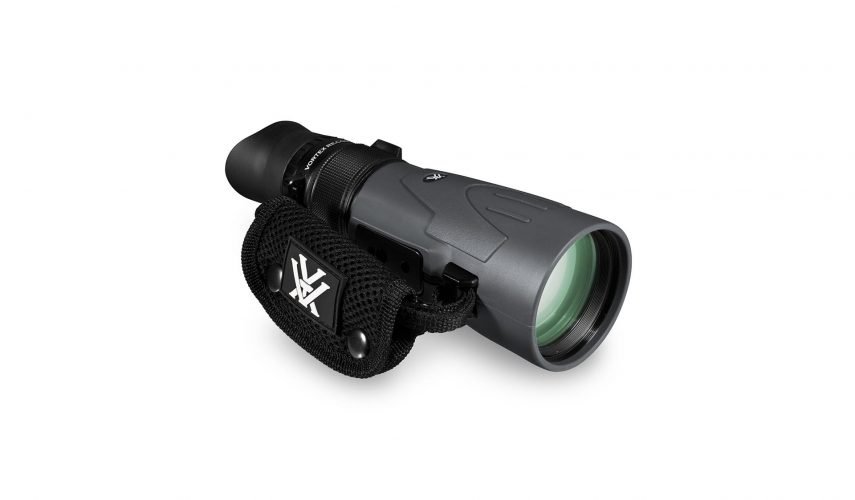 Vortex Recon R/T 15x50mm Specifications
Magnification: 15x
Objective Lens Diameter: 50 mm
Fogproof: Yes
Waterproof: Yes
Eye Relief: 16 mm
Exit Pupil: 3.3 mm
Linear Field of View: 215 feet/1000 yards
Angular Field of View: 4.1 degrees
Close Focus: 12 feet
Length: 7 inches
Width: 2 inches
Weight: 15.2 oz
Parts Diagram (PDF) Download From Manufacturer
Product Manual (PDF) Download From Manufacturer
Vortex is somewhat of a household name in the sports optics game. They have some excellent products, from riflescopes to rangefinders, monoculars, and binoculars. Even though that's somewhat of an indication of quality, it also means that any product they make has quite a reputation to live up to.
Today we'll be taking a look at the Vortex Recon R/T monocular in its 15×50 configuration. Even though it's available in a 10×50, we find that the 15 times magnification will be a bit more useful, as it gets you a bit closer. Aside from the magnification, eye relief, and field of view, the scopes are more or less identical.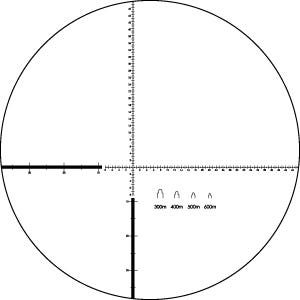 What is it?
As Vortex themselves say, the Recon R/T was made as a lightweight monocular best suited for range estimation and field surveillance. It's small and can be easily tucked away in a jacket, making it much more convenient than a binocular. While the pricing is a bit more expensive than some others on the market, the high-quality coatings that Vortex has used on these make them a worthwhile investment.
When we look at the numbers, you have a 15 times magnification and a 50mm objective lens diameter. While the magnification may be challenging for those without a steady hand, we find that practicing is typically able to compensate. If you find yourself struggling with higher magnification monoculars or binoculars, we recommend you opt for the 10x version instead.
A 50mm objective lens diameter will ensure that you get ample light into your monocular's front element and thus provide you with better visual quality and clarity in lower light conditions.
You have a field of view that's 215 feet at 1000 yards, which translates to an angular field of view of 4.1 degrees. This feature will allow you to cover quite a bit of ground. There's also 16mm of eye relief, as well as an exit pupil diameter of 3.3 mm. The 16mm eye relief is typically an industry standard and will suit most glasses wearers and those without eye problems.
The Vortex Recon R/T lenses are made of Extra-low dispersion (ED) glass, which, quite frankly, is as good as it gets. There's no quality loss or blurriness on the edges of the image. Instead, you get a consistently sharp and bright picture. Adding to that, XR anti-reflective coatings take these monoculars to the next level, providing an increase in contrast and overall clarity. While consumers often overlook coatings, they have the potential to increase your viewing experience significantly.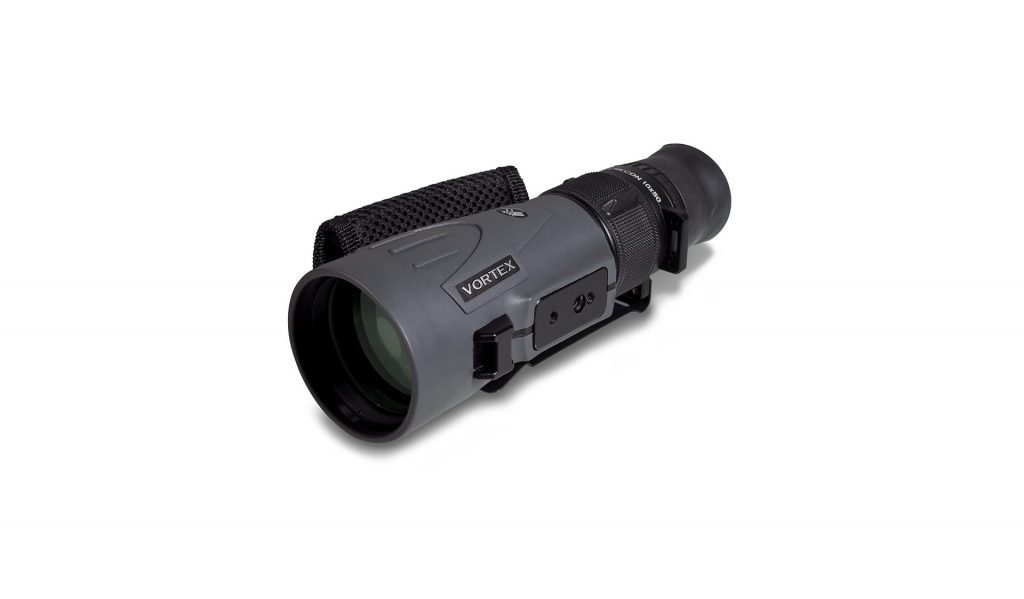 Design / Build Quality
On the outside, you have a stiff, quality construction and a textured rubber armor to hold on to. This construction will give you a better grip and provide some shock absorption in case of a drop. The lenses, on the outside, have ArmorTek coatings. This guarantees that they won't get scratched up easily and makes them resist oil and dirt reasonably well.
There are two focus adjustments on the Vortex Recon R/T. One is a large focus wheel, which lets you get a rough focus. Since making precise adjustments is difficult with such a large ring, you also have a minor reticle focus. This is what allows you to fine-tune focus and get it set up just right for your eye.
The last thing we'll discuss in terms of specs is the weather resistance. When you're paying this much for an outdoor product, you want to make sure it will be suitable for use in any scenario. The Vortex Recon R/T is excellent in this regard. It is completely waterproof, as well as fog proof, making it very versatile.
How good is the Recon R/T?
We already mentioned that the Vortex Recon R/T has a reputation to live up to, and we find that the Recon R/T is more than capable of living up to the standards set by Vortex products. For starters, the image quality through the monocular is excellent. There's no discoloration or fringing, and the entire image is very sharp, edge to edge. This isn't the case with many monoculars, even those that cost more than the Vortex Recon R/T, making it a great pick.
Let's not forget about the reticle feature. With the Vortex Recon R/T, you get a hash marked ranging reticle. It uses subtension lines that are MRAD (milliradian) based for holdover, ranging, and windage corrections. The milliradian system lets you calculate range easily.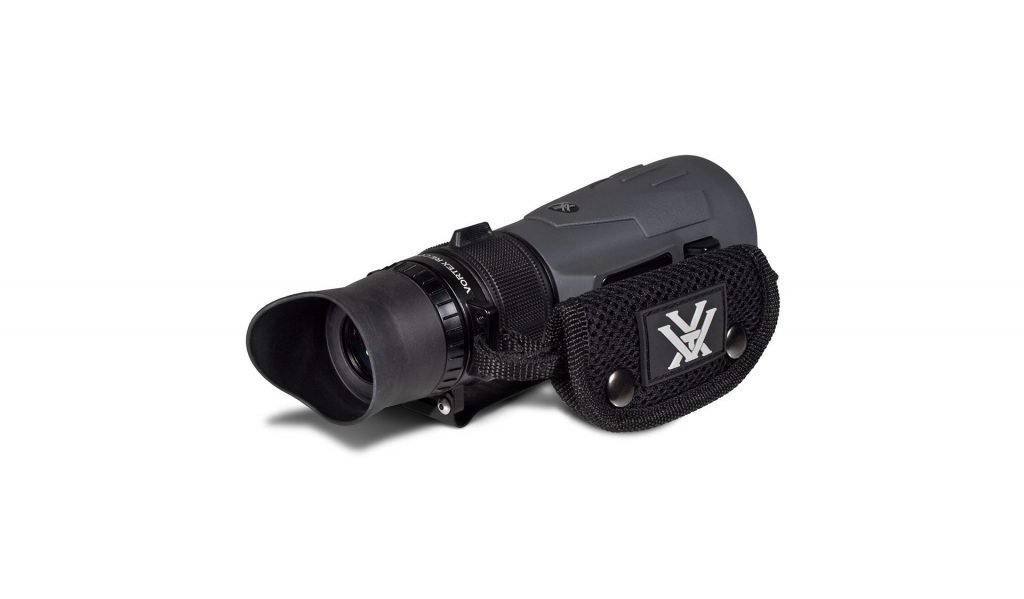 Wrapping things up – who is it for?
The logical conclusion would be "certainly not for everyone." The price will be out of reach for many, and we understand that anyone but serious hunters will find it hard to justify spending this much. The 15 times magnification also won't work in every environment – sometimes you just need a wider field of view.

However, as we've mentioned, there is a 10x magnification version that carries the same quality coatings, design, and performance but allows you some additional versatility.
If you're able to invest in the Recon R/T and don't struggle using a higher magnification monocular, this device is a very good option to put on your shortlist. It's built like a tank and achieves image quality that's right up there with the top contenders in the monocular world. You get an excellent reticle that lets you range your target easily, too, which is always welcome.