PointOptics is reader supported. We earn an affiliate commission if you buy through our links . Learn More.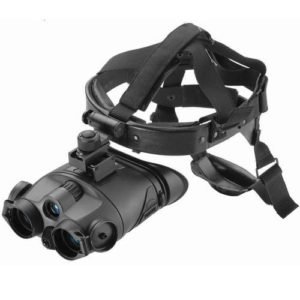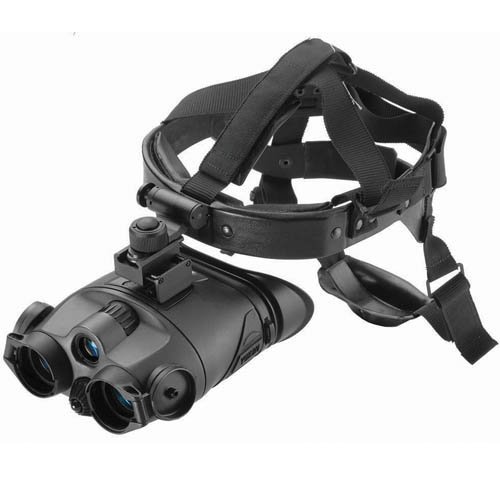 Let's face it, night vision goggles are not cheap, but neither do you want to buy something where corners have been cut to lower the cost. Yukon is a trusted brand in the outdoor optics arena, so I was curious to see what their night vision goggles would bring to the table. The company already has an extensive range of night vision binoculars, night vision monoculars and night vision riflescopes, but this is their first pair of night vision goggles, so check out below what I thought after taking this device for a spin.
Design
These night vision goggles from Yukon are basically a variation of their "Tracker" night vision binoculars with an included hear gear accessory to make it hands free. The Yukon Tracker 2X24 is one of our top picks when it comes to night vision goggles and these night vision goggles retain all the design features that impressed us.
The head gear accessory allows you to flip up the binoculars when not in use and ensures that you can quickly switch between night vision and your own eyesight depending on what the circumstances call for. As the goggles are basically a pair of night vision binoculars I was concerned that the weight is going to cause problems, but I was pleasantly surprised by how light the whole setup felt. Initially I was very aware of the head gear, but the more I used it, the more natural it felt until I barely noticed the extra weight anymore. If you have any fears that these goggles are going to slow you down in the field I can assure you that this is not going to happen.
The binoculars have a very ergonomically designed rubberized body which not only makes it look sleek and modern, but also makes it very durable. The head hear is pretty sturdy, so you don't have to worry that anything is going to fall apart in the dark while you are on the move. I found that it was easy to equip and fit quite comfortably after I made a few adjustments. Even after making some abrupt movements, the headgear stayed in place which is vital. The binoculars also feature the same lens cap system, dubbed "Eclipse" by Yukon, which uses flip-up covers that you can quickly and easily clip back against the body of the binoculars. In the past I've lost lens caps in the dark or startled the animals that I was observing with the sound made from dangling lens caps hitting something as I moved, so personally I am a big fan of the Eclipse lens cover system. The lens caps also have small pin holes to allow daytime operations without damage to the lenses.
The central focusing knob is easy to reach and operate in the dark. The goggles are also water and fog resistant, which is a big plus. The setup requires a single CR123A battery to operate and according to Yukon you can expect about 40 hours of battery life. Overall, the design of the night vision goggles is solid, stable and very lightweight, not to mention comfortable.
Features
These night vision goggles are first generation, so don't expect miracles, but considering the price you are getting a very well rounded product. Magnification is only 1X and the lens diameter is 24mm, but the image quality is very good and higher specs would have resulted in not only a higher price, but a heavier device as well. Testing it out in the field revealed that these goggles function perfectly with some ambient light and do just as well in total darkness thanks to the pulse infrared illuminator. The multicoated optics offers a clear view of your surroundings although I did notice a bit of blur around the edges. Overall these goggles offer what you would expect from first generation technology and do so at a competitive price.
Pros & Cons
Considering the price of high end night vision goggles I really don't have much to complain about when it comes to the Yukon NV 1X24 goggles. They get the job done with ease and comfort, which is all you really need when it comes to night vision goggles. I have seen reports from people stating that the headgear is uncomfortable, but after some adjustments I didn't have any issues at all. The field of view through the goggles are quite narrow and there is no auto focus so you have to manually adjust while moving about, but these issues are not major enough to cause too much concern. Take a look at the pros and cons below for an idea of what to expect from the Yukon – NV 1X24 goggles.
Yukon – NV 1X24 Goggles Pros
Multicoated optics
Hands-free goggle head gear
Modern and ergonomic product design
Rubber armor protection
Water and fog resistant
Built-in powerful pulse infrared illuminator
Includes protective carrying case and neck strap in package
High resolution intensifiers
Limited lifetime warranty from Yukon
Competitively priced
Yukon – NV 1X24 Goggles Cons
No auto focus
Narrow field of view
Conclusion
If you are looking for a very decent set of night vision goggles, but don't have the money for military grade stuff then the Yukon NV 1X24 goggles are the next best thing. They perform great for generation 1 technology and come packed with useful features. They are also very durable and there is very little that can be faulted about the product. For a step up in quality you can easily pay double or even triple the price of these goggles and, depending on the manufacturer, might not even see that big an improvement. Taking everything into consideration, the Yukon – NV 1X24 goggles is a product that I feel very comfortable with to recommend to anyone looking for a fairly priced, yet quality night vision device.