PointOptics is reader supported. We earn an affiliate commission if you buy through our links . Learn More.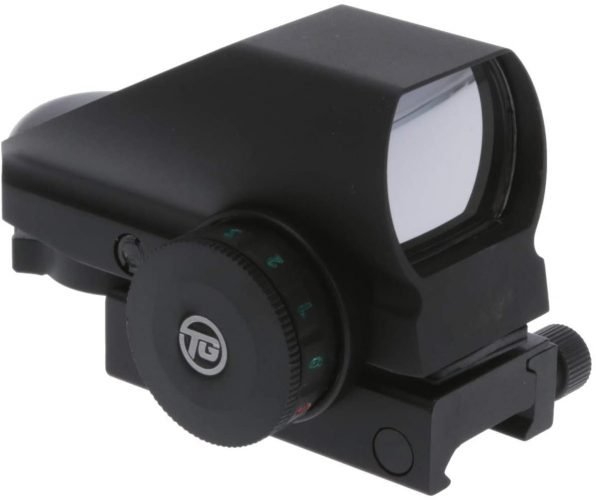 The TRUGLO TruBrite Multi-Reticle Dual-Color Open Dot Sight is what is referred to as a reflex sight, and differs from a scope in that it doesn't offer any magnification. Reflex red dot sights are a staple choice among those who are looking for a versatile close to mid-range sight that doesn't break the bank. In fact, when one thinks about red dot sights from movies and other media, the chances are that you are thinking about a reflex red dot sight. These reflex sights are typically more affordable than holographic alternatives.
While red dot sights are a common hunting accessory, these sights are also used by sports shooters and even airsoft players. The reason for the widespread use of red dot sights in the traditionally compact size and weight, making them more versatile.
If you are looking for an affordable red dot sight, the TRUGLO TruBrite Multi-Reticle Dual-Color Open Dot Sight features an open design, assisting the user by providing unlimited eye relief. In this article, we have taken a somewhat intricate look at the Truglo red dot sight to see if it will be able to do the job and give you the best possible value for your money.
Technical Specifications:
Open style design giving the user unlimited eye relief.
The scope features a red and green dot for easy use with different backgrounds
An integrated Weaver-style mounting system for fast and efficient mounting
Very lightweight at only 5.4-ounces when fully kitted
Easy to access adjustment knob placed on the side of the scope
4 reticle options to choose from with multiple illumination settings
Options range from 2-5 MOA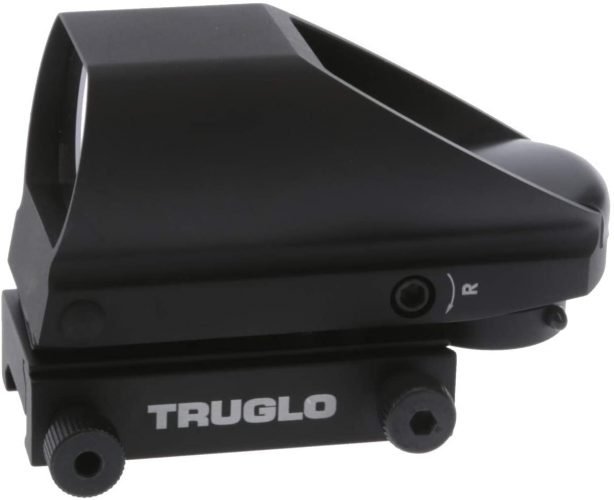 Taking a Deeper Look
The TRUGLO TruBrite Multi-Reticle Dual-Color Open Dot Sight is one of the most affordable options on the market today. It has been constructed from extremely lightweight materials and with a weight of only 5.4-ounces, it is a highly versatile option that isn't going to hamper your setup. The weaver-style mounting rail is really easy to use, but the scope can also be mounted on a Picatinny rail if the need for co-witnessing your iron sights arises.
One of the main features is the green and red dots that can be switched between each other as needed. This will enable you to increase your dot visibility depending on the background foliage you're working with. Additionally, 4 reticle patterns have also been included, making it much more versatile for those who might have visual impairments or problems with keeping track of the red dot.
As an open-style sight, you will have unlimited eye relief. However, this scope does not feature a parallax-free design, which means that this will only be possible when aiming past the 30-yard marker. Since it does feature a reflex style, you can easily focus on your targets in most types of lighting situations. However, this sight is not a night vision scope – so don't expect to be using this sight in very low light.
The scope might not have a waterproof rating, but the manufacturer does claim that it is water and shock-resistant.
Overall, we were impressed by the TRUGLO TruBrite Multi-Reticle Dual-Color Open Dot Sight's versatility provided by both the design and the features included.
On the downside, we do have a couple of things that we believe could have been improved on. Whilst using the sight, you will quickly notice that it does not stay zeroed in when pushing multiple rounds through the rifle in quick succession. The scope also lacks the ability to be used in isolation and this means it should be co-witnessed for you to get the best possible results.
Lastly, the scope does have some precision shooting problems. We found that the glare from the sun could be a real issue if you are shooting in the midst of the day. If you're an avid hunter and have more of a budget to work with, there are certainly better options out there at higher prices.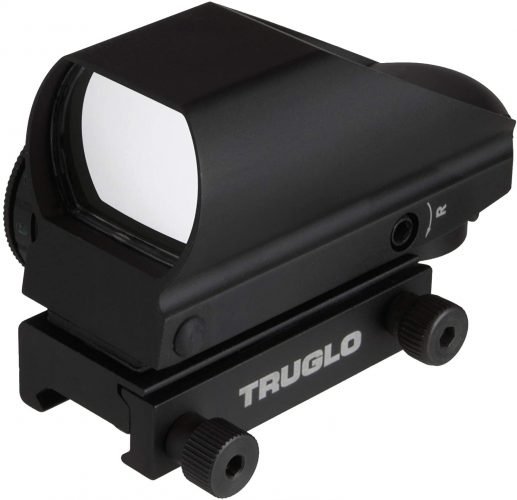 What we like
Really cheap
Includes selective reflection to save battery power
Batteries are very affordable
Multiple reticle colors and patterns for you to choose from
Extremely lightweight and really easy to mount
Simple and easy to adjust
What we didn't like
The scope does lack some overall durability
Not the best option for precision shooting
Lighting and illumination options are limited
Should you buy it?
The TRUGLO TruBrite Multi-Reticle Dual-Color Open Dot Sight is definitely not recommended for the advanced shooter and it is best when used by beginners or hunters on a serious budget. Precision shooting may remain a problem, but if you need to quickly alternate between targets, the scope will have you covered and enable you to shoot with much greater speed.
When looking at the price, it should be no secret that this is one of the cheapest options on the market today. The maintenance is also really affordable and the batteries won't cost you an arm or a leg. If you are a beginner and you are looking for something cheap and affordable for your tactical shooting competitions, this might be the ideal scope to get you started. However, you might find yourself upgrading in no time at all if you're serious about your hunting.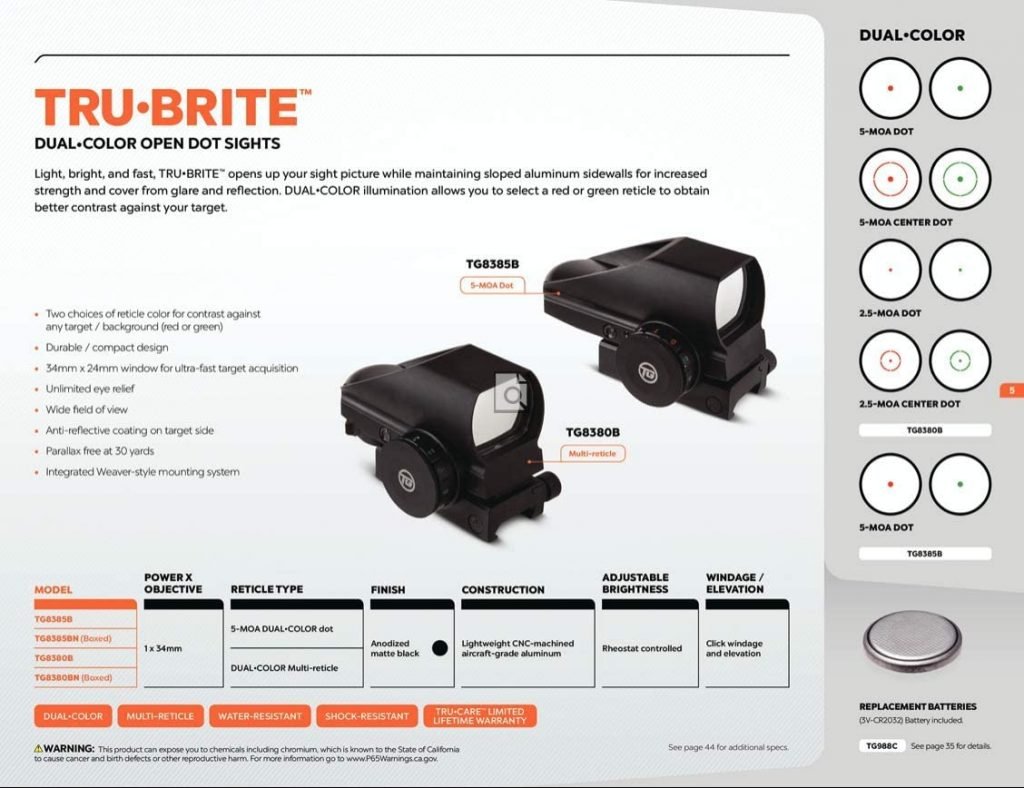 Wrap-Up
We wouldn't put this product at the top of any tier lists, but the fact remains that it is extremely difficult to find quality sights at this price point. While the TRUGLO TruBrite Multi-Reticle Dual-Color Open Dot Sight might not be the best, it does offer you decent value at an affordable price. If you increase your budget slightly, you'll be able to purchase a sight that performs better in a real-world application. Although, if your use is related to paintball usage, you may find this sight being more than capable of producing the results you're looking for.